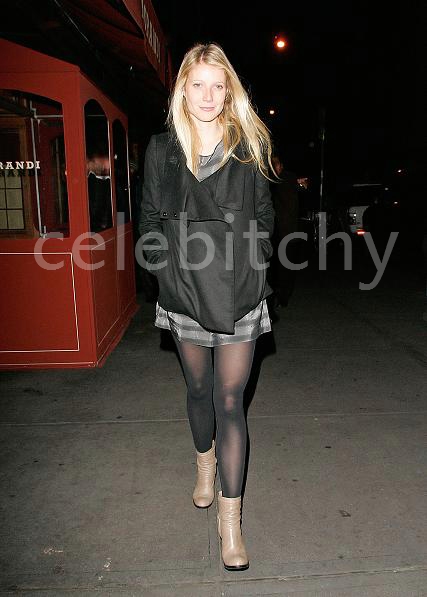 It seems like all the cool celebrities are going to the hospital these days. In fact I'm going to predict that hospitalizations are the new DUIs. Sad. First it was Britney, then a week later half a dozen celebs gave birth within about three days… though admittedly that's a much happier hospitalization; at least once it's over with. Now we find out that Gwyneth Paltrow was admitted to New York's Mount Sinai Hospital late last night with what media outlets are calling a "mystery illness." The only mystery is that she won't share with us what it is. I'm guessing it's no medical mystery though.
Hollywood superstar Gwyneth Paltrow was at the centre of a health scare mystery yesterday after reportedly being rushed into a hospital in a wheelchair. The actress was admitted into New York's Mount Sinai Hospital late Monday – just hours after being seen out-and-about near her Manhattan home. But today, it is unclear what was behind the mum-of-two's scare.

"She was slumped over in a wheelchair pushed by husband Chris Martin," an eyewitness told a U.S. magazine. "She looked not well."

At 6:30 p.m., a bag – labeled "Gwyneth Martin" – from NYC organic home supply store Organics Avenue was delivered to the hospital. A source said the star and Coldplay husband Chris were expected to spend the night in hospital. Yesterday Gywneth's [sic] spokesperson was refusing to discuss the reports, stressing: "We are not commenting as it's a personal matter."
[From ShowbizSpy]
I love the integral eyewitness report that "She looked not well." Generally people being admitted to the hospital don't look like they're going to the hospital. And I've seen pictures of Gwyneth Paltrow without makeup, and she looks a bit unwell in general. Especially if you're expecting her to look like Movie Star Gwyneth Paltrow instead of Regular Person Gwyneth Paltrow. It will be interesting to see if we ever find out what she's been admitted for. Is frigidness an actual medical condition? I kid, I kid. Gwyneth seems to have warmed up a lot in the past few years. Hopefully she's alright. Not to sound like a hen pecking grandmother, but she appears very very thin and pale, which always makes me wonder. She also sticks to an extremely strict macrobiotic diet – though she did abandon it when she was pregnant. But I can't help but wonder if she's getting all the nutrition she needs that way. It's unclear whether Gwyneth is still in the hospital or has been released. Hopefully it was nothing serious and she'll be okay.
Update: The Huffington Post reports that Gwyneth was on one of Organic Avenue's fasts before she was hospitalized.
Like the virtual Woodward and Bernsteins we are, we called Organic Avenue to find out what was in the bag. "She's doing our five-day live-food fast," an employee told us. Reaaaaaally, we drawled in our best gumshoe-detective voice. Could that be why she's in the hospital, perhaps? The employee laughed like that was just crazy talk. Right, because whoever heard of anyone getting sick from not eating? "Oh, no," she said. "She's eating salads, there's juices. There's actually quite a bit of food there, it's just all raw and organic." And so our groundbreaking reporting reached a dubious but still satisfying conclusion. Because Gwyneth can't actually be that sick if she's still sticking to her diet.
[From the Huffington Post]
OK! magazine's website says that Gwyneth has left Mount Sinai Hospital. Her rep has released a statement saying: "Gwyneth is fine and at home – we are not commenting further."
Picture note by Jaybird: Gwyneth Paltrow on her way to dinner in New York on December 9t. Images thanks to Splash Photos.