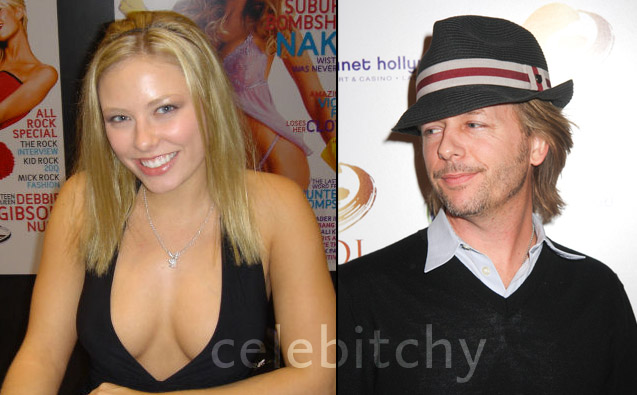 Comic and unlikely ladies' man David Spade has been linked with Jenna Fischer and even Jennifer Aniston recently, and was in a relationship with Heather Locklear in 2006. Now there's news that he may be responsible for knocking up a Playboy Playmate he dated. He says he's no longer with Jillian Grace, but acknowledges dating her and says if the baby is his he'll step up to the plate.
TMZ has learned that a 22-year-old Playboy Playmate is claiming that David Spade is the father of her unborn child. Holy Jamie Lynn!

Jillian Grace, Miss March 2005, is alleging that she had a relationship with the comedian, resulting in her becoming pregnant. Grace was discovered by Playboy after posing for test shots on the Howard Stern show.

Spade tells TMZ, "I had a brief relationship with Jillian Grace. If it is true that I am the father of her child, then I will accept responsibility."
[From TMZ]
Grace is just 22, which seems quite young to be dating 43 year-old Spade. Maybe he realized this and that's why it didn't work out between the two. Good for Spade for immediately issuing a comment and admitting that he could be the father of the baby. Unlike DMX, he takes responsibility for his actions and seems like a stand up guy.
Jillian Grace was the Playmate of the month for March, 2005. Bits & Pieces blog notes that her turn-ons are "A guy who BBQs, someone who knows how to hit all the right spots, a sense of humor." and that her ambitions are noted as "I plan to pursue modeling and acting. I would love to appear in a workout video." Now that she's getting more publicity for having David Spade's baby she could use that fame to help launch a prenatal and post-baby workout franchise. If Carmen Electra can put out like 10 strip fitness videos then this chick has a chance too.
Thanks to Bits & Pieces blog for the header image of Grace. David Spade is shown on 11/9/07 at the Koi Las Vegas opening, thanks to PRPhotos.