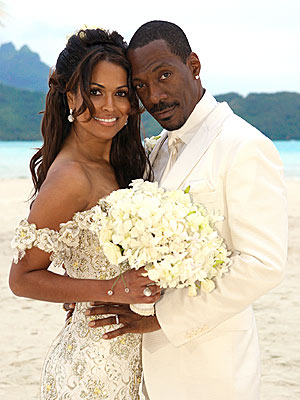 I saw this divorce coming, but I really thought it would take a few months, not just a few days. The miserable couple married on New Year's Day in Bora Bora, where the ceremony was not legally binding, and planned on having a civil ceremony in the US to make the marriage official. Looks like those plans are on hold. Eddie's rep released this statement:
"After much consideration and discussion, we have jointly decided that we will forego having a legal ceremony as it is not necessary to define our relationship further.

While the recent symbolic union in Bora Bora was representative of our deep love, friendship and respect that we have for one another on a spiritual level, we have decided to remain friends."
'After much consideration.' says Eddie and Tracy. What? You have been together just over a year, and married for only two weeks. That isn't even trying. Unless you found a body in the basement, or another wife in the attic, how can you possibly get divorced after two weeks of marriage? And call the move considered?
Actually, the statement is slightly ambivalent. While reports say they are divorcing, are they actually separating, or just avoiding a civil ceremony in America that would make the marriage real? Perhaps they don't feel the need for a legal ceremony, or no one is offering them money for a second lot of pictures. The statement says they want to remain friends, but doesn't specify whether this is friends with benefits.
The couple didn't live together before the wedding, so perhaps it's just a simple case of not being able to live in the same house. Moving in together is a huge period of adjustment (that takes longer than two weeks, typically) that not all relationships survive. After all, she already knew about his previous use of transsexual prostitutes, and his failure to acknowledge his latest daughter. What was so awful it prompted a divorce?