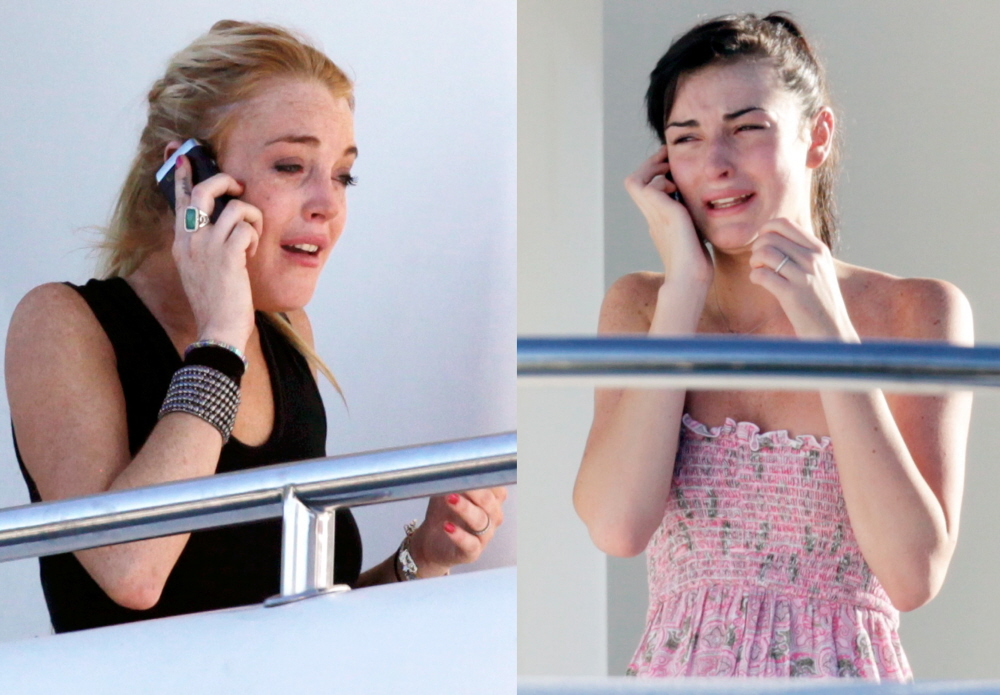 These are new photos of Lindsay Lohan and sister Ali crying as they both talk on the phone to people unknown. Not to be cruel about whatever their drama is, but they both look like bad actresses, yes? Like, I don't find these tears convincing. Probably because I have some theories about why they were putting on this tearful show for the paparazzi. The first theory comes from Fame Pictures, and they claim the tears were all about Lindsay assaulting a dude for getting too close to Ali:
After Lindsay Lohan allegedly threw a punch at a guy who was getting too close to her younger sister Ali at a nightclub, the two exhibit some bizarre behavior on their yacht early this morning, the 4th of January. Sources say that Lindsay repeatedly warned the young man to leave her sister alone and viciously punched him when he did not stop.

Bodyguards arrived quickly to stop the fight and Ali returned to the boat, while Lindsay and a male friend stayed for another hour. On a yacht still riddled with vodka bottles from the long night of partying, the Lohan sisters laughed and cried as they made phone calls, trying to determine the severity of the fight and the consequences that may put a stop to their indulgent vacation.
[From Fame Pictures]
First off – if you don't want random dudes to hit on your 16-year-old sister, you probably shouldn't bring her to a club in St. Barth. Just an idea. As for the dude who wouldn't leave Ali alone, well… yeah, he probably deserved a smack, but I'd be willing to bet this was all some kind of cracked-out imagined drama by Lindsay. The dude probably offered to buy Ali a drink (not realizing that she was 16 years old) and Lindsay probably went crazy on him. Just my theory!
Next theory: Lindsay and Ali were weeping so unconvincingly because they had just learned of Casey Johnson's death. Lindsay actually crack tweeted about Casey's death, and copied from Sam Ronson's page this message: "Am so sick of those 3 letters, so tired of losing friends to something as senseless as a drug overdose. WAKE UP people." Er… what's disturbing to me is that Lindsay was likely high on something when she cut and pasted:
In the wake of the sudden and mysterious death of Johnson & Johnson heiress Casey Johnson, many—including the 30-year-old's partner Tila Tequila– are wondering if drugs could have played a part in her untimely death.

While her cause of death has so far been determined as "uncertain" some celebrities aren't wasting any time toting their anti-drug messages. On Monday night, Lindsay Lohan vented her thoughts on her Twitter page, writing: "Am so sick of those 3 letters, so tired of losing friends to something as senseless as a drug overdose. WAKE UP people."

Her words were actually taken from her ex-girlfriend Samantha Ronson's page. Ronson herself had been tweeting about Casey Johnson's death.

Lindsay has battled her own drug rumors. Her father Michael Lohan told RadarOnline.com that he fears his daughter has an addiction to prescription pills and has pleaded publicly with her to get help.

In an exclusive statement to RadarOnline.com on Monday, Lohan said: "For how long now, have I been on national television, radio and in the press making waves about prescription drug use and how it is affecting the people we love and others?" Lohan wrote. "Heath Ledger, Michael Jackson, Adam Goldstein, Brittany Murphy and now Casey. (My heart goes out Courtney Semel, who tried to help her, just as my heart goes out to my daughter as many of these people were her friends.) But let's not talk about celebrities. Let's talk about our own children and loved ones. When are people going to realize that these drugs cause you to do things you normally wouldn't and will ultimately destroy your lives!?

"Knock me all you want, I am trying, not lying! It's time to take a stand folks. Now! God bless Casey and her family."
[From Radar]
Ugh, you know Michael had to say something. Because everything has to be about him. Gee, I wonder where Lindsay gets it? Oh, right, from both parents. So, what's the better theory? That Lindsay and Ali put on this little weepy performance because of Casey Johnson, or because Lindsay could be facing assault charges in St. Barth, and she needs to get the hell out of Dodge? Probably a little of Column A, a little of Column B.
UPDATE: I guess there's a theory number three, courtesy of the crackhead herself. A "friend" close to Lindsay tells Us Weekly that Lindsay's "friend" Patrick Aufdenkamp "stole Lindsay's sketches for her new 6126 clothing line… He is now running off trying to do his own line. And telling people he's going to fashion market week in NYC on February 18 to debut his line." Oh. My. Pasties! So, Lindsay was sketching her new clothing line while on vacation, and the designs were so good her "best friend" stole them to use for his own line? Lindsay's friend continues: "It's horrible. He was her best friend. He has always used her, and she's been warned to never trust him. Lindsay is a good friend and likes to see the good in people. She didn't want to believe how bad Patrick's energy was, and how false his friendship has always been with her." Oh, for the love of God. Lindsay herself admits that "I should've known better… But new year for me and a new beginning! Health, happiness, success and love!" Ten bucks says all of this just some new cracked-out delusion.
Lindsay and Ali Lohan on a yacht in St. Barth on January 4, 2009. Credit: Spread Pictures/Fame Pictures