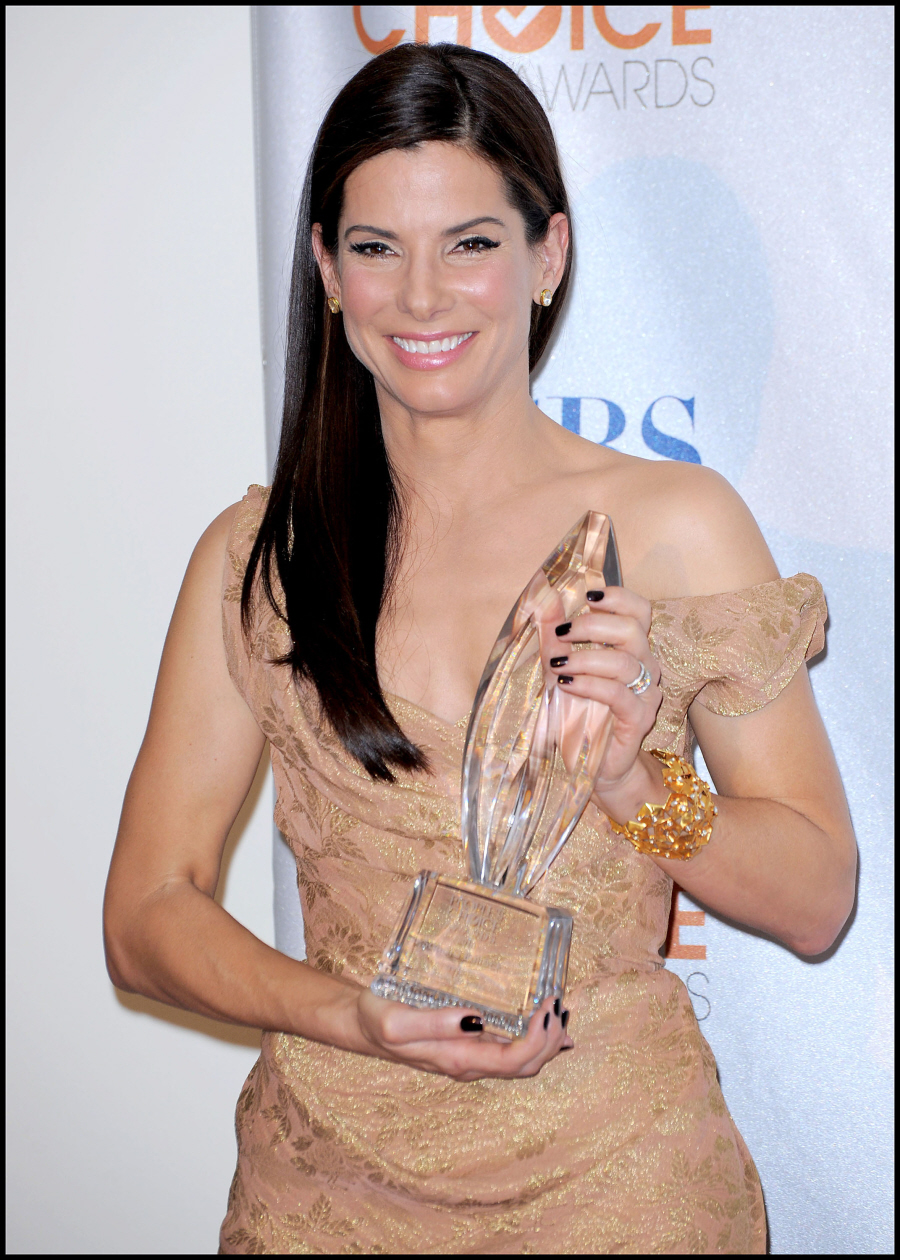 Much like I predicted yesterday, Sandra Bullock is well on her way to becoming this year's Erin Brockovich-esque success story. Bullock was one of the big winners last night at the People's Choice Awards, helping The Proposal take home "Favorite Comedy" (jointly with Ryan Reynolds) and picking up "Favorite Actress Drama" for The Blind Side. Sandra was warm and funny throughout the evening, even though several people were making jokes at her expense. Ellen Degeneres cracked one about how she (Ellen) had won eleven People's Choice Awards, saying "One for every one of Sandra Bullock's toes." George Lopez, who is Bullock's friend and former boss, joked that she was one of "five white women who hasn't slept with Tiger Woods." When she won for The Blind Side, Bullock got emotional as she said: "I am only up here because I am fortunate to work with people who make me look good… and most of all to my family…Life is hard sometimes, but we get through with laughter." She also thanked her family and wished her father well- it sounds like he's health is failing, so hopefully he'll be doing better soon!
As far as fashion went, the People's Choice was rather boring. Most of the women wore boring black or white cocktail dresses, but there were some exceptions. Mariah Carey picked up an award for "Favorite R&B singer" and it took her so long to get on stage because of her epic white dress. Plus, I don't think Mariah knows how to walk. She get carried everywhere. Nick Cannon even had to go on stage to help fuss with her dress. It was ridiculous! Oh, well. At least she wasn't sh-tfaced again.
Alyson Hannigan was another favorite of mine, just because she's so damn cute. Her dress wasn't even that great, but she looked radiant and thrilled. Her husband is cute too! When she won her People's Choice award, she leaned over to kiss her husband and he accidentally (?) grabbed her boob.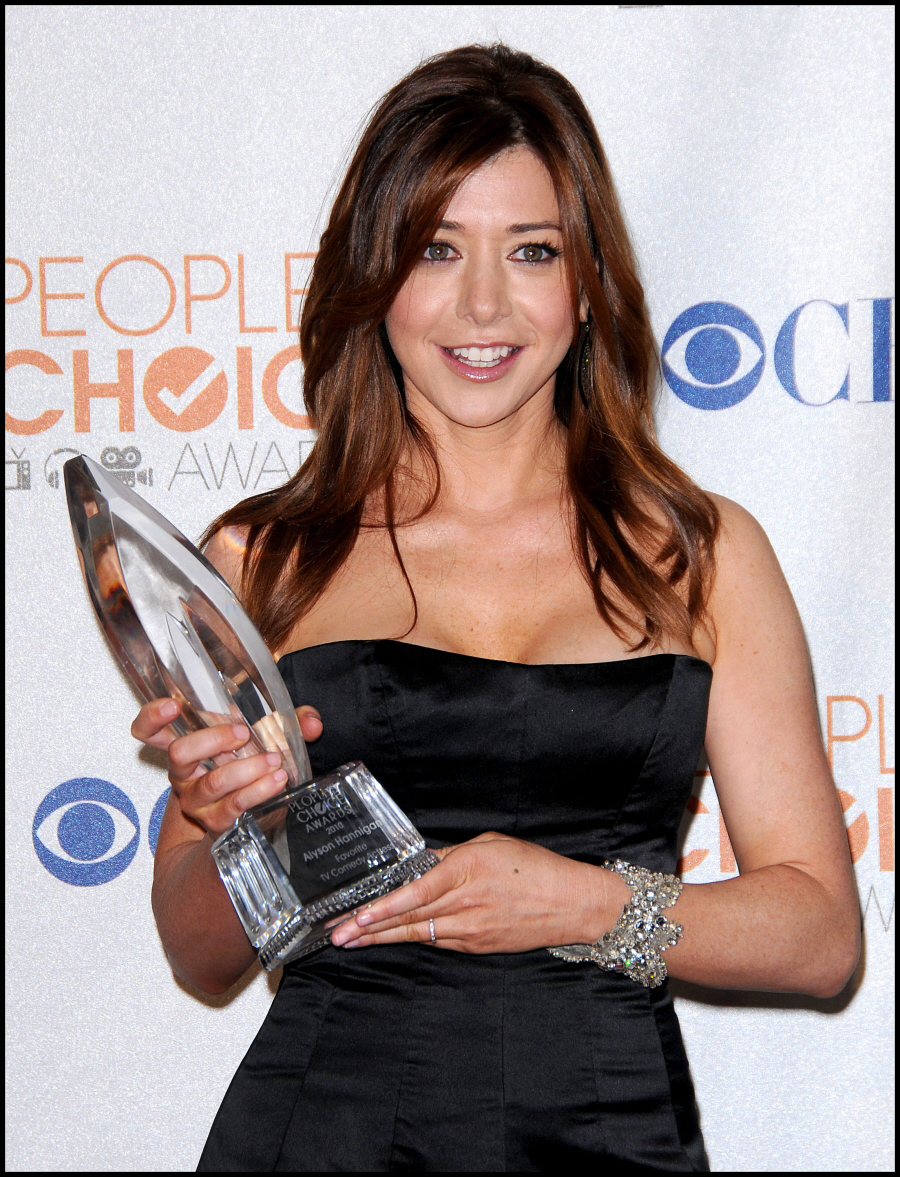 Jesus, is it just me or does Jessica Alba even grate your nerves when she's just standing there? I don't like her dress either. It was too tight, she looked like she was going to pop out of it. And I don't like the fake hips either.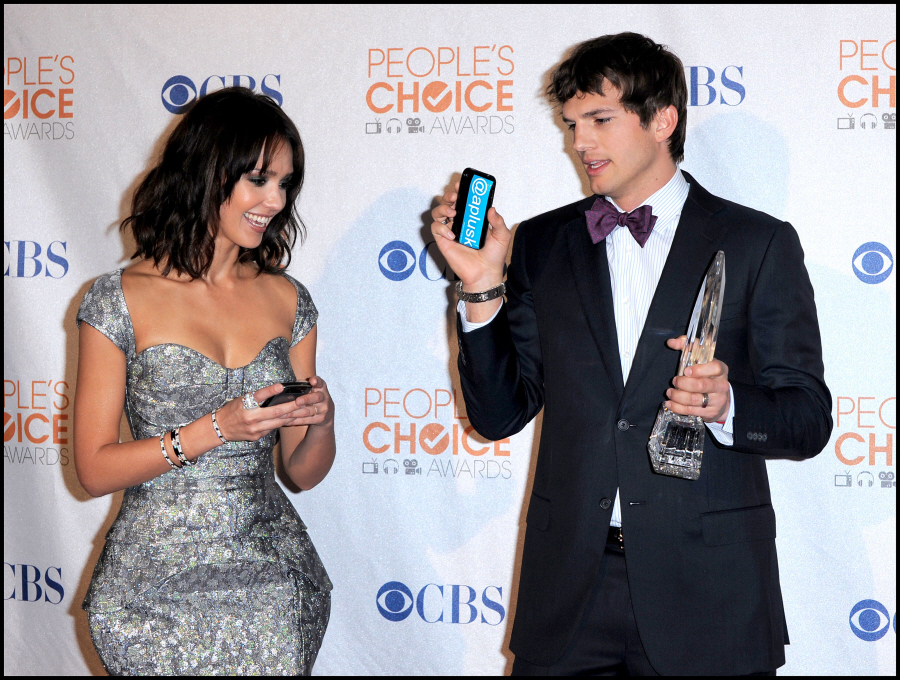 There were other notable women who won or showed up, but none of them made a huge impact. Taylor Swift took home a big award and she was gracious as usual. I'm sure people will be pissing all over her this morning, but she's probably gotten used to it by now. Diane Kruger was cute too – she, Eli Roth and B.J. Novak accepted the award for Inglorious Basterds and they also presented the Breakthrough award to Taylor Lautner. Kruger did a fake Twihard scream for Lautner that was pretty funny. Who else? Let's see… Carrie Underwood was meh. Jenna Elfman was wearing a weird pregnancy dress. That's about it for the women. Bullock was definitely the star amongst the ladies!
Oh, I almost forgot about Nicole Kidman! She looked like a wax figure, as usual. And what's with the gloves?
People's Choice winners & presenters: Sandra Bullock, Jessica Alba, Taylor Swift, Carrie Underwood, Alyson Hannigan, Diane Kruger. Credit: WENN.