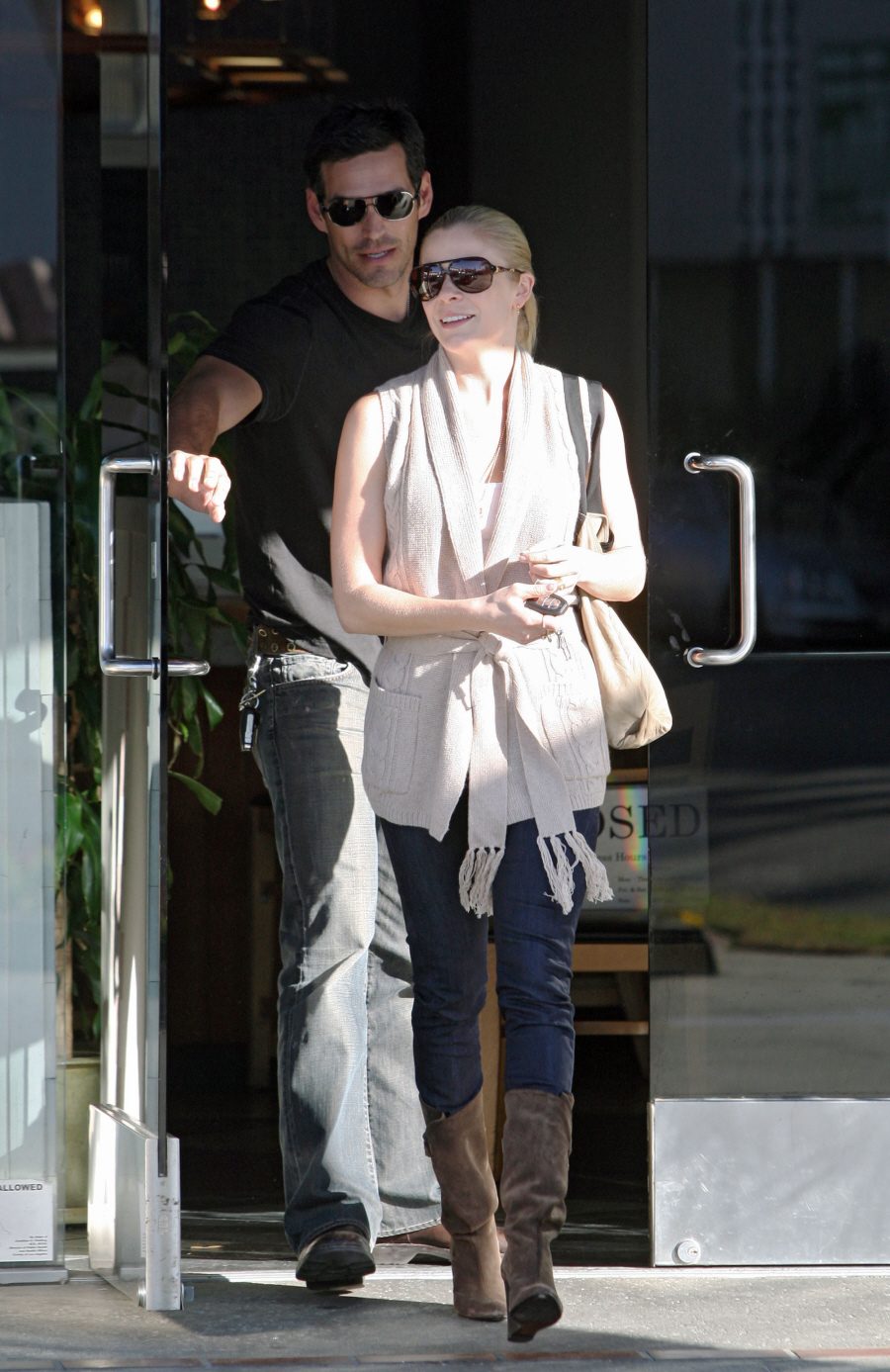 At first I thought this was a silly little "they're getting married, maybe!" pieces from In Touch Weekly, regarding Eddie Cibrian and LeAnn Rimes. I skimmed through the piece and shook my head, thinking "Damn, LeAnn's publicist is tireless." I almost missed the best pull-out quote ever, attached to a photo of Eddie and LeAnn's "romantic" ski getaway over the holidays. The quote (brace yourself) is such: "LeAnn is far more sexual with Eddie than she was with Dean," says a friend. Oh, snap! Maybe that's because Dean Sheremet is afraid of vaginas. And maybe that's because for the first time in her life, LeAnn had an orgasm and she vowed she would keep having orgasms if it cost her every last dime. Well played, Cibrian!
In addition to the "she's far more sexual" revelation, the same friend tells In Touch: "They share the same odd sense of humor." They attached that note to a photo of Eddie and LeAnn crouching in the snow, looking like they're both taking a dump. Sigh… true love. Here's the rest of the story:
Days before New Year's Eve, LeAnn Rimes confided to a friend that she "had a good feeling about 2010." The reason? She and Eddie Cibrian plan to get hitched!

Eddie's divorce from his ex-wife, Brandi Glanville, "was so ugly, he wasn't in the mindset of getting married again," a friend of LeAnn's tells In Touch. "But he has changes his mind – and now they're talking about getting married this year, after LeAnn's divorce from Dean becomes official in June."

The cozy couple certainly knew how to keep each other warm during their romantic getaway in Aspen on December 28.

"They share an amazing physical chemistry," says the friend.

They recently took another serious step when LeAnn met Eddie's sons. But don't expect a splashy wedding. "They don't need it," says the friend. "It might be just the two of them on the beach in Tahiti!"
[From In Touch Weekly, print edition, January 18 2010]
Okay, I have several points: one, the "friend" is LeAnn's publicist; two, it struck me as funny that LeAnn would "confide" that she had a "good feeling"; three, so LeAnn's met Eddie's sons, eh? Brandi Glanville isn't going to like that. What else… oh, my guess is that Eddie's divorce is going to take a lot longer – probably because Brandi will drag that sh-t out for as long as possible, bless her heart – than LeAnn's divorce. So, I'm just sayin', LeAnn can get her publicist to tell the tabloids whatever fantasy Tahitian wedding fantasy, it's probably not going to happen. This year. But LeAnn's in it to win it!
Eddie and LeAnn on November 23, 2009, in Los Angeles. Credit: Bauer-Griffin.