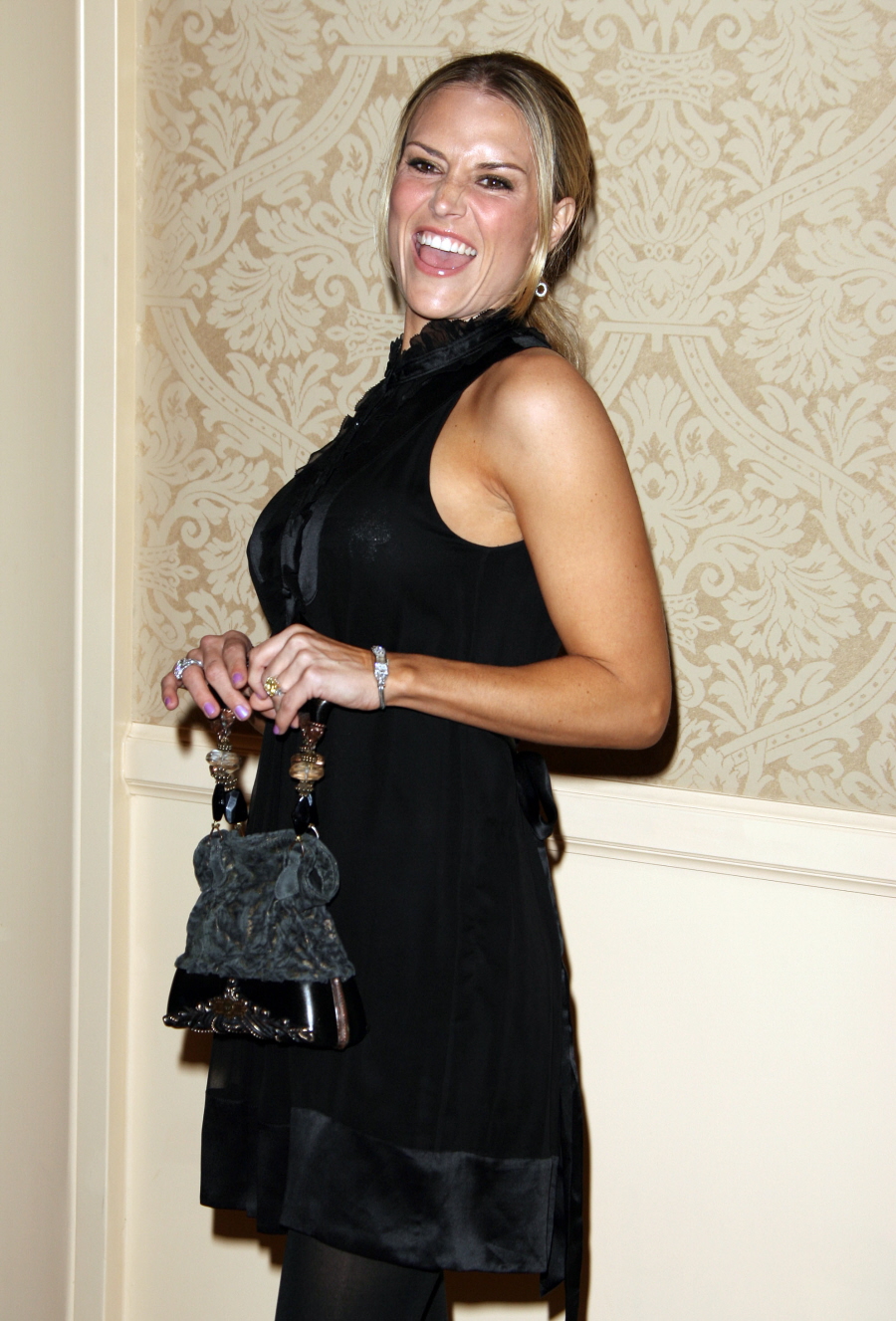 Another day, another horrible accusation coming out of the Charlie Sheen camp. Earlier this week, we heard about how Brooke Mueller allegedly went into rehab while she was pregnant with their twin boys. Brooke's camp later denied it, but worded to the specifics: "I know that's not true. I'm very familiar with the situation, and that's totally not true. She was not in rehab for alcohol abuse while pregnant. That never occurred. She's an incredible mother; it's amazing to see her with her children." So, she could have gone to rehab when she wasn't pregnant? I think that's what they're saying. Which actually does give me some relief – at least Brooke wasn't drinking while pregnant, maybe.
Anyway, today's accusation is about Brooke going into rehab again… but this time, not for alcohol, but for crack. Oh, yes. Charlie's people are now saying Brooke was a crackhead:
Charlie Sheen's wife Brooke Mueller was addicted to crack and ended up getting in-patient treatment in rehab, RadarOnline.com has learned exclusively.

Mueller was treated at Beit T'Shuvah in Los Angeles, said a friend who knew her while she was there. Beit T'Shuvah's addiction recovery model relies, in part, on a combination of Jewish spirituality and therapy. It offers both in-patient and out-patient care.

"Brooke got in-patient treatment," said her friend. "There were times when she would disappear for a couple days and come back with bruises and a hospital bracelet on her wrist. She had a serious problem."

Mueller has also been through alcohol rehab, as RadarOnline.com previously reported. And husband Charlie Sheen, who has done two stints in rehab, was boozing again on Christmas when he was arrested on domestic violence charges.

Sheen even had a "sober minder" with him while he was boozing. He has not publicly addressed the fact that he has relapsed.

Mueller was previously arrested for cocaine possession and DUI. And although her lawyer has called what happened on Christmas one bad night, both Mueller and Sheen have a history of boozing, battling and addiction. Mueller's rehab for crack addiction was in the early 2000s.

Yale Galanter, who famously represented O.J. Simpson, denied that Brooke had been in alcohol rehab while pregnant. It should be noted that Galanter once gave numerous national interviews denying a published report that O.J. was writing a booking describing how he "could" have committed the murders of his ex-wife and her friend. Weeks later, Simpson admitted he was writing the book and Galanter was embarrassed.

Now RadarOnline.com has uncovered his new client's history of addiction.

"While in rehab she ended up in the hospital several times," said the friend who knew Brooke during that time. "She would leave rehab and go buy crack. Sometimes she ended up getting hurt."

Galanter has said that Mueller wants to stay married to Sheen but RadarOnline.com has reported she has already spoken to a divorce lawyer and wants to improve her prenuptial deal. Sheen's people are hoping that she will soften her story of what happened the morning Charlie was arrested, because the Two and a Half Men star is facing a prison sentence in Colorado.

And, as RadarOnline.com previously reported, Sheen pushed her to the ground earlier in the marriage, causing her to hit her head and go to a doctor.

Both Sheen and Mueller have told friends they are miserable in the marriage but publicly they are trying to minimize the damage from the domestic violence incident because both have a lot at stake financially.
[From Radar]
So, Brooke was in rehab for crack in "the early 2000s" and maybe went to rehab for alcohol while she was married to Charlie, but not when she was pregnant. And Charlie has been in rehab God knows how many times. And they're both in full-blown relapses, no matter what. Just how is the release of this information supposed to make Charlie look good? He gets to say, "Don't blame me, she's a crackhead!" Well, he married her.
Brooke and Charlie in LA on May 31, 2005, maybe a short time after Brooke's crack rehab? Also, Brooke in LA on November 27, 2007. Credit: Fame Pictures.