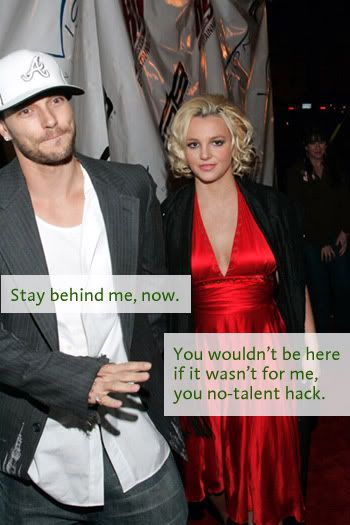 Kevin Federline and Britney Spears are reportedly fighting because KFed feels that Britney steals all the attention at events promoting his album. Both Star Magazine and Life and Style report that Federline feels lame because he can't get any recognition on his own. The gossip rags have a similar take on Kevin's promotional appearance at Club X in Dallas on April 1st.
Life and Style reports:
But the crowd responded differently when Britney Spears arrived. "Kevin performed a few songs live from the DJ booth," Mike Esterman, who booked the party, tells Life & Style.
"But when Britney walked in, the crowd went crazy."
"It's always about Britney — or Britney and Kevin as a couple — but these events are about Kevin," says a K-Fed insider, who adds that Kevin arrived at the club solo to keep the spotlight on him only. (Brit arrived about half an hour later.) "I'm not even sure Kevin thought she was coming, because he was just focusing on himself."
"Kev wanted Brit to back off some," a club insider tells Star People.
"He didn't want her there to steal his thunder. He feels that whenever Britney is around, she inevitably gets all the attention. However, a source close to Britney, 24, says she's the one who's mad, thanks to Kevin, 28, and his oversize ego.
"What he doesn't seem to understand," the source fumes, "is that the only reason anyone is interested in him is because he's Britney Spears' husband. He would not have an album if it weren't for Britney."
While Britney's right about being the bigger star, she has mistaken ideas about where she should focus her efforts. She seems to think her forgettable drop-in appearance on Will and Grace is the beginning of an actual acting career:
In Touch Weekly reports that after that recent performance on "Will and Grace" Spears is hoping to become a TV star. The reviews weren't pretty – and the weekly magazine displays [some] in their Friday edition.
"She hasn't stretched this much since she took on the role of impressive pop singer."
— Neal Justin, staff writer, Minneapolis Star Tribune
"She has no presence, she struck awkward poses in terribly unflattering outfits and the drawl wasn't very convincing."
— Matt Roush, senior TV critic, tvguide.com
In case you doubt these negative reviews, you can watch Britney's "acting" for yourself. She is a bigger star than her husband – but she's a pop singer, not an actress: