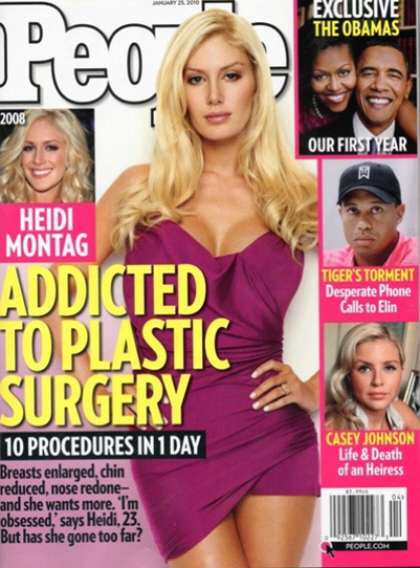 What the hell is going on with People Magazine? The editors seem to be at a loss for what is considered "newsworthy" in entertainment. After last week's cover of Kate Gosselin's "starting over" budget weave, I didn't think it could get any worse. But I had no idea. This week we have Heidi Montag: "Addicted to Plastic Surgery". People put up a little cover story teaser too, in which Heidi admits to having ten surgerical procedures done… in one day!
At just 23 years old, The Hills star Heidi Montag decided to go under the knife for a second time and have a staggering 10 plastic-surgery procedures in one day.

"For the past three years, I've thought about what to have done," the reality star tells PEOPLE. "I'm beyond obsessed."

And so, on Nov. 20, Montag's total transformation began. Keeping even her family in the dark, the starlet chronicled every painful moment of recovery and her journey to become "the best me."

To find out what surgeries Heidi underwent and what husband Spencer Pratt thinks of her new look, pick up the latest issue of PEOPLE, on newsstands now.
[From People]
You know why Heidi is doing this, right? I mean, besides the obvious "she's an idiot devil woman who will do anything for attention." She's doing this because she's released her "album" Superficial. Us Weekly gifted us with a little story about some of the lyrics, stuff like "I brought some treats / I know that you gon love em / Come eat my panties off of me / Do whatever you feel comes naturally". Did anyone else dry heave? Yes, I know. Heidi also tweeted the album drop (like a turd): "The wait is over… I put every dollar I have into this album and put three years of my heart and soul into this! ENJOY!" Ugh. Every dollar? Try a money market account, honey. Thankfully, it looks like she's changed the album cover – which previously was one of the most unflattering pictures of her ever, and made her look like a donkey. The new cover is a lot darker and shadowy, thank God. But she still looks like a donkey: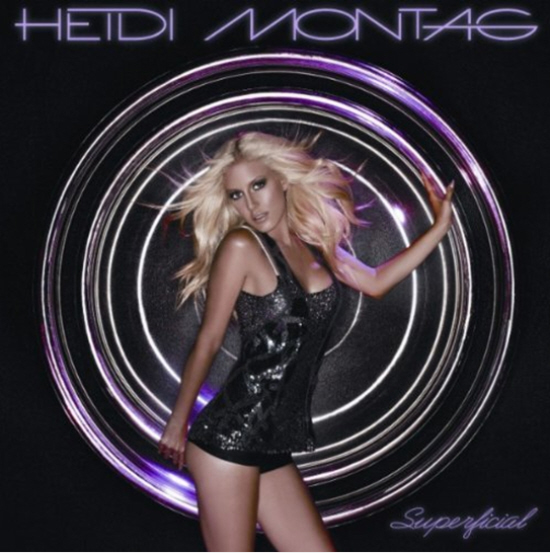 'Superficial' album cover courtesy of New Music Review. People cover courtesy of CoverAwards.