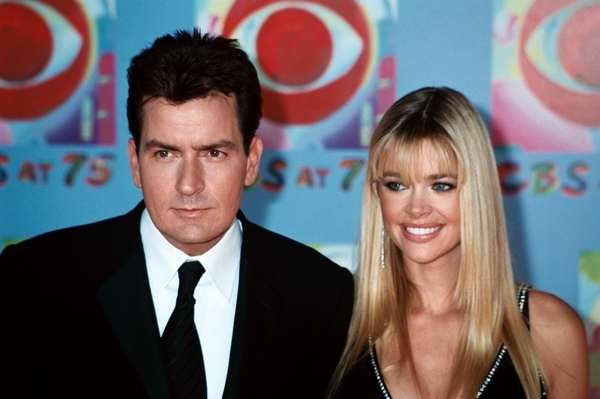 The world's longest custody battle still continues, with Denise Richards and Charlie Sheen again appearing in court to squabble over whether their daughters Sam, 3, and Lola, 2, should be allowed to appear in a reality TV show with mother Denise. I guess she has to raise the funds for her endless custody battle from somewhere.
Just to bring you up to speed, the couple first filed for divorce in March 2005, following their June 2002 wedding. They briefly reconciled but decided to proceed with the divorce in January 2006, when Lola was six months old. The divorce was finalized in November 2006, but the custody battle has continued right up until this January, following one request from Charlie Sheen to be able to choose his own nannies, and one from Denise Richards to stop the girls staying with Charlie overnight.
Now, the couple are back in court because Denise Richards wants to have her own reality show, and feature her children in it.
"This goes against everything Sheen believes in… and he feels it's exploitative of the children for the mother's own vanity and greed," a source close to Sheen reveals to Extra.

In order for their girls to appear on the show, Sheen has to give his approval. So far, he has refused. Richards will reportedly ask the court to revoke Sheen's power as father in this particular matter, so she can move forward with the show without his consent.
What would the Denise Richards reality show feature? Her getting dressed all pretty and taking her kids to the park? She actually has a couple of movies coming out soon, including Jolene and Deep In The Valley, does she really need a reality show?
She doesn't have a lead role in either film, and one looks like a teenage flick (there's a character called 'Officer Brittany Speared') but surely that is paying the bills. One thing is for sure, and that is that television does not need another lame celebrity starring in a lame reality show. Can't we just resolve the writer's strike and go back to half hour sitcoms?
Denise Richards new movie, Blonde and Blonder, played in fourteen cinemas and made $26,500 in its opening weekend just past.
Picture note by Celebitchy Denise Richards and Charlie Sheen are shown at the Hammerstein Ballroom in NY on 11/2/03 in the header image. Charlie used to be really hot. Photo below is of Denise on probably Sam at the Ratatouille premiere on 6/22/07. Thanks to PRPhotos.