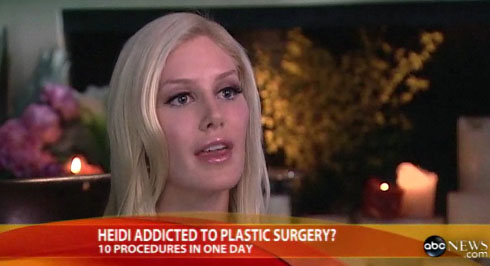 Heidi Montag is getting her face time in before her People Magazine "Addicted to Plastic Surgery" cover is off the stands. The 23 year-old freakishly altered reality star claimed on Good Morning America today you can see the video here) that she's not addicted to plastic surgery or she would have had ten surgeries. When the interviewer countered that Heidi did have 10 surgeries, she said she'd had 2 surgeries, with ten procedures in her latest round. It took over ten hours to do all of Heidi's latest work, but her surgeon says that's not an issue because she's 23 and healthy. Another plastic surgeon told GMA that it was irresponsible to do so many surgeries/procedures in one day. Heidi said that her main message is that beauty is within, but in the same interview she also said she hopes to get a Barbie made in her image and that she doesn't think her triple D boobs are big enough. Here's People magazine's recap:
Under fire for the staggering number of cosmetic procedures she's recently undergone, Heidi Montag now says she isn't addicted to plastic surgery – she just wants to be as beautiful as she can be, inside and out.

Asked on Tuesday's Good Morning America for a response to those who say she is addicted, Montag, 23, replied: "I would say that none of those people know me at all, and that's just a judgment. I'm not addicted. If I were addicted, I would have had 10 plastic surgeries."

What she had, actually, was 10 procedures on the same day, back in November. This followed a previous surgery three years ago. In a recent interview with PEOPLE, Montag admitted she was "beyond obsessed" with having work done.

She is now backing away from that notion.

Asked why she would want to look like a Barbie doll, Montag replied: "I think I look like myself. I think I just look like a different, improved version of myself."

Many observers are upset with the message that's sent to young girls when an already attractive 23-year-old chooses to undergo so many alterations. But Montag says it's her life – and in her line of work, alterations can be necessary.

"I'm in a different industry," she said, "and I have to do things that are going to make me happy at the end of the day."

She added: "I'm living in my skin, and I look in the mirror and it's my career and my life, and you only have one. So, I want to take advantage of everything and be the best me, in and out, every way."
[From People]
At the end of the interview, the interviewer tries to get Heidi to sing and she says she can't because her face is still hurting from all the work she had done. I think it's safe to assume she can't sing at all and relies on auto-tune and her purchased face to sell CDs. The good news is that People magazine sounds annoyed at Heidi for backtracking on her "addicted to plastic surgery claims." Maybe now that the circulation numbers are coming in they're realizing that it's foolish to put this faux star on the cover. Everything about Heidi is fake, through and through, and she's right that triple D boobs aren't enough for her. She can't get enough work done to compensate for her bland personality and lack of talent.