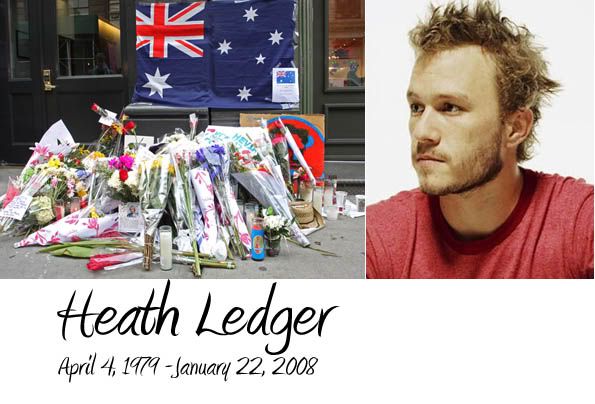 Heath Ledger's funeral will be held today. His family has flown into New York from Australia for the private service. They've made no plans for a public memorial, so unless someone else plans one, it appears that Heath's fans will make do with the mountains of flowers, letters, and candles that they've left outside his Soho apartment.
Services for Heath Ledger will remain private, a rep for the late actor said in a statement Friday. Various reports have said Ledger would be buried in his hometown of Perth, Australia, but no official plans have been announced.

"At this time, we will not be releasing any information," the rep says. "There are no plans for a public service."

Ledger, 28, was found dead in his SoHo apartment Tuesday and his family is set to arrive in Manhattan Friday for his funeral.
[From People]
Some of Heath's fans have expressed some annoyance that there won't be a public memorial. I think it's important to remember that as sad as it is for the public, there's really no way it compares to the sadness his family feels. They loved him as a son, brother, and father, not as an actor, and they deserve to deal with this privately. It seems like sometimes we think that because someone is a public figure, we "own" them or "have a right to them," which really isn't the case.
Heath's family wrote a little in the death notices section of the "West Australian" today.
How do we describe our sudden and tragic loss? … You were the most amazing individual "old soul" in a young man's body.

You so loved us, as we dearly loved you. As a close knit and very private family unit we have observed you so determined yet quietly travelling in your self-styled path in life, nothing would get in your way … no mountain too tall, no river too wide.

You dreamed your dreams and lived them with passion and intelligent commitment. We have been privileged to accompany you on a ride through life that has simply been amazing and through it all, we have loved each other beyond imagination.

Your true legacy lives on in beautiful little Matilda, who will always remain in the greatest of care. Our hearts are broken.
[From People]
In the media, once the funeral is held the attention dies down and the story tends to wrap up. There will be a little more attention once the autopsy results come back, and some notes here and there, but for the most part everyone moves on. For Heath's family, this is just starting. We keep them in our thoughts.
Picture note by Celebitchy: photos of the memorial outside Heath Ledger's apartment thanks to PRPhotos.