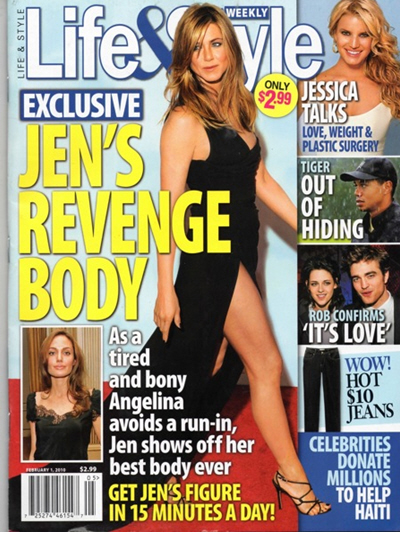 Boy, with all the Brangelina/Aniston stories hitting the tabs this week, you'd think it was 2005 all over again. Deja vu! We told about one silly story that claimed Jennifer modeled her sexy, thigh-high slit gown after one worn by Angelina Jolie last year. Now, new stories are coming out that say Jennifer's entire look, from her sexy, beachy hair, ample cleavage, to her form-fitting gown and very toned body, were all part of a revenge plot to commemorate the fifth anniversary of her split from Brad Pitt.
She wasn't nominated for a Golden Globe, but a stunning Jennifer Aniston definitely took home the award for sexiest appearance at the Jan. 17 ceremony. Wearing a black Valentino gown with a mile-high slit on the side, the screen siren took a page out of her rival Angelina Jolie's style book. And while Angelina and Brad Pitt decided not to attend the awards, their absence actually inspired Jen. "Jennifer decided to go for black and sexy for the awards only when she discovered that Angelina wasn't attending," an insider tells Life & Style. "An earlier choice had been a white asymmetrical Stella McCartney, since she didn't want to go head-to-head with Angelina and her trademark black."

Jen, 40, has been proudly showing off some killer curves — while Angelina, 34, has looked worn out and nearly skeletal. Unlike Angelina, Jen has taken a balanced approach to maintaining — and even improving — her figure. Jen has done away with a regimented diet to maintain her fat-free form and is enjoying her food. "Jennifer was happy to emphasize her curves in direct contrast to Angie's skeletal look," says the insider.

Just three days before she poured her curves into a Valentino gown, Jen and five friends met at the Sunset Tower Hotel in LA, where they indulged in $30 flutes of Veuve Clicquot champagne, small plates and then a meal. "Jen joked that she didn't want to look like a blimp on Sunday," an eyewitness tells Life & Style. But as a devout yoga fan, Jen can certainly afford to take in a few more carbs. "She's been putting extra yoga hours in but has also upped her carb intake to create an altogether curvier look," says the insider.
I'm going to admit something. When I know I am going to be at an event where I might run into some of my ex-husband's colleagues, I want to look good. I can't say it's for "revenge," more like, "wow, she's really hot, why'd he get rid of her?" But I don't think that's what happened here. The short answer is that Jennifer Aniston has a new movie to promote and showing up on that red carpet with Gerard Butler required her to look extra-sexy. End of story. Who wants to stand next to that morsel looking like a frump?
Meanwhile, People Magazine has a new cover story on Aniston entitled "Five Years After Brad." Honestly, I can't think of anything more insulting. Like I want people counting the years from when my husband publicly dumped me and took up with another woman. What the hell? I mean, the article seems to be framed as a "she's better than ever" type of fluff piece that People excels at, but that title? Really? Is there going to be a "Life After Brad" 25th anniversary special issue, too?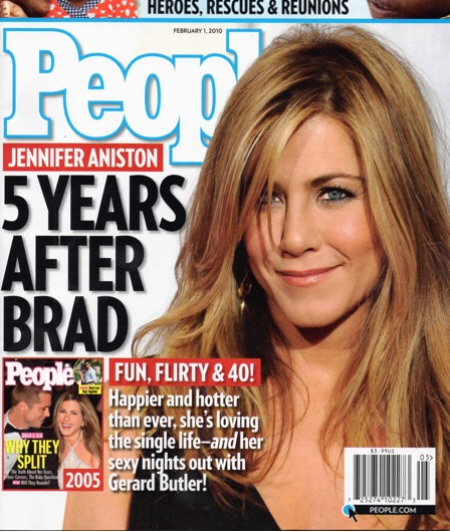 Life & Style and People Magazine covers courtesy of CoverAwards.