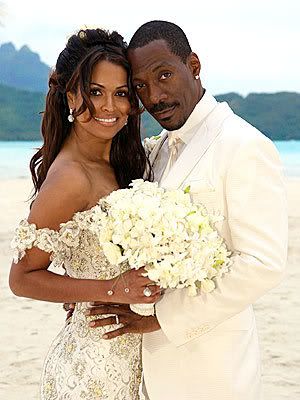 We've heard plenty of embarrassing stories about what went down in the bizarre pseudo-wedding ceremony between Eddie Murphy and Tracey Edmonds. There have been several reports that their families bickered like crazy. The stories ranged from everything from their mothers going at each other to their kids bickering fiercely. According to the National Enquirer, Tracey and her family all thought they were better than the Murphy's, and Tracey accused the entire family of being "too ghetto."
"The families hated each other from the beginning," a close family friend told The Enquirer. "There were actual screaming matches between relatives." And it didn't take long before both Eddie and Tracey were knee-deep in the fray. "Eddie told Tracey that she and her family should stop with the superior attitude, and she fired back criticizing his kin for being too 'ghetto,'" continued the friend. "Eddie bit his lip thought the entire ceremony – he was steaming about the low blow.
[From the National Enquirer, print edition Feb. 4, 2008]
The Enquirer also says the real problem was Tracey's money-grubbing family.
"The entire wedding was a fiasco, and it brought to light just how incompatible Tracey and Eddie really are." Things went from bad to worse after the ceremony, when Tracey and her family members seemed more interested in striking business deals than the wedding, says an insider. "Her mother was pressuring Eddie to buy a new multimillion-dollar Malibu mansion with her as the Realtor – so she'd get the whopping commission. "Then her brother, who's [sic] a rep for a watch company, put on a full-court press to get Eddie to serve as spokesman for his line."
[From the National Enquirer, print edition Feb. 4, 2008]
Apparently the biggest problem was Tracey's brother Michael. According to the anonymous insider, Michael brokered some deal with Jimmy Choo that required getting a bunch of pictures of the bridesmaids in Choo's shoes, and Michael turned into a bit of a diva in his attempt to make sure the Choos got enough photos.
"Everyone in Tracey's family, including Tracey, seemed to be trying to work a deal around the wedding and Eddie's celebrity. And he saw greed instead of love," said the insider, and eyewitness. "Tracey's brother Michael was by far the worst of the group. He'd obviously cut a bunch of deals on the side. For instance, the bridesmaids were a walking advertisement for Jimmy Choo shoes. Michael was ordering the wedding photographer to make sure he got all the trademark clothing in the shots. And he was coaching the guests on how to pose in photos. Michael was saying: 'The Choos! Remember to get the Jimmy Choos in the pictures or else we won't get our free shopping spree!'" That was the final straw for Eddie.
[From the National Enquirer, print edition Feb. 4, 2008]
That sounds like a pretty contrived quote. "Remember to get the Jimmy Choos in the pictures or else we won't get our free shopping spree!'" Who talks like that? I'm going to assume it's paraphrased. Unless Michael was saying it in jest. Seriously, if that's true it's super tacky. The story is pretty biased towards Eddie Murphy, so it should all be taken with a gain of salt. Murphy has long been reported to be a domineering control freak, so I find it kind of hard to believe that he's the innocent victim in all this. It sounds like he and Tracey were definitely a bad match. In the scheme of things, it sounds like they really narrowly avoided a big disaster. How much closer can you get than marrying the wrong person but not making it legal? According to E! News, Tracey's been all over Sundance having a wonderful time. So it looks like everyone managed to escape unscathed.