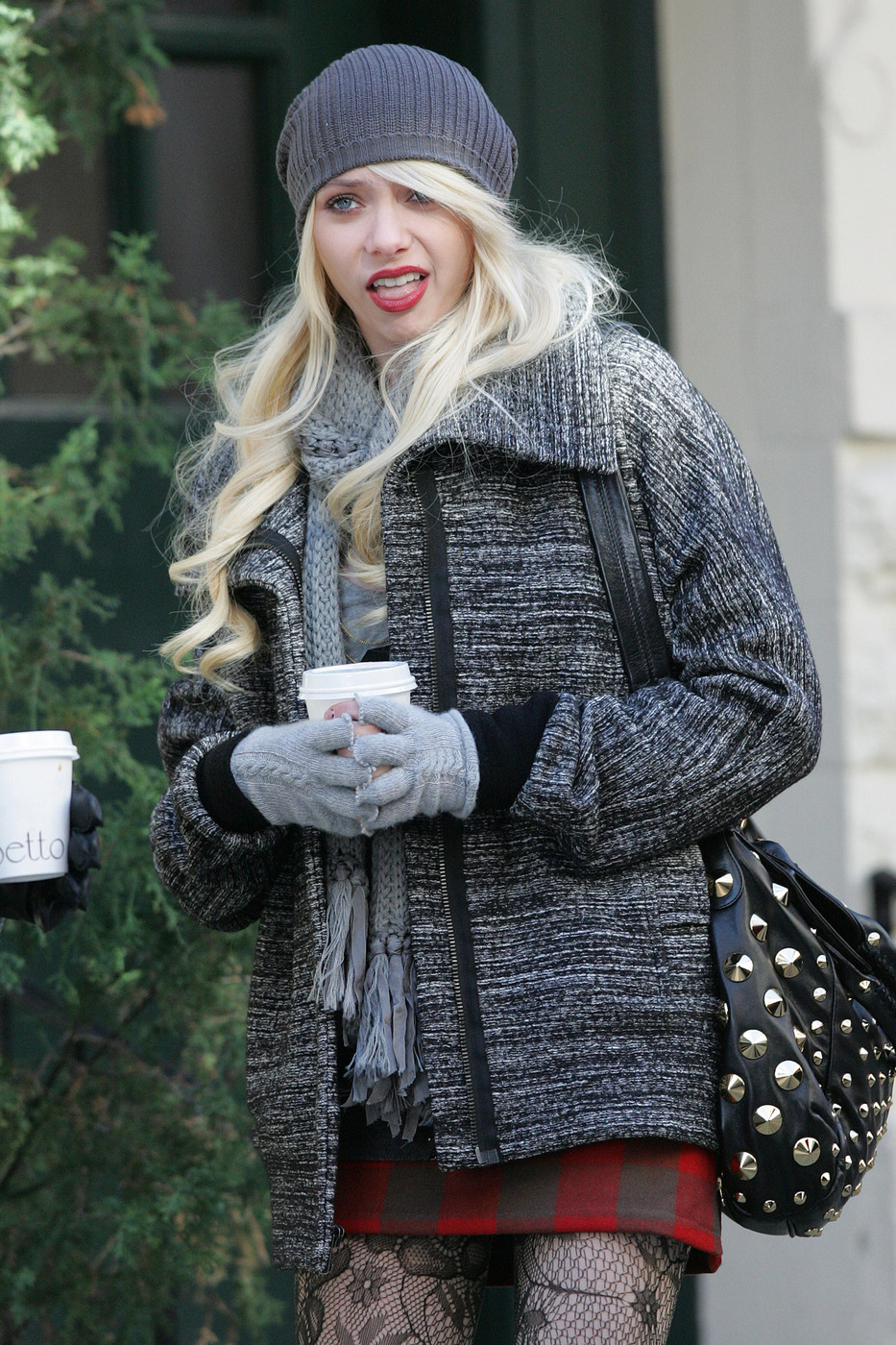 As some of you may have noticed, Taylor Momsen is fast becoming one of my favorite brats to talk about. She's filled the void while Lindsay Lohan (still a brat) takes an epically horrible downward spiral, and while Miley Cyrus seems to be doing some growing up. Taylor is the new brat who says dumb sh-t and get away with it. Sh-t like "I'm not so much thinking about Haiti" and "I might not gonna attend the Haiti fundraising events…" Add to her vapidity the fact that this 16-year-old girl loves her eyeliner, eye shadow, thigh-high stockings, garter belts, miniskirts, and being a "hardcore" poseur, Taylor is here to stay.
So Taylor has a new interview, in this past week's London Times Style Magazine. Taylor snots out some classics like "I don't f***ing care. I didn't get into this to be a role model" and regarding her would-be casting as Hannah Montana, Taylor farts out "If I'd have ended up as Hannah Montana, I don't know if the show would have gone as well. I probably would have told them all to go f*** themselves by the time I hit 11." Oh, she's so hardcore!!! Must. Buy. Eyeliner.
There is a look out there right now that young teenage girls are embracing in their hordes — and it's got nothing to do with pretty. So stop thinking pink and start thinking punk. Because for teens in the Teenies, nothing carries quite so much cachet as the latest version of the cool-girl grunge look: luxe goth, if you like.

The poster girl for this is Taylor Momsen. She may not be able to legally drink, but the 16-year-old is already a lead in one of the most popular television series of the moment (as Jenny Humphrey, in Gossip Girl); has a modelling contract with IMG (here she is the latest face of the high-street chain New Look); and is lead singer and songwriter in the band the Pretty Reckless. All of which, together with her platinum locks, endless skinny legs, "whateva" attitude, and a look she describes as "grunge meets Chanel", have made her the girl all teenagers want to be and their mothers dread.

"To be honest," she says, "I don't f***ing care. I didn't get into this to be a role model. So I'm sorry if I'm influencing your kids in a way that you don't like, but I can't be responsible for their actions. I don't care."

It's an attitude Momsen displays towards most things. Although she is the lead in a show watched in more than 40 countries and is mobbed on the street wherever she goes — "It's insane. I literally can't go out without being interrupted. It's wild" — Momsen insists she has taught herself not to mind what people think. "Online, there's a thousand people who are just so mean. There are so many negative comments about just the pettiest things that you can't even read it."

Mean they may be, but it's Momsen who's having the last laugh. Her career started at the age of three with a Shake'n Bake commercial — "I literally grew up doing this" — and she has been working ever since. But for all her apparent edginess today, it could have turned out very differently. At nine, she was in the final three for the lead in that other small-screen tweenie obsession, Hannah Montana. Pipped to the post by Miley Cyrus, Momsen narrowly missed out on a having a squeaky-clean sort of fame.

"Honestly, if I'd have ended up as Hannah Montana, I don't know if the show would have gone as well," she laughs. "I probably would have told them all to go f*** themselves by the time I hit 11. And I don't know how that would have gone down. It's great for Miley, but I really like where I am right now and I feel really fortunate to be able to really be myself."

Born in Missouri and brought up in Maryland, Momsen now lives in New York. Having quit high school at the age of 14, she now works on Gossip Girl by day and her music by night (she's got herself a record deal and is about to embark on a tour). She hangs out exclusively with people older than her — "I have, like, no friends my age" — gets to walk the red carpet in full fashionista garb and graces the covers of endless teen magazines. Totally emancipated teen with the coolest life ever, or what?

It's her clothes, though, that generate the most interest. She has a healthy appreciation for designer goods ("I loooove Chanel. And YSL. And Balmain. And Alexander Wang"), but mixes it up with torn stockings, suspenders, parkas and a heavy dose of her signature racoon eye liner. It's the obligatory look for many girls. Alice Dellal, Georgia May Jagger and Coco Sumner, with their undercut or birds'-nest hair, American Apparel dresses and bovver boots, are a (slightly less luxe) Brit take on the look.

The high street has not been slow to catch on. Topshop, New Look and Oasis are all doing the laddered lace-and-leather thing. It's a look that excites teenage girls and exasperates their mothers in equal measure, as Momsen herself knows only too well. "My favourite blogs are where you get the mothers saying, 'She's the worst influence on my daughter, I would never let my daughter dress like that', or, 'This girl's such a wh-re, she's a sl-t'. And I'm, like, you're a mother! And I'm 16."

Not that Momsen is about to let the criticism change anything. Displaying signature teenage scorn, she announces: "I like wearing garters. Apparently people think that's a big deal, but my tights won't stay up. So whatever you want to do with that information…"

The combination of an ultra-glamorous, grown-up life with a brilliantly teenage attitude must seem pretty intoxicating to Momsen's young fans. But while being a famous actress with a designer wardrobe might have its perks, there are downsides. "I can't try on a jacket without people taking pictures and posting them online," Momsen says. "I mean, I'm 16 and I can't get away with anything. My mother finds out everything. Other teenagers — they have lots of freedom!"

Girls, you have been warned.
[From London Sunday Times Style Magazine]
Dude, the garters aren't the problem. Okay, they're part of the problem. The problem is the whole situation, where a 16-year-old girl roams the streets of New York in thigh-highs, garters, miniskirts, and a face full of makeup all while espousing this "I don't f-cking care" attitude. It's just so angst-y, dumb and dangerous. What the hell is her mother thinking? In the photo below, Taylor is seen with her mom – who looks younger than Taylor, honestly. I think we've got another Dina Lohan situation: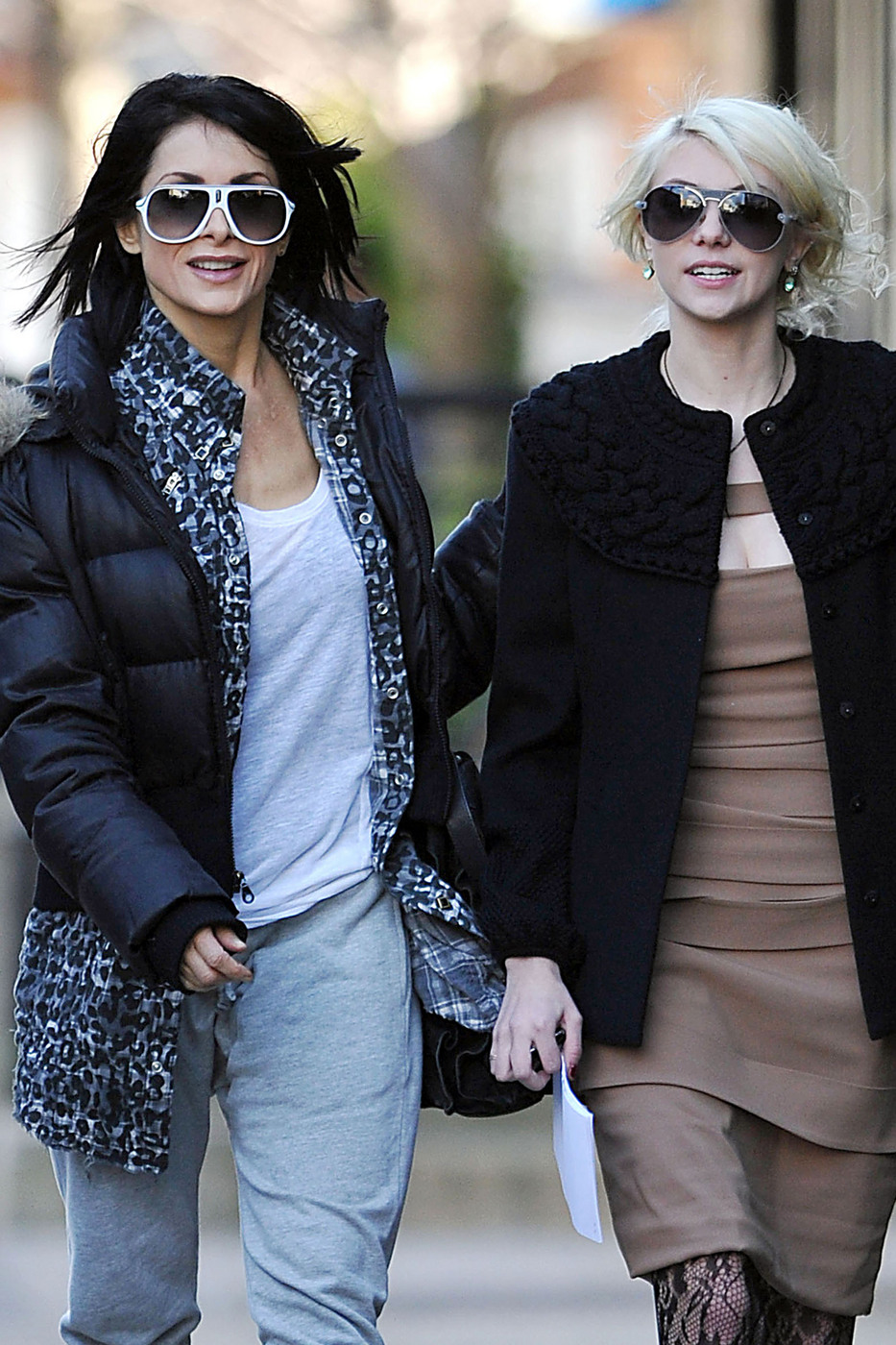 Taylor Momsen with her mom Collette on January 20, 2010. Also, Taylor in character on the 'Gossip Girl' set in New York on January 18, 2010 and December 11, 2009. Credit: Pacific Coast News.