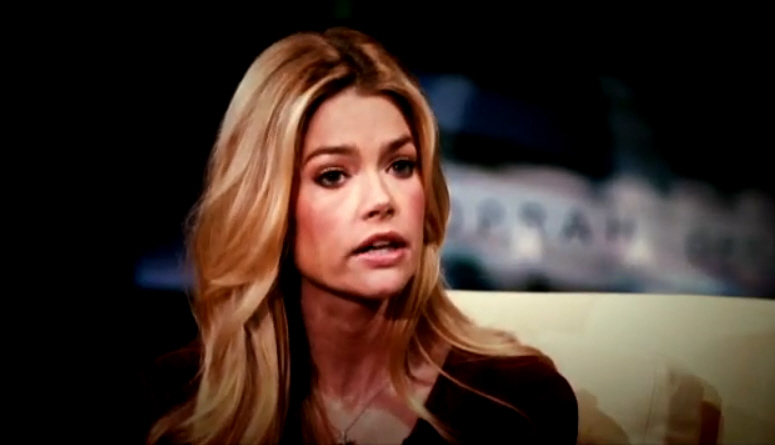 I saw the ads for today's Oprah already, and it looks like a really good episode (video below). Oprah got an interview with Denise Richards, and Denise is telling all about her marriage to Charlie Sheen. People Magazine has a preview of the episode, and am I weird for admitting that I can't wait? Oprah! Denise! It's happening. A few days after Charlie's Christmas arrest (for abusing current wife Brooke Mueller), Denise tweeted "One day I'll spill my guts." Well, that day is today! Denise seems like she's getting very, very specific about the kinds of stuff Charlie did to her when they were married:
When Charlie Sheen was arrested for allegedly threatening wife Brooke Mueller, his ex-wife Denise Richards decided not to tell their daughters that the only way Dad could wish them a Merry Christmas was by calling collect from jail.

Richards, appearing Tuesday on The Oprah Winfrey Show, said she didn't want Sam, 5, and Lola, 4, happily playing with their new American Girl dolls, to know that Sheen was spending the holiday in an Aspen, Colo., jail.

But eventually, "I did have to tell them about their dad," Richards says, after a kindergarten pal told Sam she'd heard Sheen was in jail and wondered if he was still there.

When Sheen did call Richards on Christmas Day, all he told her was that he and Mueller had been in a fight and that she'd called police. "It's sad," Richards says of Sheen and Mueller's situation. "Perhaps people can understand what I went through."

Asked if Sheen had been abusive during their own marriage, Richards says that there were "a lot of verbal arguments that got heated that scared me" – but that he never hit her. He did, however, push and shove her, which eventually led Richards to seek protection from him, she says.

"I was in a very dark place," she tells Winfrey. "Especially when I filed the restraining order, I was humiliated. I was scared. I was embarrassed."

Now, however, through their work with a mediator, "Charlie and I are in a great place," she says. So much so that the couple shared an early New Year's Eve dinner together, along with Richards's father. Plus, she says she trusts her ex with their daughters.

As for another ex, Richards tries to clear up misconceptions about her relationship with Richie Sambora. She tells Winfrey that when the pair got together, "We were both single," and that she and Heather Locklear, whom Sambora was divorcing, were no longer friends. "If we were friends, I never would have crossed that line with Richie," she says.

As for what gets her through the rough spots these days, she says she looks to her family: "My daughters are my pillars of strength."
[From People]
Now, I know many people don't like Denise, and maybe you don't believe all of the stuff she said in the wake of her split with Charlie, but I do like her, and I think history has vindicated her to a certain extent. And I believe her too – then and now, although I think she might have been lying a few times right after her divorce. I think Charlie did abuse her, I think he threatened her, and I think she was afraid, humiliated, and felt attacked on all sides. I'm glad that Oprah got the interview, and I'm really looking forward to hearing what Denise has to say!