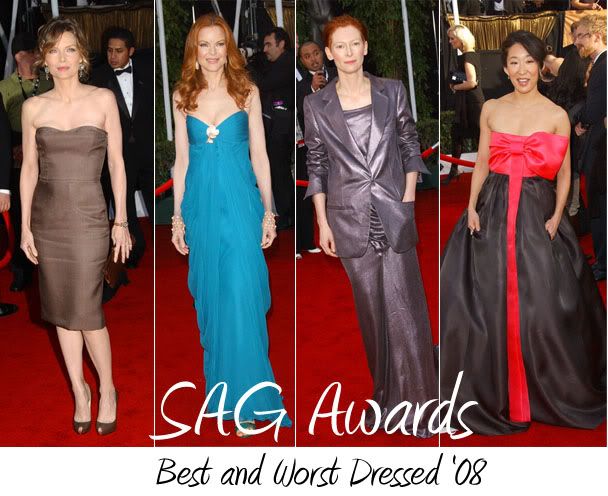 I wanted to post as many photos of the celebrities at the SAG Awards last night as possible, so instead of just doing "Best" and "Worst" Dressed or posting by single celebrity, which takes too long, I'm adding an "Undecided" category for those dresses that don't hit either extreme.
Some outfits are obviously bad, like Sandra Oh and her giant bow, and Tilda Swinton's oversized purple metallic jacket. I feel bad for putting Cate Blanchett on the worst dressed list, and usually she would get a pregnancy pass for that busy flowery dress, but we hold Blanchett to a higher fashion standard than everyone else and she's expected to look fabulous throughout her pregnancy.
Other gowns are just not to my taste but don't deserve a "Worst Dressed" label, like Terri Hatcher's too-tight white gown with a silver and bronze flower print. It wasn't a hideous dress, the print just looked like wallpaper to me. Simple clean lines and solid colors are what I prefer to see on the red carpet. I've been aptly criticized in these best and worst dressed posts in the past for being too conservative in my fashion tastes, though. I didn't adore Angelina Jolie's dress – the cut was lovely for a probably pregnant woman, but the colors seemed kind of muddy to me.
Michelle Pfeiffer was striking in a sleeveless tan dress with matching peep-toe shoes and subtle accessories. Holly Hunter cut a striking figure in cowl neck white dress with a grey ribbon. Kyra Sedgwick and Marcia Cross wore flowing dresses in bright hues of blue. And Ellen Pompeo seems to have escaped her sometimes-fug fashion past with a gorgeous silver gown with subtle layers of soft fabric.
Thanks to PRPhotos for these pictures.

Best Dressed: Michelle Pfeiffer, Holly Hunter, Kyra Sedgwick, Marcia Cross, Ellen Pompeo, Marion Cotillard, Brittany Snow, Nancy O'Dell, Jamie Lynn Sigler, Glenn Close, Lymari Nadal, and Becki Newton: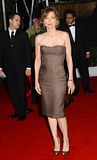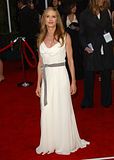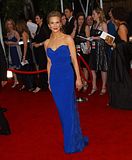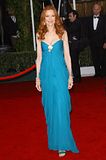 ---
Worst Dressed
: Tilda Swinton, Sandra Oh, Amanda Bynes, Melora Hardin, Nikki Blonski, Jane Krankowski, January Jones, Dana Delaney, Debra Messing, Missi Pyle, Christina Hendricks, Cate Blanchette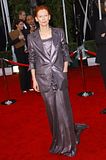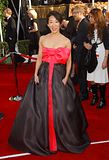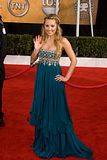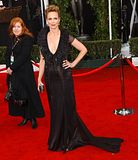 ---
Undecided
: Kate Beckinsale, Eva Longoria, Edie Falco, Chandra Wilson, Christina Applegate, Teri Hatcher, Maria Gay Harden, Lisa Rinna, Sara Ramirez, Rebecca Romijn, America Ferrera, Ellen Burstyn, Sophia Bush, Alison Janney, Vanessa Williams, Nicolette Sheridan, Ashley Tisdale, Tina Fey, Angelina Jolie, Sally Field.