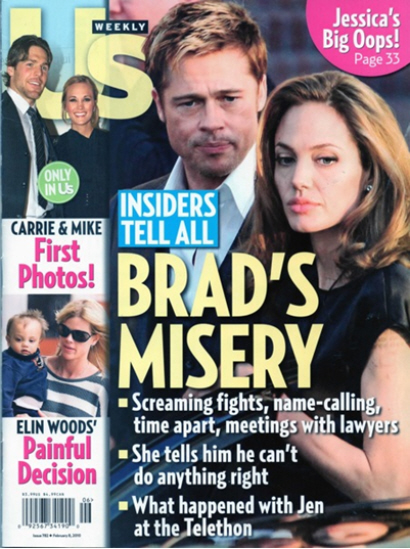 You knew it was coming. The Brangelina-Uncool Triangle tabloid insanity. Us Weekly screams "Brad's Misery: Insiders Tell All" while OK! Magazine, Star and In Touch Weekly are running with "Brad going back to Jennifer Aniston when he leaves Angelina" stories. So… yeah. Those f-cking gerbils of doom haven't shut up since they were adopted. The gerbils, much like Hillary Clinton's elbow, are Team Aniston.
Only two of the tabloids have released anything from their cover stories. OK! Magazine's is all about how Brad and Jennifer had a "backstage reunion" at the Help for Haiti Now event last Friday: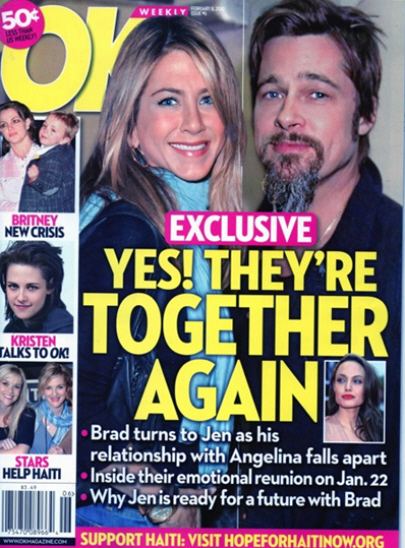 Leave it to sly George Clooney to play matchmaker. When the actor asked both Brad Pitt and Jennifer Aniston to volunteer for the Hope For Haiti Now telethon he was staging in L.A. on Jan. 22, he knew the two were bound to bump into each other. And they did just that, reuniting at an elaborate backstage buffet at the live event — while Brad's partner, Angelina Jolie, was in NYC for a photo shoot.

Exclusively in the new issue of OK!, learn all about Jen and Brad's backstage reunion — from Brad turning to Jen as his relationship with Angelina falls apart, to the many reasons why Jen is ready for a future with Brad.
[From OK! Magazine]
And Star Magazine has a more jacked-up version, with Aniston deciding to "forgive" Brad for spending more than four years with Angelina and having six children: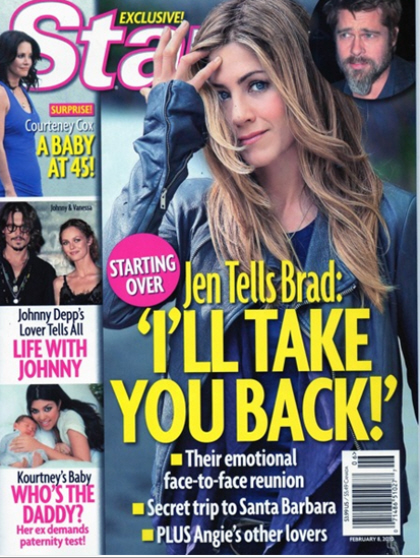 Jennifer Aniston and Brad Pitt shocked the world five years ago, when they ended their picture-perfect marriage. But now that Brad and Angelina Jolie have signed a breakup contract dividing their $350 million fortune, Jen is ready to forgive her ex — and take him back!

In the Feb. 8 issue of Star, we report that Brad and Angie have now accepted that it's not a question of if they break up but when! Brad reached out to his ex for support — exchanging phone calls and text messages before an emotional face-to-face meeting at the Hope for Haiti Now benefit on Jan. 22.

"He knew she would console him, like she always did when they were together," an insider tells Star.

And as they talked, Jen realized that she loves and misses Brad — and wants him back in her life.

"She's never had a relationship live up to what they had, and now that things with Angie are finally ending, she'll take him back," says to a friend. The day after the telethon, Jennifer called Brad up and admitted the spark was still there, and she knows he felt it too. "The moment he and Angie make it official that they've called it quits, she's ready to try again."

What did Brad say when Jen declared her feelings? What's the next step for the duo? Get the scoop — as well as all the details on Brad and Angelina's split — in the new issue of Star today. Plus: A photo tribute to Brad and Angelina and their family: The way they were!
[From Star Magazine]
I know, I know. Some of you will take all of this as the gospel and some of you won't. Some of you will cite all of the evidence for Brad and Angelina's split, some will cite evidence that they're still going strong. All of the evidence has been carefully manufactured by the gerbils, just keep that in mind. The gerbils are famewh-res.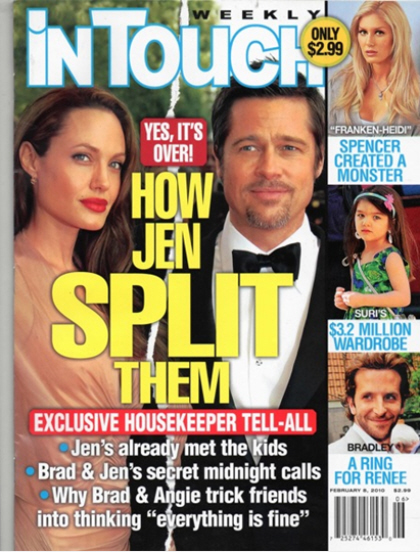 Tabloid covers courtesy of CoverAwards.