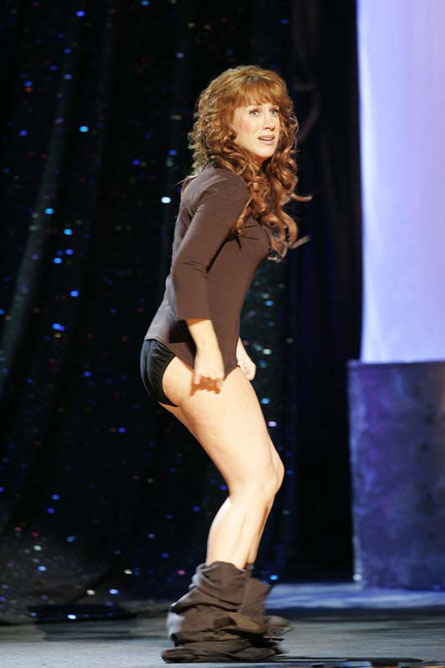 Sometime co-host Kathy Griffin has reportedly been banned for a second time from appearing on that post-menopausal bitch-fest, The View. Seems that every time Kathy comes on the show, she uses it as fodder for her stand-up comedy routines, in which she mercilessly skewers the celebrity guests and hosts—including Barbara Walters.
Kathy Griffin is an outspoken comedian who has apparently stepped over the line, at least where Barbara Walters is concerned. Griffin does a dead on impersonation of Babs. She has been performing her standup act in a sold out run at Madison Square Garden. Her final show is tonight, and she had planned to be a guest on this morning's broadcast of the popular talk show, The View.

Griffin apparently received a phone call yesterday from the shows producer Bill Geddie. He informed her that they have canceled her scheduled appearance because she was too mean to Barbara during her last special on Bravo.

The comedian said that she had been banned once before, but was incredulous to have been rebanned. Griffin is likely to use this momentary setback as fodder for her stand up act. Babs may regret the slight because of the ensuing fallout that is likely to occur.
[From Bitten and Bound]
Barbara Walters really needs to get over herself. It's obvious that Kathy Griffin idolizes Walters, and is poking fun in the same, good-natured way a kid sister picks on her older sibling. Griffin herself has admitted to antagonizing Walters on the set because she loves trying to "shock" her. It also happens to be hilarious. Besides, Griffin isn't the first comedienne to mimic Walters—Gilda Radner did a killer impression of Babs on Saturday Night Live back in the '70s. If Walters had been hosting this piece of crap show back then, Gilda probably would have been banned, too.