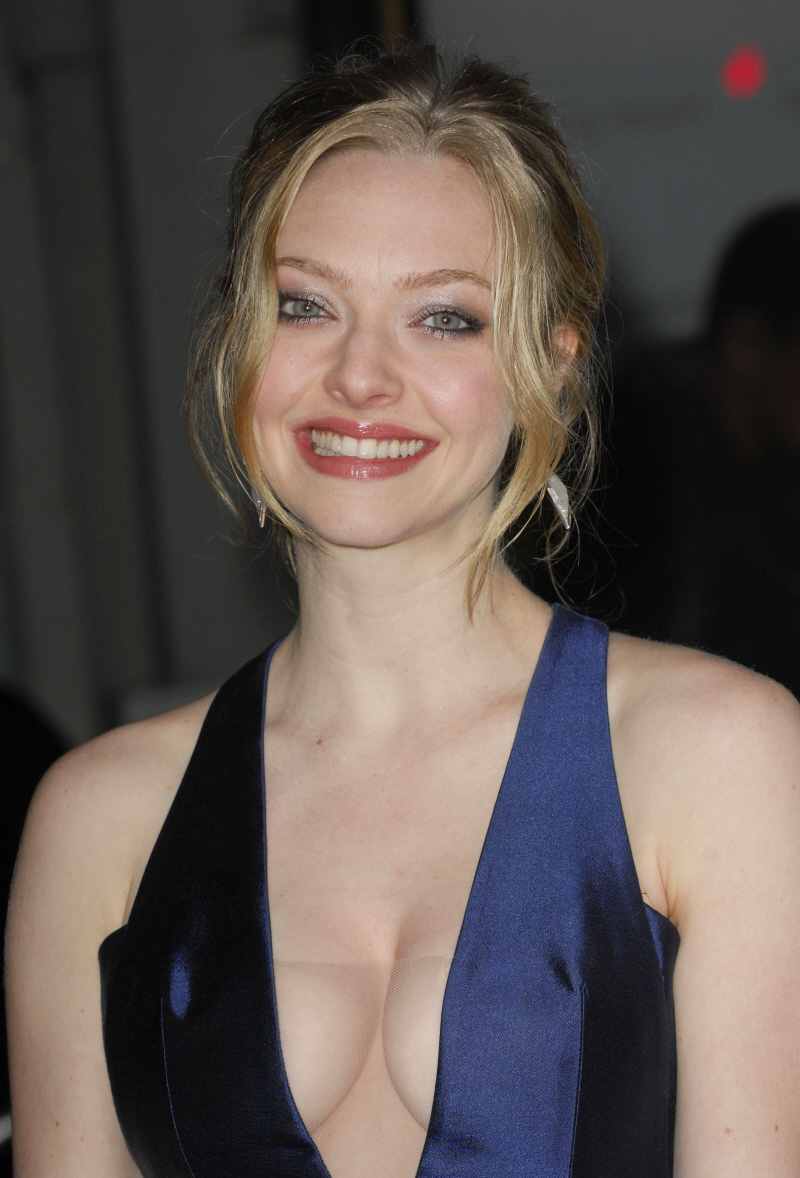 What's the verdict on Amanda Seyfried? I usually come down thinking she's a very talented and underrated actress who seems to be a pretty sweet girl in real life. I also think she looks like a young Uma Thurman, and I mean that as a compliment – I think it's those huge, hypnotic eyes. But other than that stuff, I don't really know her, or have strong feelings one way or the other. I do have strong feelings about this dress, however. I feel very strongly that Amanda should get a new stylist, someone who won't put Amanda in a dress that makes her lovely boobs look like they're cooped up behind a mesh screen.
Anyway, here are Amanda and Channing Tatum at the premiere of their new film together, Dear John. By all accounts, Dear John is a weepy melodrama about a college student (Amanda) who falls in love with a dude (Channing) on leave from active-duty. When he goes back to war (Afghanistan? Iraq? I don't know), their relationship ebbs and flows through the written word.
Amanda Seyfried says audiences will need to have plenty of tissues handy when Dear John hits UK cinemas. At the Hollywood premiere for the romantic drama, the actress said crying in the cinema isn't something we should be ashamed of.

"It's good, you need it," she told reporters on the red carpet. "I think [if it's] a love story, as sad as it can be, it brings something really good out of everybody that sees something in that."

In the film, the Mamma Mia! actress plays a college student who falls for a soldier (played by Channing Tatum) while he's home on leave.

"It was pretty realistic, it was dealing with things that I remember going through," she explained. "Everything was being touched on in this movie. Everything that was surrounding the love story was real, things that needed having attention drawn to them."

Amanda said working with Channing had been "amazing".

"He's awesome, he's the most fun co-star I've ever had in my life," she said.
[From The Press Association]
Even though this is a rare starring role for Amanda, she hasn't been giving very many interviews to promote this film, from what I can tell. She did sit down with Teen Hollywood to try to get the younger kids to see the film, I suppose. I think of them now as "the Twihard demographic". And honestly, this film might appeal to them. The interview is supremely boring (full piece here), but one answer Amanda gave cracked me up. She was asked about the melodrama in the film, and Amanda replies: "No. The funny thing is, I've always been subtle to a fault. I like to be more thoughtful. I've always found that some of the words in some of the scripts just kind of get in the way depending upon how things are written. This was a really good script and written well…I wasn't really scared about slipping into melodrama too much. I think the moments where it is kind of overly-sentimental, are okay. You've got to have a little bit." Who describes themselves as "subtle to a fault"? For goodness sake.
Here's the trailer for Dear John:
Amanda and Channing at the LA premiere of 'Dear John' on February 1, 2010. Credit: Apega/WENN.