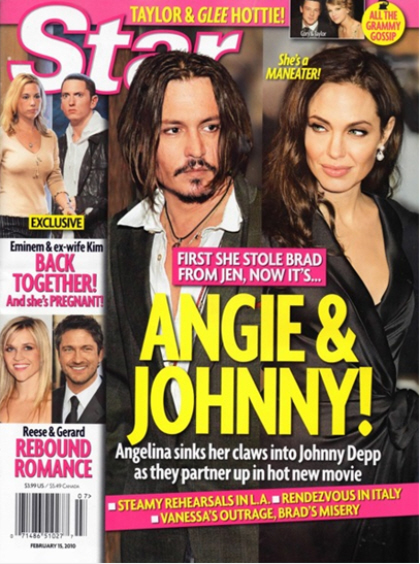 Last November, Johnny Depp signed on to the film The Tourist after Sam Worthington unexpectedly dropped out. Who knew that Depp would be a director's second choice? But anyway, Angelina Jolie was already attached to the project, and many of us were excited that Depp and Jolie would be working together at long last, although (just personally) I would like it better if they could play brother-and-sister in some kind of drama, rather than lovers in some kind of international thriller like The Tourist. Soon after Depp signed on, Life & Style had an early script preview that showed just how sexy some of Depp and Jolie's scenes were going to get. Hot shower sex, nipple clamps (not really) and whips (no!). The whole thing screamed: "Vanessa Paradis, watch your back!" Now Star Magazine is making is even clearer: Angelina, is seems, has got her eye on Johnny.
Angelina Jolie and Brad Pitt's relationship is in full meltdown mode — and Angie's wasting no time moving on. She has her sights already set firmly on sexy Johnny Depp, her costar in her new movie.

The serial seductress plans to snare Johnny, when thy work on The Tourist in romantic Venice, Italy, Star reports in our Feb. 15 issue. She's already started—with the same wiles she used to lure Brad out of his marriage to Jennifer Aniston on the set of Mr. & Mrs. Smith!

While going over the script, Angie insisted that she needed to meet alone with Johnny at his LA compound to "discuss his acting method," a friend reveals exclusively to Star.

"She's already spent hours there drinking red wine with Johnny," the insider tells Star. And when she's not working her charms on Johnny in person, she's been bombarding him with flirty e-mails and burning up the phone lines.

Angie has a reputation for falling for her costars. Both of her husbands and Brad were on movies with her when they fell in love. And she has proven she has no boundaries — she stole Billy Bob Thornton from Laura Dern and Brad from Jen.

Now she's setting a trap for Johnny, who has two children with long-time love Vanessa Paradis. "She goes on and on about how fabulous Johnny is," reveals the friend. "She's intense and goes for anything and anyone she wants. She has no limits!"

Things could all come to a head when they head for Venice, Italy at the end of February. But don't look for Brad to be there to intervene.

"Angie told Brad she's going to Italy without him," says the friend. "Angie knows what she wants, and she doesn't want Brad in the way!"

How did Brad found out about Angie and Johnny? What was his reaction? And how is Vanessa dealing with it all? Pick up this week's Star, on newsstands now, to read all about it.
[From Star Magazine]
"Discuss his acting method" is my new favorite euphemism. Oh my God, was that Angelina got Brad? She invited him over to discuss acting methods? Yeah, the acting method in his pants. So, should Vanessa Paradis worry? Eh. I think Vanessa and Johnny adore each other. And I think Angelina and Johnny can keep it in their pants for one movie.
Call me crazy, but I actually prefer the tabloid stories that feature a sexually and emotionally empowered Angelina systematically emasculating Brad. I don't think that's what their relationship is really like, I'm just saying that these stories are a much better read than, say, "Oh my God, Angelina is desperate to keep Brad, even though he's still in love with Jennifer Aniston, blah blah." Because those are the stories that paint both Angelina and Jennifer as desperate hags fighting over Brad like he's a tube a lipstick.
Speaking of, here's In Touch Weekly's cover this week: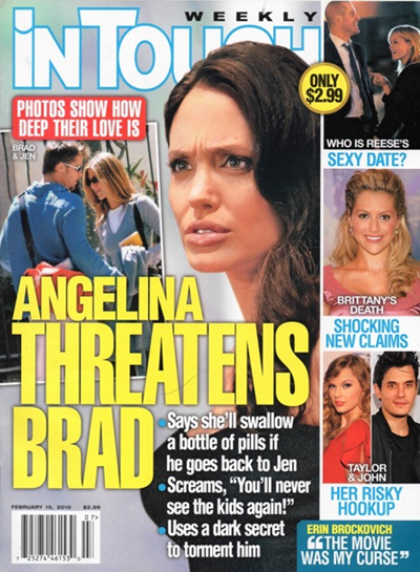 In Touch Weekly and Star Magazine covers courtesy of CoverAwards.