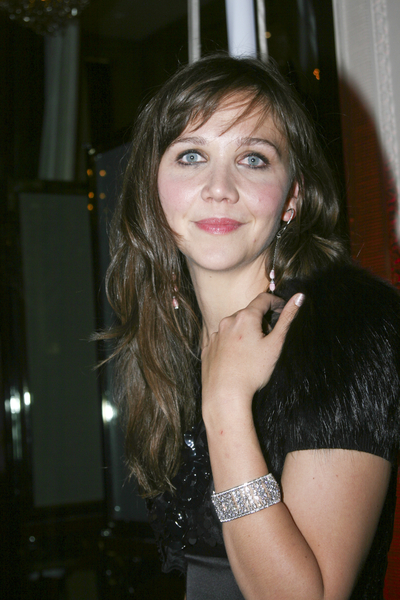 I missed have missed a memo stating that Maggie Gyllenhaal is now the go-to girl for sex appeal. First, she's the spokesmodel for Agent Provocateur Lingerie, and now the "Stranger Than Fiction" star is appearing in a short film urging Hollywood producers to start negotiating an end to the WGA Strike that has Hollywood in a strangle hold. While many other celebs, including Felicity Huffman, Conan O'Brien and Jenna Fischer, have been making videos to support the Writer's Guild Association, Maggie is taking it a step further with a black-and-white, porn-inspired video that hints at some girl-on-girl-on-girl action:
MAGGIE GYLLENHAAL has taken part in a spoof lesbian orgy, as part of a video campaign supporting the Writer's Guild Association's strike.

In the clip, the Secretary star turns up to a hotel room to meet a man only to find two other beauties waiting to see the SAME fella. The man, called AMPiTePa – short for Alliance of Motion Picture and Television Producers – has stood them all up.

After a period of frustration, Maggie takes a swig from her glass of wine and says: "We don't need him. We've got everything we need right here. Girls – you want to make an interim agreement?"

The other ladies join her on the bed, but, as things start to get interesting, the lights fade and the film ends with a sexy pizza delivery girl entering the bedroom.
[From The Daily Sun]
The clip is actually well written and pretty clever. "Is it too much to ask to be treated fairly? It's not like we're asking for anything crazy," Maggie says to the other girls in the clip. "The last time I went on a date with AMPiTePa, he said he didn't want to waste his money tipping a waiter 20 percent because he didn't think the restaurant business was going to pan out." This, of course, is a shot at the producers' cutting WGA members out of residuals for Internet viewings.
I doubt the film will do much to kick start negotiations between the two sides at this point. Especially since it refers to the fictional AMPiTePa as "arrogant," and likens him to a bad tipper. And seriously—who decided Maggie Gyllenhaal was sexy?
Note by Celebitchy: Here's the video. The drunken "interim agreement" starts at 3:09. I think Maggie Gyllenhaal is definitely hot. The other chicks in the video, not so much.
Header image is from 11/12/07 at the Chopard Boutique opening, thanks to PRPhotos.