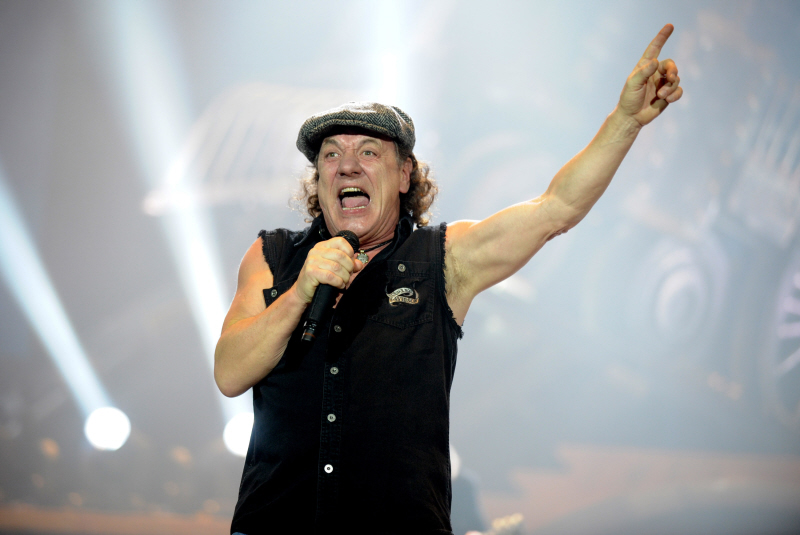 Brian Johnson (above), the lead singer of AC/DC, has a bone to pick with Bono. He thinks Bono is a big fat jerk. Because Bono tries to get people to donate to charity. I think. Johnson gave an interview to the Herald Sun (story via HuffPo), and Johnson described his animosity towards Bono "some bastard" who "talks down to me that I should be thinking of some kid in Africa." Here's more:
AC/DC frontman Brian Johnson is taking on Bono and Bob Geldof for their public displays of charity work.

"When I was a working man I didn't want to go to a concert for some bastard to talk down to me that I should be thinking of some kid in Africa," he told Melbourne's Herald Sun.

"I'm sorry mate, do it yourself, spend some of your own money and get it done. It just makes me angry. I become all tyrannical."

Johnson said that his own band prefers to make their charitable contributions in private.
"Do a charity gig, fair enough, but not on worldwide television," he said.

AC/DC turned down a slot at Live Aid in 1985.

"I do it myself, I don't tell everybody I'm doing it," Johnson said. "I don't tell everybody they should give money – they can't afford it."
[From Huffington Post]
Now, here's the thing: I do think Bono is rather douchey, and I don't like the way he refuses to put his own money where his mouth is. His non-profit in Washington doesn't send money to Africa – they simply take donations to further their own lobbying efforts, without Bono contributing to the upkeep. Bono also set up a tax shelter in the Netherlands – so, while he's asking the governments of the world to contribute a percentage of their GDP to altruistic solutions for Africa, he's taking away a substantial taxable revenue stream. I also hate the way he's constantly taking credit for the larger solutions being worked on in Africa (debt relief, malaria, AIDS, TB, micro-financing) in interview after interview, while he should be using his advocacy to pay it forward, so to speak, and give away credit to those governments and corporations who do sign on with billions of dollars.
All that being said, I don't really think that was the point Brian Johnson was trying to make. I think Johnson is one of those people who doesn't think charitable contributions should ever discussed, ever? Something like that. I don't know. As far as the whole "just shut up" argument goes, it's weak. If you're whole deal is donating quietly without a press release, why give an interview about how you're donating quietly?
Brian Johnson performing on April 14, 2009 in London. Bono in London on November 30, 2009. Credit: WENN.