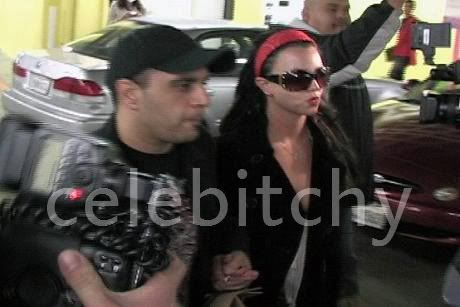 Sam Lutfi, one of Britney's entourage – who now calls himself her manager – has taken nothing but crap from the press for his role in Britney's life. He was generally thought to be nothing but a negative influence and a user. But it seems that since Britney's boyfriend Adnan Ghalib came into her life, Sam's been treated with a lot more respect by the powers that be. And by that, I mean bloggers. It's not that anything has necessarily changed with Sam, but more that Adnan seems one hundred times worse. And as much as people thought Sam was using Britney, he's stuck around for a while, and through a lot of embarrassing stuff when others have left her. He's also strenuously objected to Adnan's role in Britney's life – even having him barred from Britney's neighborhood. Clearly Sam must have a lot of clout if he's able to keep Adnan outside the locked gates, even when Britney wants him let in. He could very well be some sort of Svengali, but right now he doesn't seem nearly as evil as he used to.
No one else may understand why he has given Britney Spears his undivided attention, but manager Sam Lutfi hasn't given it a second thought.

When it comes to being by Spears' side during this obvious time of need, Lutfi exclusively told E! News' Ryan Seacrest he feels "like I have a moral obligation."

"You meet her and she cries, and she begs [you] not to turn on her." He would do the same for any of his three sisters, Lutfi said.
[From E! News]
Sam claims that he has never sold pictures of Britney to the media or been paid by them in any way. He also claims that Britney has never paid him. I highly doubt that – he probably incurs some fees as her "manager" and is paid directly from whatever company Britney is paid by. If nothing else, she probably pays for his expenses. Surely he has some financial gain in this, but it appears that he's serious about getting Britney some help – perhaps more so than her family.
Sam has been photographed with Britney and her mother this last week, and on Monday he told Barbara Walters that the two were repairing their relationship. This obviously led people to think that Sam was on decent terms with the rest of the Spears clan, but apparently that's not the case. Sam told Ryan Seacrest that Britney's family was against her hospitalization. E! News reports that it was Sam who coordinated with Britney's psychiatrist and lawyers to have her admitted on the 5150 hold.
And while Spears' parents continue to cast doubt on him and object to his intervention in their daughter's life, they're the ones who are "incapable of telling the truth and incapable of sympathizing," being more concerned about money and their image than they are about Spears' condition, Lutfi said.

"[I have] no more respect for the family," he said, adding that he's through trying to keep the peace.

Sources close to the situation previously told E! News that mother Lynne Spears was initially against Lutfi's plan to have Spears hospitalized. It was reportedly Lutfi who arranged with Spears' psychiatrist and her lawyers to have the 26-year-old transported early Thursday morning to UCLA Medical Center, where she underwent a psychological evaluation later in the day.
[From E! News]
Though the Spears now say they're glad Britney's in the hospital, I'm guessing a big part of that is their public image. They're aware that everyone else thinks she's crazy and should be in a straightjacket, so to be against hospitalization makes it sound like they're against her treatment. Thus the change in tune. Considering how long Britney's been deteriorating, I can't help but think her family's been making excuses for her. Sure they can't force her into treatment – but Sam Lutfi managed to get her into the hospital, which was more than Britney's parents have been able to do. If she finally works her way out of the mess she's in, he might end up being seen as the person who finally did something.
Picture Note by JayBird: Here's Britney Spears visiting Longs Drugstore with her mother Lynne Spears, Sam Lutfi and Chad Hardcastle at 1.30 in the morning on January 29th. Images thanks to WENN. Header image of Britney Spears seen here leaving century city mall with Sam in tow on January 30th. Images thanks to Splash.