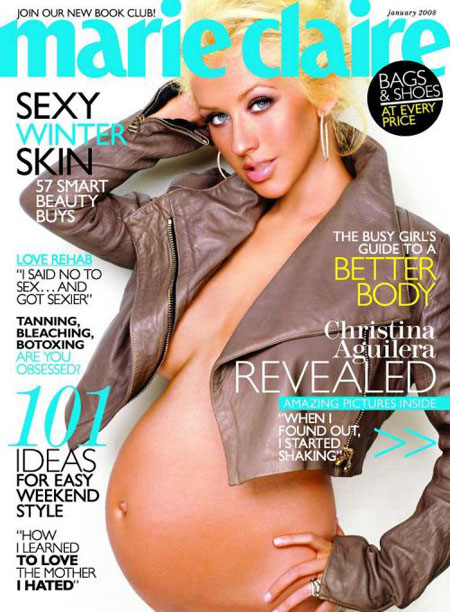 Not a high selling cover
Nicole Richie may have sent Christina Aguilera a note of encouragement as she labored two doors down at Cedars Sinai's maternity ward, but that doesn't mean Christina is about to let her baby, Max Bratman, share billing with little Harlow Madden. Talks between Christina and celeb-friendly glossy OK! Magazine fell through when they wouldn't meet her high payment demands or promise her a full cover with Max. OK! was reluctant to off her the entire cover because her issues just don't sell that well. Even her pregnant naked Marie Claire cover wasn't that popular. There was also no way she was about to share the cover with Nicole Richie and her newborn, so she backed out of the deal:
Don't expect to see a photo of Christina Aguilera's baby on the cover of any magazines this week. Sources say that after months of negotiating, a deal between Aguilera and OK! magazine came to a halt because the magazine couldn't guarantee a full-cover photo of Aguilera and baby boy, Max.

It might seem surprising that OK! wasn't game to play by Aguilera's rules, considering the mag ran Aguilera's wedding photos, but a magazine insider points out that the singer performs well on stage, but not so much on newsstands. "The OK! wedding cover didn't sell as well as they hoped, and even her recent Marie Claire cover underperformed, all things considered," the source said.

An industry source added, "Christina has an inflated sense of her own value and seems to expect an extortionate amount of money for these baby pictures. I'm not sure OK! or much of the industry thinks is a dollar figure that's worth it. … She hasn't proven to be a real seller."

Although a friend of Aguilera's says another reason that the deal didn't work is that the baby isn't really "ready for prime time," there might have been another sticking point.

According to a person familiar with Aguilera's contract, the terms include a promise that a magazine that buys the Aguilera baby photos may not run photos of Nicole Richie's new baby. "Christina can't stand Nicole," said a source who knows Aguilera. "Nothing would make her more upset than to see those two babies on the same cover, even if it wasn't at the same time."
[From MSNBC]
Marie Clare UK reports that both Christina and Nicole will receive over $1 million each for their first baby pictures. Nicole Richie is said to have received $1 million for an upcoming spread in People with baby Harlow. Christina Aguilera has yet settle on a magazine for Max's debut, however. The article claims that a bidding war is going on between People and OK! Magazine, with the price currently set at $1.5 million. If talks broke down with OK! as this other story claims, that means that all that's left is People and that Aguilera has a choice of either appearing in the same issue as Nicole and Harlow or waiting to show Max until a later issue. That's got to piss her off. There's always In Touch or Life & Style.