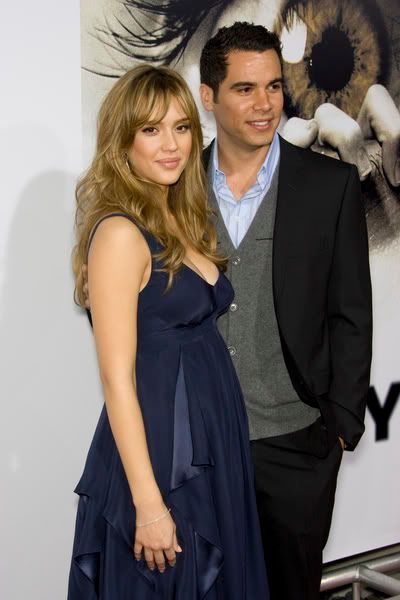 Jessica Alba has a new horror film out called The Eye in which she plays a blind violinist who receives an eye transplant that gives her creepy otherworldly visions. It's a remake of a film from Hong Kong called Jian Gui. Alba has being doing press for the film and talking about her pregnancy. She's been widely quoted as saying that she loves her pregnancy boobs, but sounds like she's having some identity issues with her formerly-slim body growing to accommodate a baby. She said in an earlier interview that she's sensibly trying not to gain too much weight too fast, but that pregnancy was like a "shock to the system." When asked by iF Magazine if she felt sexier she said "Well right now I just feel like… like a pregnant lady."
Like the recent interview with Sheryl Crow that we just mentioned, Jessica Alba also talks about the scourge of paparazzi who follow her ariybd and said that she finds it baffling because she doesn't do anything all that interesting. She says she's going to raise her baby in LA because her family is there, but that she wishes the US was like England and had laws to protect children's faces from being published:
iF: Are you concerned by the paparazzi and having a baby?

ALBA: The thing is, I think it's in England where you can't show the kids faces and that is right because they're not in the public eye and I think if they could do that here it would be wonderful. When I started acting it wasn't this bad. It's bizarre and it seems like anybody can buy a camera and call themselves a paparazzi and stalk people for a living. It's really strange. I'm not doing any interesting or salacious. I'm going to the gym because it's good for me and the baby and going to the grocery store because we need food in the house and it's really not that interesting. I'm not trying to be out there in that way.

iF: It looks dangerous

ALBA: Yeah, they cut me off. I've had to call the police a few times when I've been scared. They go in front of the lights and cut me off so they can stay with me but what if they're running a red light when someone doesn't see them? They just don't care. It's too bad.

iF: Do you ever think about moving away from LA?

ALBA: I have but my family is here. All my family is here and I think it's more important that the kid grows up with family around and not be isolated from the world because of idiots.
[From iF Magazine]
Alba doesn't strike me as the brightest bulb in the bunch, but she seems relatively low-key and she handles herself well. The paparazzi are increasingly crossing the line with celebrities and maybe Britney's hospitalization will help bring about the impetus for new legislation that protects people from harassment by photographers. I like to see the photos of the celebrities' kids, they're cute, but whether we get to see them or not should be at their parents' discretion and it is a good idea to consider laws in the US to protect children.
Alba half admitted on David Letterman this week that she knows the sex of her baby, but wouldn't reveal it. She said "I might know, but I'm not saying anything." She is thought to be having a boy based on purchases she recently made at Petit Tresor.
The Eye is out in the US today, and it looks really scary. Here's the trailer:
Here are photos from the premiere, thanks to PRPhotos.