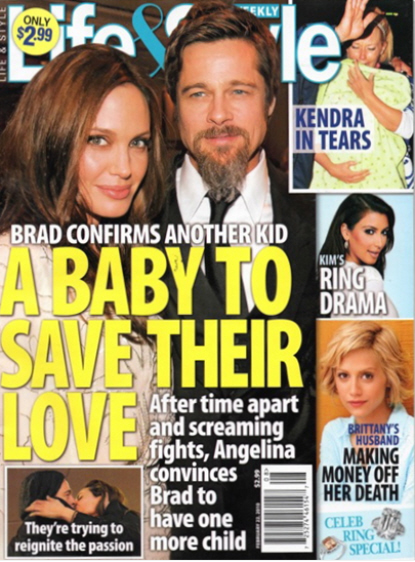 Apparently, for the most part the tabloids were not impressed with Brad and Angelina's Super Bowl PDA. There was one exception, though. Life & Style's cover story this week is all about Brangelina having a "baby to save their love". Except not really, because Angelina's not pregnant, and she probably won't get pregnant while she's filming some stunt-heavy action film in Europe over the next few months. But I guess they could adopt? Would an adopted baby "save their love" too?
Apparently when Angelina Jolie flew from LA to Miami, she ate a salad and an ice cream sundae, then watched Julie & Julia. Later she chatted up a fellow passenger and said: "I'm such a squishy mom. I really am just a squishy mom; I can't wait to just be in bed hanging out with them."

This anecdote, along with old quotes about "further additions" to the family, creates a "story" with the headline, "A Baby For Brad And Angelina!" The spread is illustrated with a photo of Angie, with her arms up, cheering! Of course, she is at the Super Bowl.

But since Brad recently purchased a house, the mag screams, "THEY'RE MAKING ROOM FOR MORE CHILDREN!" Was it only two weeks ago that this same mag L&S's sister mag declared "Yes, It's Over!"? In any case, this article notes that since Angie has to film "steamy thriller" The Tourist, which includes sex scenes with Johnny Depp, she won't be getting pregnant right now. She might adopt, though!

Star Magazine claims in yet another story that Angelina Jolie and Brad Pitt's kissing and hugging at the Super Bowl was "all for show." Body-language expert Toni Coleman says: "To me this feels contrived and exaggerated. You can tell these two are actors."
[From Jezebel's tabloid round-up]
I really don't know if they're planning for another child in the immediate future. My guess is that if they are, they probably will adopt, but you never know with them. And of course, given Angelina's trip to Haiti, you know people are like "she's going to adopt a Haitian baby!" In reality, though, Angelina warned against Haitian adoptions, because of concerns of human trafficking.
In additional "they're working on their relationship" news, several blogs are buzzing with the story that Angelina spent $12,000 on a fancy olive tree for Brad's Valentine's Day gift. Get it? Olive tree… olive branch? Oh my God!
Life & Style cover courtesy of CoverAwards.