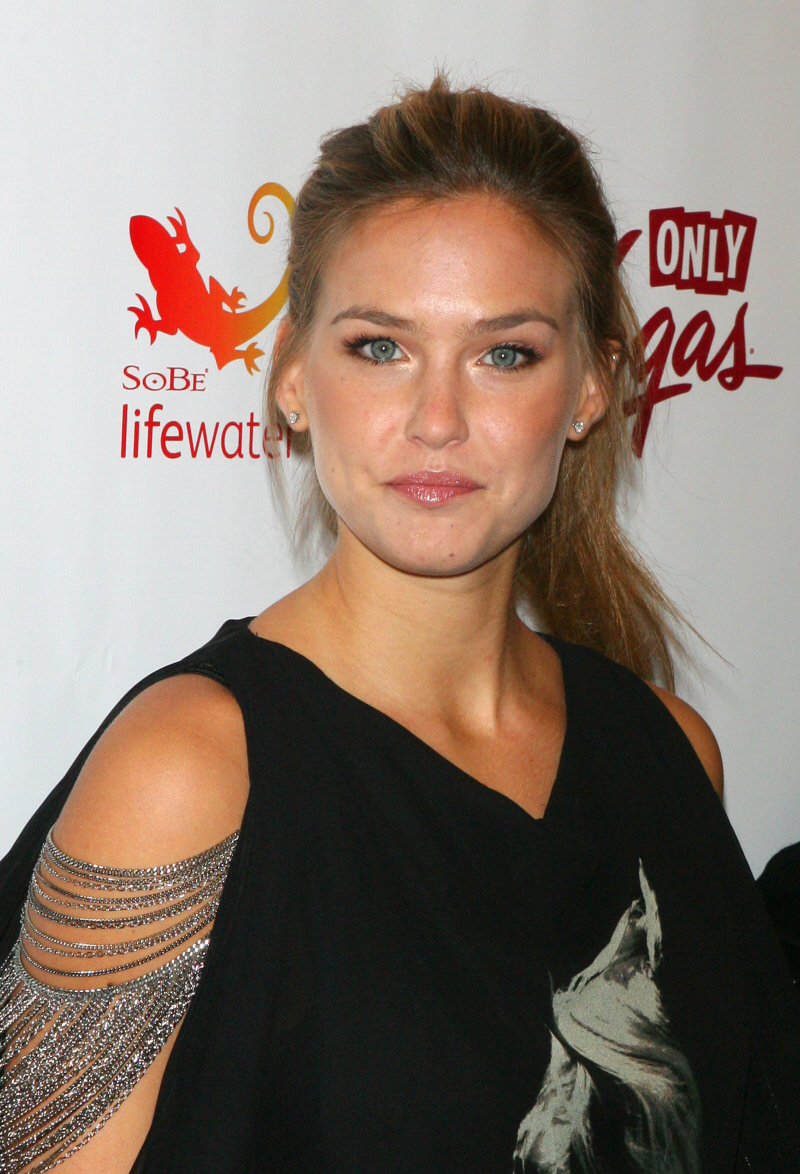 From what little I know of Israeli model Bar Refaeli, I don't think much of her. Of course, I only really know three things about her: one, she's back on with Leonardo DiCaprio after a brief separation; two, her career and dating history seem to indicate that she's Single White Female-ing Gisele Bundchen; and three, she dodged Israeli military service by marrying a friend briefly, then divorcing him, which is kind of douche move for your country. So, yeah… she doesn't seem like a very cool girl. Add another log to the uncool fire, because Gatecrasher is reporting that Bar is totally pissed that Brooklyn Decker got the Sports Illustrated cover, and Bar is acting like a bitch publicly:
Looks like Bar Refaeli isn't taking her loss of the Sports Illustrated swimsuit cover to Brooklyn Decker too well.

We hear the Israeli beauty – aka Leonardo DiCaprio's ladylove – looked anything but pleased as she arrived to the mag's party Tuesday night at the Gansevoort Hotel's club Provocateur.

"She had a scowl on her face and wouldn't even look up for photographers who had been waiting for hours in the freezing cold outside," our spy says. "She even walked right by fans who were pleading for her to sign her past issues of Sports Illustrated."

Bar finally gave in – but only after hearing that Decker indeed stopped for admirers.

"Brooklyn had stood in a tiny mini-dress posing with the same fans," our snitch says. "When Bar tried to walk by, one finally yelled 'But Brooklyn did it!' – and that got her attention.

"Bar then turned around, begrudgingly retraced her steps and agreed to do the same. But she still looked pretty miserable throughout the night."

And perhaps she had good reason: 24-year-old Bar was rumored to be the top pick for this year's cover over 22-year-old Decker.

"After pictures of Bar's shoot were leaked on the Internet, a lot of people thought it would be her," an insider dished of the stunner, who made her SI debut in 2007 and covered the mag in 2009. "Two years in a row would have been a huge accomplishment for her. It makes sense that she would be disappointed."

And we can't help wonder if maybe there's a personal competition, too: Both of the beauties hang with high-profile men – Decker married tennis heartthrob Andy Roddick last April, and Bar has dated Leo on and off since she was 19.

Said a second insider: "They are both very much in the spotlight right now, and the SI cover just nudged Brooklyn a little bit ahead."
[From Gatecrasher]
Since I don't know much about Bar's personality, sure, I'll buy that she's the kind of girl would sulk and pout that someone else got a career boost. But, jeez, unprofessional much? And if you really want to pout and sulk, why not just refuse to go to the party? Unless she was contractually obligated to be there, in which case, just suck it up, put on a smile, and realize that people pay you to be pretty for a living.
Bar Refaeli looking unhappy at the SI launch on February 9, 2010. Credit: WENN. SI cover courtesy of HuffPo.