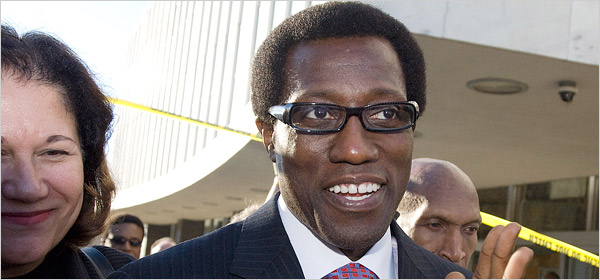 Actor Wesley Snipes was acquitted on felony tax fraud charges but was convicted on three counts of misdemeanors in failing to file his taxes. Snipes' defense rested without presenting any evidence, claiming the government had failed to prove their case. Most seemed to think that move doomed Snipes, but he was acquitted of the most serious charges. He still could face up to three years in prison on the misdemeanors.
Snipes is part of the tax denier movement, who believe that tax laws are unjust and that they shouldn't have to pay them.
Tax deniers assert variously that the tax laws are valid but do not apply to them, that no law makes anyone liable for taxes and that the government tricks people into paying. Promoters of tax denial claim that people can legally stop paying income taxes by executing certain documents, or by not signing others, like tax returns. Courts have rejected all these arguments.
[From the New York Times]
The Supreme Court has said that tax deniers are not guilty of fraud if they can prove that they "sincerely believe" that they weren't required to pay the taxes. They still have to pay back the taxes and fines, but they can escape criminal consequences.
Snipes became a tax denier in 1999, when he found out he'd have to pay $2 million in taxes. Which is what happens when you make a lot of money. It's the downside of being rich. Though Snipes was acquitted of all his serious charges, his two co-defendants were both convicted on the fraud and conspiracy charges. Defendant Eddie Ray Kahn is a promoter of tax denial and has previously served time on tax convictions. Douglas Rosile is a former accountant. Both the defense and prosecution say that the fact that Snipes was let off while Rosile and Kahn were convicted shows that the jury agreed that the co-defendants were the criminals and Snipes was the victim who bought into their ideology.