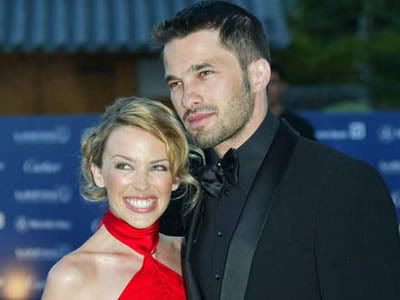 Kylie Minogue is just my favourite little Aussie, and ever since her break up with Olivier Martinez we've been hoping that she would find new love and have some babies. Now it seems she has a plan.
"Kylie has taken him back – with a new set of rules," a friend of Miss Minogue's told the Daily Mail.

"Ollie has agreed to try for a baby. That was always the stumbling block in their relationship. They have both been single for a year and Kylie has realised she has never had anyone that has matched up to him.

"A month ago, a mutual Parisian friend passed a message on to Kylie that Ollie was pining for her and deeply regretted the break-up. Two weeks later, Ollie called her late one night when he was a bit drunk. That was their first conversation in almost a year.

Before the break: Kylie and Olivier at the Laureus World Sports Awards in 2003

"Since that time, they have been regularly calling, having intense conversations and texting incessantly.

"Ollie has told her he is ready to start a family, to marry her and to settle down. It was against that background that this first meeting happened last week.

"They have decided that if they have no success within a year, they will try to adopt.

"Olivier was always unsure of adoption before and neither did he want to have a baby naturally. He did not want to marry either. But after being apart for a year, he has obviously had a change of heart."
The Daily Mail adds that the couple spent much of the weekend together, with Olivier's dog Sheeba. Kylie has had a long history of spending time with the pooch, often being seen taking her on walks in Paris. Which probably means that the phone calls of the last few weeks aren't the first contact the couple have had.
While Martinez's family are happy to see the couple together, apparently Kylie's aren't pleased, although the Daily Mail offers no explanation. Maybe it could be those rumours about Olivier's sex scene with Diane Lane in the film Unfaithful – some viewers thought they were a little too convincing.
The steamy sex scenes in the 2002 thriller, which also starred Richard Gere, were made to look so lifelike that internet gossips have claimed that the actor's went one step further during taping.

But 42-year-old Lane – who is now happily married to 'No Country For Old Men' actor, Josh Brolin – insists that the rumours are not true.

Mercy me, no no, no. That was wishful thinking on somebody's part," Lane told US talk show host, Tyra Banks.

"That's not for me. That's a whole different thing, and I like this industry better than that one."
How could you possibly manage to fool everyone on the set? Surely someone would notice – I hope that there is big difference between fake sex and real sex. Actually, I can't imagine many things less appealing than sex, on a film set, with strangers watching.
Picture note by Celebitchy: Images are older ones of Kylie Minogue and Oliver Martinez at the Laureus World Sports Awards in 2003.