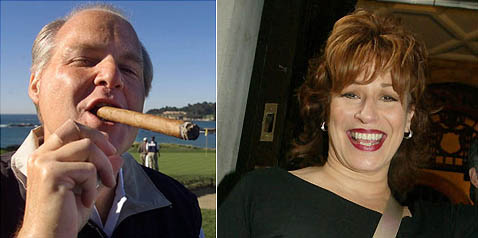 Is conservative radio talk-show host Rush Limbaugh back on painkillers again? Huffington Post is reporting that Limbaugh got a little too up close and personal with Joy Behar, the stand up comedienne and co-host of ABC's "The View." At a movie screening in New York, Limbaugh reportedly 'nuzzled' with Behar as she was taking off her coat– much to her surprise.
Rush Limbaugh may be dating 31-year old blonde Kathryn Rogers when he is in Florida, but last night in New York he let loose and had a 64-year old redhead on the brain: Joy Behar. On their respective shows this morning, both Regis Philbin and Joy Behar discussed the way Rush (whose escort for the evening was 82-year old Cindy Adams) greeted Joy at last night's screening of Bob Balaban's "Bernard and Doris."

Joy: "All of a sudden this humongous person comes up to me, from the left, a famous person — big guy — and snuggles and nestles my neck. Hello, Joy! And gives me the big kiss….squeezed me to death also."

Regis had a different spin: "Joy Behar's face was flushed. She enjoyed it. She LOVED IT!
[From Huffington Post]
The HuffPo posted this video of Joy discussing her unexpected brush with Limbaugh on Friday morning's episode of "The View." I can't read minds, but I wouldn't say that she "loved it." In fact, the whole thing seemed like it shocked and embarrassed her.
This would be a most unusual pairing: Limbaugh has been the abrasive voice of conservative talk show radio since the late 1980s. In 2003, the host tearfully admitted, on-air, that he had been abusing prescription pain killers (after the National Enquirer had already reported it). He came under fire recently for his claims that Michael J. Fox was exaggerating his symptoms of Parkinson's disease for sympathy. Joy Behar is quite vocal about her liberalism, and recently grilled Republican presidential candidate Ron Paul on "The View" about his stance on abortion. Joy claims that after Limbaugh held her in an extended hug and nuzzled her neck, he advised her to "be bold." "It was the best advice anyone has ever given me," she said, rolling her eyes. Behar has a live-in boyfriend and has vowed never to marry again.
Picture note by Celebitchy: Remember when Rush kissed Mary Lynn Rajskub of 24?