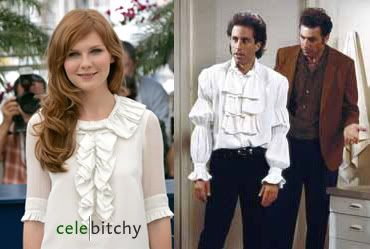 I have to admit I was waiting for these pictures to come out to see what terrible outfit Kirsten Dunst would wear to Cannes while promoting her film "Marie Antoinette." She did not dissapoint in plain black pants, a white 3/4 sleeve puffy shirt and ugly black flats. (Dita, this is why celebrities needs stylists.)
It looks like Kirsten is wearing the famous "puffy shirt" from Seinfeld. The original was donated to the Smithsonian, so she must have found this musty copy in one of the vintage shops she frequents.
We won't be the only ones to come up with the puffy shirt comparison. Like Britney's 70s porn bodyguard, it's kind of hard not to notice.
People is reporting that Kirsten told her friend to "chug" a vodka tonic while they were out at the Chateau Marmont in Hollywood. She once said in an interview with Jay Leno that she buys cases of champagne from Costco and that's about the only thing in her fridge. Maybe that would explain her outfit.
Here she is with Sofia Coppola and Jason Schwartzman at Cannes today. We can't wait to see her outfit for the premiere!