It was just yesterday that Gatecrasher had an interesting report claiming that New York designers had banned or disinvited Lindsay Lohan from their fashion shows because she was deemed a "brand-damager". Lindsay had a lot to deny about that story, as evidenced by her crack tweets: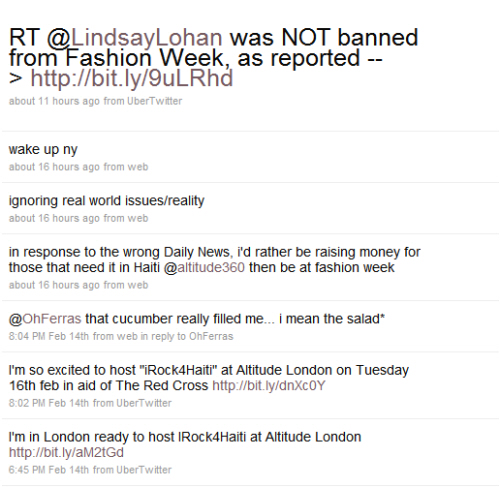 Whether or not the "brand-damager" was true, Lindsay was already in London, partying her ass off and preparing for a charity event for Haiti, which was held last night. The Daily Mail put up a snarky piece about the event, basically saying that only the Z-list of England showed up, and those are the only people who will associate with Lindsay now. In the red carpet photos (above) Lindsay actually looks half-way decent, which makes me wonder if London agrees with her, and if she might be inclined to stay:
There was a time when Lindsay Lohan only mingled with Hollywood's biggest and brightest stars. But my, how things change. The troubled Mean Girls actress spent last night rubbing shoulders with washed up reality TV stars at a Brit Awards screening party held at London's Altitude bar.

It wasn't exactly the hottest ticket in town – all the biggest names, including Jay-Z, Alicia Keys and Lady Gaga, were celebrating across town at the live ceremony in Earls Court. But those not lucky enough to score an official invite to the awards settled for a the next best thing.

A roll call of Z-listers turned out for the occasion, including Celebrity Big Brother rejects Katia Ivanova and Lady Sovereign and former I'm A Celebrity campmate Janice Dickinson. Callum Best and Bianca Gascoigne, both former Celebrity Love Island contestants, rounded out the unspectacular array of guests.

At least it was all for a good cause – the iRock4Haiti event was raising money for the Red Cross.

Lindsay, 23, who was accompanied by her 16-year-old sister Ali, has kept herself busy since arriving in London over the weekend. She has partied at Bungalow 8, her favourite London nightclub, and spent a day shopping at Westfield Centre where she picked up 10 bags from Kurt Geiger.

She also attended a party to launch the new Playstation 3 video game 'Heavy Rain' at the Electric Cinema Theatre in Notting Hill.

Lindsay took to Twitter today to deny claims she's only decided to come to London after being kept off the invite list at New York Fashion Week.

The former front row 'It Girl' is now considered a 'brand damager' by some designers.

But she told her followers: 'I'd rather be raising money for those that need it in Haiti than be at fashion week.'
[From The Daily Mail]
I think it's a little harsh to rag on Lindsay when she actually is trying to contribute something to a cause larger than, say, her drug habit. For choosing to go to a budget charity event, and highlight the issue, I do congratulate Lindsay. But I still think it's a little funny that the whole trip to London wasn't about just attending a charity event. She's spent the past four days partying her ass off, clubbing, shopping, and doing God knows what or who. So, one step forward and two steps back.
Sidenote: Calum Best was there! Remember when he and Lindsay had a thing? Rumor was that they had a sex tape. Gee, I wonder if they reconnected?
Lindsay Lohan at the 'Brit Celebration in aid of Haiti' benefit on February 16, 2010. Credit: Bauer-Griffin & WENN. Screencap of Lindsay's tweets via her Twitter.