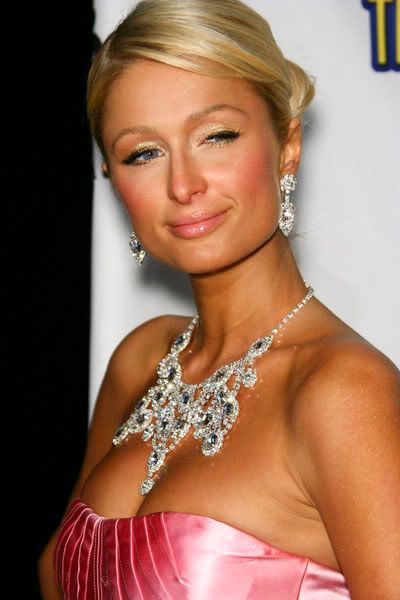 In a new interview in Parade Magazine, Paris Hilton reveals her life strategies for feeling sexy, and says that the rumors that she's set to play as lesbian on the television show "The L Word" are actually true. All those stories about how Paris is a party girl just aren't accurate, she says, and she manages to handle the stress of it all and remain gracious by relying on the fine manners her non-slutty mother, Kathy, taught her. If you're down about yourself and want to feel better, "just get a makeover" Paris says, as if we all have a team of hairstylists, makeup artists, designers and tanning spray-guys clamoring to make each of us the most plastic and orange we can possibly be.
You've sometimes been called a diva, but I have never once seen you be rude to anyone.

"That was definitely the way that we were raised by my mom. She always taught us to be polite. We had the best manners, so I've kept them."

Any other "mom advice" you still carry with you?

"'Put your shoulders back and don't chew gum.'"

"My mom has always been really supportive. She's one of my best friends. And she's just always told me to stay the same and stay the sweet girl I've always been since I was little and not let any of the Hollywood stuff get to my head, and you'll leave a good karma…"

The media seem preoccupied with the "Hollywood bad girls," and often your name is on that list. Is that unfair?

"Yeah, you know, that's just a stereotype they've come up with. And that's fine, but I'm not a bad girl [laughs]."

We've even seen you under pressure during some stressful times. How do you keep the day-to-day attention from getting to you?

"I handle it really well. I don't let that bother me or let the media or paparazzi take over my life. I try not to pay attention to things that are negative…"

Every woman has an ugly day. Do you?

"I think we're humans. All girls feel like a "nottie" some days—like someone who isn't turning heads. That's just part of life. I just get a facial or a massage. Pampering yourself gets you back into "hottie"-ness…"

Not everyone can be a "hottie," but can they still find something in themselves to feel good about?

"Definitely. I think that's what life is about. You only live once, and you want to make it as best a life you can have. And I feel like, if people are confident and believe in themselves, that they can all be "hotties."

"If you're single and you want to go dating and have fun and be young and whatever, just go and get a makeover."
[From Parade.com]
When asked if she'd rather be rich or famous, Paris said "rich, because then… you can just have everything you want and not have to deal with the press and people following you," but conceded that she has both and that "It doesn't even make any difference. I could be happy if I had nothing."
Here's Paris at the LA premiere of The Hottie and The Nottie last night. It definitely looks like she was cast in the wrong role when you check out her gorgeous costar Christine Lakin. Here's the trailer, it actually looks mildly funny. The film isin limited release in the US starting February 8.
Thnks to PRPhotos for these pictures from the premiere.