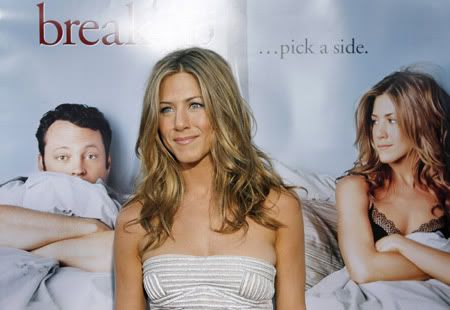 Yesterday everyone pointed out that Aniston and Vaughn worked hard to keep their distance from each other at the premiere of their new romantic comedy, "The Break Up." The title of the film may be doubly ironic for Aniston, because Star Magazine is reporting that Vaughn told Aniston he needed time off. That means it's over:
As their new film hits theaters, Vince Vaughn tells Jennifer Aniston he needs a break reports Star Magazine. Vince reportedly just realized that Jen is just getting out of a divorce, and needs time before she makes a commitment. Poor Jen wasn't expecting this, and even friend Oprah Winfrey warned her, "Jen, I saw how Brad Pitt broke your heart. I'm afraid Vince is going to do the same." Vince is even confused, it seems that Jen doesn't know what she wants and he's tired of it. Jen has been getting increasingly irritated as Brad and Angelina expect their first child together.
Aniston also backtracked from earlier quotes that she wanted a family, saying she wanted one, uh, eventually. Oops.
Last night on Access Hollywood, Jennifer clarified the story about hoping to start a family in the next year.
"That was a misquote, by the way," Jen explained. "Well only because I'm not. I'm a realist. I know you can't get a family in a year. I just sort of meant you know, eventually. That's something I would love for my future. But I didn't mean like tomorrow."
Aniston doesn't want a family right away because Vaughn isn't into it – or her – at all.
It's not all bad news for Aniston. Judging by her newfound look and smiling face at the premiere of "The Break Up," it seems like being single again agrees with her. Vaughn isn't fairing as well, and seems to be suffering from some kind of liver ailment.