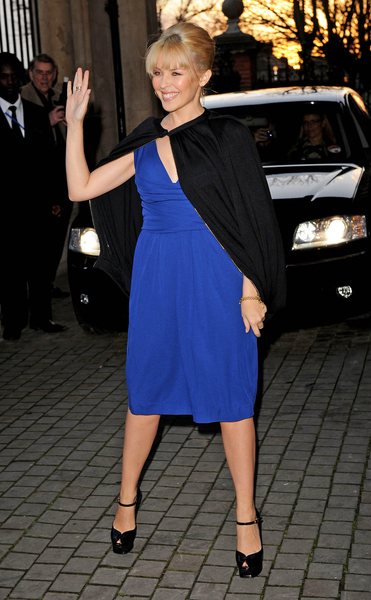 Can it be possible that the British tabloids have got it wrong? Only yesterday we reported that Kylie Minogue was spotted with handsome ex-boyfriend Olivier Martinez, and speculation was rife that she had a new life plan, complete with marriage and babies. Now it seems that their un-named source was wrong! As we reported, Kylie and Ollie were meant to be together again, after a year apart, and planning "to start a family, to marry her and to settle down."
But, Kylie today released her new range of linen for your home, and denied the reports at her launch. It seems a bit coincidental that the range came out the same week as the rumours – was it a clever ploy to get more publicity?
Minogue told the Press Association: "I had dinner with my ex-boyfriend and next thing I know there's a debate about whether we're having a family. "We didn't even talk about that. As I've maintained, we're friends."
I'm actually not surprised about this, and according to relationship advice gurus, it's a bad idea.
Paula Hall, relationship psychotherapist for Relate, said, "I don't think there's anything wrong in going back to your ex as long as you have resolved the problems which caused the break-up in the first place.

"Some couples get to the point of a break-up before they realise what they really want and it gives them the motivation to resolve their problems."

But she said people should not return to a former partner just to have a family. "To get back together purely to have a baby is not necessarily a good idea – it depends on your expectations for both the relationship and parenting."
That's probably not bad advice, considering the stress a baby places on everyone around it!
Can you believe that Kylie is releasing a range of goods for your home? You can now not only listen to Kylie, but smell like her, wear her undies and swimsuits, and sleep with her sheets. How does she have time to actually maintain a music career? It's probably a good thing that Kylie isn't having a baby, as she'd have no time to raise the little one. Although, a rage of tiny Kylie Baby clothes would be really cute…
The new range of linens include bedding, towels, cushions and curtains in luxury fabrics and covered in sequins, diamantes and semi-precious stones. It is called At Home With Kylie.
Picture note by Celebitchy: Kylie Minogue is shown at the launch of At Home With Kylie in London yesterday, thanks to PRPhotos.