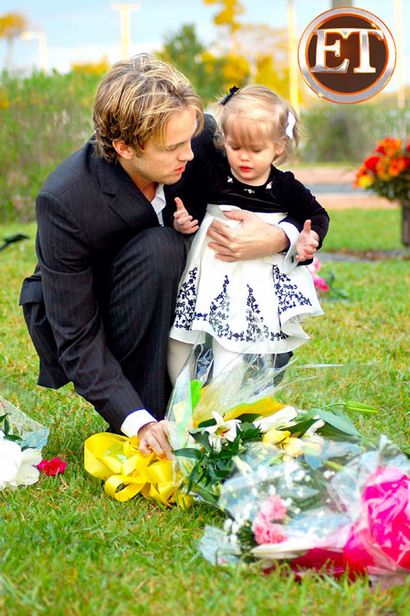 Larry Birkhead brought his 17 month-old daughter, Dannielynn, to the grave site of her mother, the infamous departed Anna Nicole Smith, in the Bahamas yesterday for the first anniversary of her death. He just happened to dress the tot in her finest and bring along a television crew. The touching moment when Dannielynn whispered "momma" and laid a pink toy on the grave of the mother she'll only know from videos and photos was captured for the benefit of the curious masses and will be broadcast on Entertainment Tonight.
February 5, 2008 (Los Angeles, CA)– ENTERTAINMENT TONIGHT's JANN CARL was exclusively with Larry Birkhead and daughter Dannielynn this week in Nassau, Bahamas as the 17-month-old made her first trip back to visit her mother and brother's graves, one year after her mother's sudden death.

In an a multi-part interview to begin airing on Wednesday, February 6th, Birkhead says the visit is difficult for him, but he arranged it for his daughter, "It's tough. Even though she doesn't understand, it was important for us to come. One day I can tell her that we went to visit her mom." When they arrived at the unmarked gravesites, Dannielynn placed a pink toy turtle on Anna Nicole's plot and whispered, "mama."

On why the graves of Anna Nicole and Daniel are without tombstones, Birkhead says, "A rough draft came back with a sketch of a picture I didn't care for. I could just hear her hitting me over the head saying, 'Why did you let that picture go down!?'" Birkhead reveals that the design of the headstone will be "so grand and big. It's going to encompass Daniel's stone too."
When asked how he feels about making the journey from Los Angeles to Nassau, Birkhead speaks candidly, "I don't like the fact that they're here, I never did. I know that Daniel didn't want to be here and I know that his mother was only here because of what was going on between us with the paternity question. To me it feels really odd." On if he has considered moving the graves, he says, "I'm going to leave the decision to Dannielynn when she's older. It would probably be very hard, if not impossible to take both of them and I definitely don't want to separate them."

In an effort to keep Anna's memory alive for their daughter, Birkhead tells ET, "I keep a lot of memories around. I quiz her and she knows Mama. I say, 'Where's Mama?' and she'll give Mama a kiss on the picture."
[ET press release via Gossip Rocks]
What I want to know is – how are they going to spread this out into a multi-part interview? She's dead, it's hard, your daughter doesn't understand, end of story. I mean you feel for people's pain but what else is there to say?
Part of me doesn't want to hate on Birkhead. The guy is a former paparazzo who really does care about his daughter and fought hard to win custody of her. He's also obviously not adverse to using his daughter to make a buck and he's probably running low on cash now that his deals are drying up and he has all those legal bills he's contesting. (It seemed like he really got fleeced by that lawyer Debra Opri, and he's probably paying someone a lot of money to fight that case. He also probably has to pay for those grand gravestones he's ordering for Anna Nicole and Daniel.)
Birkhead has told The NY Daily News that he plans to sue over yet another book about Anna Nicole, "Anna Nicole Smith: Portrait of an Icon," which is currently available for download for $15. The book was written by a fashion designer for Anna Nicole and his partner. The designer alleges that he met Birkhead at a camp for HIV positive youth and that he was quite open about his preference for men.
Birkhead also said that author Rita Cosby would be sued for a book about Anna Nicole that came out last year called "Blonde Ambition: The Untold Story Behind Anna Nicole Smith's Death" which claimed that Birkhead and creepy Anna hanger-on Howard K Stern were gay lovers. It was Stern who ended up suing Cosby to the tune of $60 million.
The inquest into Anna's son Daniel's death is underway. The coroner testified that 20 year-old Daniel's death a year and a half ago couldn't have been an accident, which suggests murder or suicide. He had too much methadone in his system for it to have not been intentional. Many people suspect Anna's lawyer, Howard K Stern, had a hand in Daniel's untimely demise. Anna's death less than six months later was ruled an accidental overdose.
As for whether it's news that Dannielynn went to her mom's grave before she's even two, I doubt it. Take some sweet pictures and do the interview at home or go to the park and play. Go to Disneyworld and get all your meals, admission and hotel stay comped while trying to score some cash for a cross-promotional deal. The kid won't remember that either, but at least it will be fun for her.