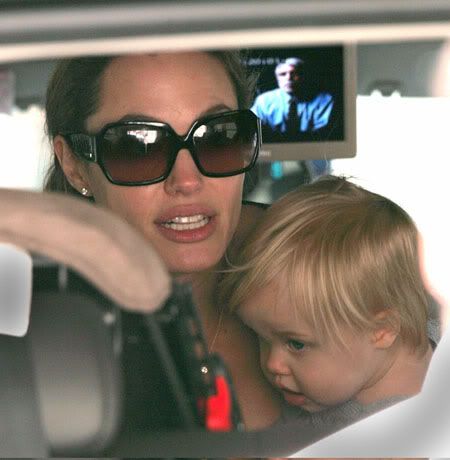 Life & Style, that bastion of truth and honorable journalism, claims that the reason we never see little Shiloh Jolie-Pitt is that she has been threatened by unknown stalkers. The biological child of Brangelina, who may or may not be welcoming another sibling soon, is rarely seen and has not been photographed in public since January 4.
New threats are being made against the golden child, and Brad and Angie are beefing up security after a chilling note targeting their daughter was discovered at one of their homes in early January.

On the scary note: "Someone got to their doorstep and left a threat against Shiloh. The person included a photo of Shiloh and a note that read, 'We got this close already.'"

On Brad and Angie's reaction: "They're freaked out. Shiloh has somebody protecting her 24-7, and Brad and Angie are trying to avoid taking her out of the house."
[From the Print Version of Life & Style Weekly]
Thankfully, since this is Life and Style, we shouldn't get too worried. However, it should be noted that there were mysterious shots fired near Brangelina's home in Los Feliz, Calif. last November, and since then the family has rarely returned to that residence. And it does seem strange that while Brangelina are often spotted out and about with Pax, Maddox and Zahara in tow, they typically leave Shiloh at home. Some have speculated that Shiloh is frightened of the flashes of the paparazzi, but you'd think Brangelina would expose her to it with the hopes that she'll get used to it, just like her older siblings have.
Picture note by Celebitchy Shiloh is shown in the header image with Angelina outside of the Metropolitan Museum of Art in early October, 2007. She is shown outside the Field Museum in Chicago below in mid August, 2007.
Update: Pitt has said that this story is not at all true, and says that it is "reckless and dangerous to put these ideas out into the world."