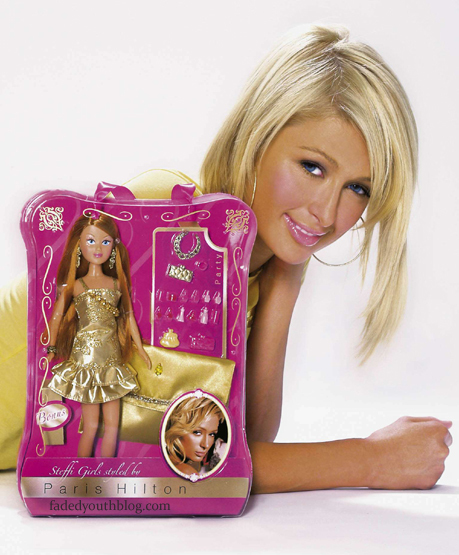 Paris Hilton has a range of dolls coming out. They aren't meant to look like her, her wonky eye was too difficult to recreate in a doll without moving eyes, but she has styled them and their accessories.
Little girls who cannot get enough of US showbiz personality Paris Hilton will be able to buy fashion dolls that wear dresses chosen by the millionaire heiress herself. Simba Toys, a German company, launched the range Wednesday on the eve of the Nuremberg Toy Fair in Germany, the world's top toy event.

The Hilton dolls will go on sale in Europe this year alongside Simba's existing doll character, Steffi Love, which competes in a fashion doll market dominated by a US rival, Barbie.
I doubt that many parents will buy these dolls for their kids, although my 12 year old sister is demanding one. Parents do buy their kids those equally unappealing Bratz dollz, so the Paris-styled doll could be popular. The doll isn't actually created in Paris' image, but is styled by her, featuring a mini skirt and trendy accessories like an MP3 player, with silver streaks in the doll hair.
Paris, while vaguely involved in the design of the doll, won't be putting in a special appearance at the launch. A Paris look-alike will be at the event. Paris will be too busy promoting her lame-ass movie The Hottie and the Nottie, or her perfume, or some other crap. Is there anything that girl won't endorse? Actually, this isn't her first offer of a doll designed in her image…
Paris Hilton turned down the chance to have a sex doll made in her image – because the idea freaked her out. Hilton hated the thought of strangers making love to a doll that looked exactly like her, even though the venture would have made her a fortune. She says, "I turn down perverted things, some sex things. Like a Paris Hilton blow-up doll. "They were like, 'They'll sell for $50,000 each, it'll be the real-life you.' And I'm like, 'I really don't want a real-life me with anyone, anywhere. No!'"
Basically, the marketers of the toys know who is going to buy them – the men who wanted that sex doll. So Paris, you've just endorsed a sex doll, in miniature. Even if it's not used in the same way (please google this, don't ask me what people do with sex dolls, I'm a bit prudish and not really up to explaining) but my boy cousins always enjoyed coming around and taking the clothes off of my Barbie dolls to look at their bits. I wonder if they got a shock when they saw their first naked woman. "What! Her boobs aren't at right angles to her body, and she has genitalia!" Fortunately for the boys who check out the Paris doll for the same reason, they have the opportunity to see her naked online.
Picture note by Celebitchy: Thanks to Faded Youth Blog for the header image, via Gossip Rocks.