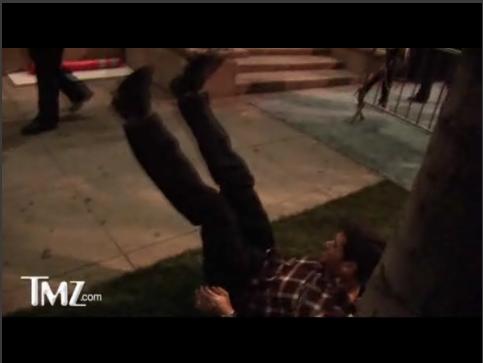 Though Kevin Federline used to monopolize the headlines in terms of the "Biggest Douche" category, former "Desperate Housewives" actor Jesse Metcalfe has firmly replaced him for several months. It was neck and neck for a while, but then K-Fed backed down. Which says something about the level of Metcalfe's douche baggery. Last night Metcalfe got into a fight with the boyfriend of actress Taryn Manning at Los Angeles club Social. Not once, but twice, both inside and outside. And luckily, TMZ caught the first fight on tape.
At around 10 p.m. Metcalfe approached Manning and her boyfriend outside the club. Manning and Metcalfe are pals, a source says, but Manning's beau didn't know that. Metcalfe and the boyfriend exchanged words. The boyfriend then said, "Hey, buddy," and tapped Metcalfe on the face. Metcalfe then punched him back. The boyfriend punched Metcalfe in the face and knocked him to the ground.
[From Us Weekly]
Both parties did the intelligent thing… and went into the club despite the fight. No, nothing was resolved, and they didn't make amends. Probably not the very best time to go to a place that specializes in drinking and tempers. They were there for designer Nicole Khristine's jewelry party. After a few minutes, things heated up again.
Moments later, after Metcalfe spotted Manning, he came flying at the boyfriend, putting him in a choke hold. Metcalfe seemed intoxicated.

As the punching and yelling continued — Metcalfe kept Manning's boyfriend in a chokehold — Manning tried to run to the side of the club. (In the midst of the scuttle, Manning's boyfriend's shoe flew off.)
[From Us Weekly]
TMZ is clearly really enjoying this. Probably to an unhealthy degree. Metcalfe isn't exactly a favorite with the paparazzi… or the blogs… or the press as a whole. He hasn't done anything noteworthy since "Desperate Housewives" and is generally known for showing up at places uninvited and drunk. He was escorted out of the club, and fervently denied to Us Weekly that he'd been in a fight, even though the magazine was covering the event and there were tons of photographers there. Smart move. Metcalfe was later overheard saying he was glad a person could still get into a fight in L.A. without getting into any trouble. Ladies, Jesse Metcalfe is single. And he sounds swell. Any takers?