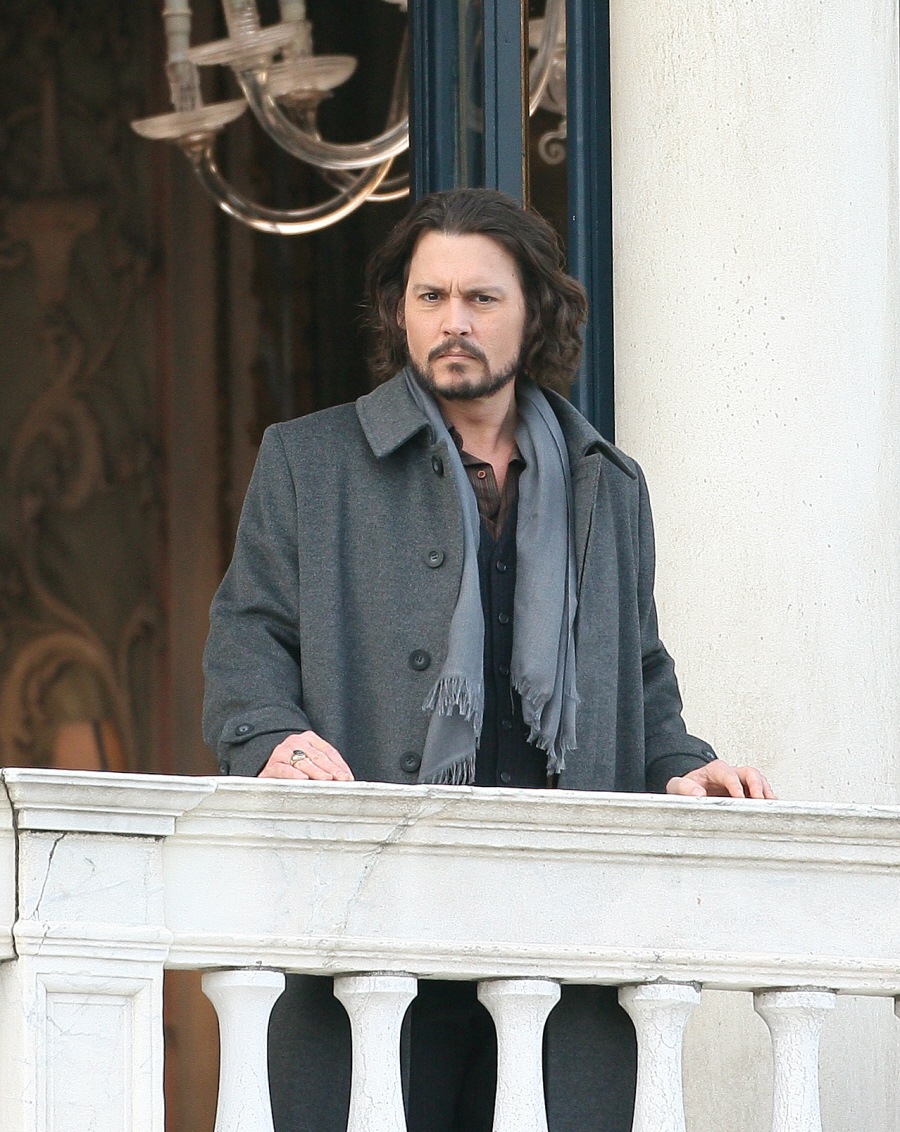 Here's Johnny Depp filming The Tourist today in Venice. He cleans up good, doesn't he? I was getting so tired of those f-cking glasses. I like his trimmed facial hair, but other than that, Depp appears a little too coiffed for my tastes. He looks like he got the Orlando Bloom V05 treatment, you know? Like an hour before these photos were taken, his hair was in curlers. Ah, whatever.
In other Depp news, he and his girl Vanessa Paradis are going to work together in a just-announced film called My American Lover. Paradis will play French feminist Simone de Beauvoir… which is kind of wrong. De Beauvoir was the longtime lover/partner of Jean-Paul Sartre, and Depp will be playing de Beauvoir's American lover Nelson Algren. Here's a photo of the real De Beauvoir:
Here's more about the film:
Johnny Depp and girlfriend Vanessa Paradis are to play lovers in a new film, My American Lover.

The Pirates Of The Caribbean star and the French singer and actress – who have been together for over 10 years and are parents to 10-year-old daughter Lily-Rose and son Jack, seven – will play American novelist Nelson Algren and French feminist philosopher and writer Simone de Beauvoir in the movie, according to The Playlist blog.

Johnny revealed: "It's called My American Lover – Vanessa plays the French feminist Simone de Beauvoir and I play her lover Nelson Algren, who is real macho."

My American Lover is thought to be based on de Beauvoir's book A Transatlantic Love Affair: Letters To Nelson Algren, a collection of correspondences she sent Algren in the late 1940s. The letters focus on their transatlantic affair and their travels together through Latin America in 1949.

The film will apparently be directed by Swedish filmmaker Lasse Hallstrom, whose film Dear John, starring Channing Tatum and Amanda Seyfried, was No 1 at the box office when it opened in the US earlier this month, and who has also taken over sex-change drama The Danish Girl, starring Nicole Kidman and Gwyneth Paltrow, from Let The Right One In's Tomas Alfredson.
[From The Press Association]
Eh. I hope this film doesn't get made, just because I don't want to see Paradis play Simone. I just think it will be a disaster.
In one last piece of Depp news, he participated in a cover of the song "I Put a Spell On You" in which the proceeds from the single will go to Concern Worldwide's work in Haiti. It's actually a pretty great cover, honestly. Here's the video:
Johnny Depp on the Venice set of 'The Tourist' on March 1, 2010. Credit: INFphoto.com