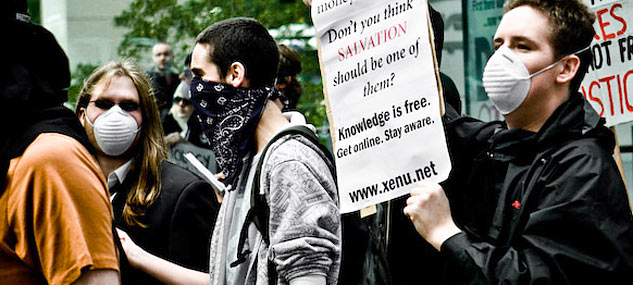 On Friday we posted a video from a late 2006 Scientology rally featuring head David Miscavige proclaiming how his cult was helping quash psychiatry while taking responsibility for the media backlash against the dangers of antidepressants. Later in the video he claimed the Baby Phat head Kimora Lee Simmons was distributing Scientology literature in the inner city, a claim her rep denies. Then he stepped even further out on a limb and said that certain multinational corporations were also responsible for distributing the Scientology packet, "The Way To Happiness." He said to an auditorium full of cheering Scientologists, accompanied by a big-screen video, that specific corporations were helping spread the word throughout the world:
Then there's our corporate tie-ins. The multi-nationals seem to have third world image problems, so this is what they're doing about it. Coca Cola Pakistan with a braille edition for the blind – nationally televised, no less. Philips Electronics, likewise all over Pakistan, and Dell Computers all over Africa. Then there's the power of Way to Happiness right in the marketplace. As in the big retail chains, who have an obvious vested interest to cut shoplifting. And when you're talking frontline retail, you can't get much bigger than 7-Eleven. So here's a few of their 4,000 plus outlets across Taiwan.
[Transcribed from video available on YouTube]
The Director of Corporate Communications at Philips Electronics graciously responded to our request for comment saying that their company definitely has no affiliation with Scientology and he is happy to clear up any misconception that may have been spread by the video.
We have indeed investigated this and can confirm that there is absolutely no relationship between our business and the Church of Scientology.

I hope this helps clarify things for you and we really appreciate the opportunity to confirm that we have no affiliation with this group.
[From Philip's Corporate Communications director, sent via E-mail]
The LATimes' Web Scout blog also received comments from Philips and two of the other corporations named in the video, who likewise deny any ties to the cult:
So I made a couple of calls to the communications departments of companies named in the latest leaked video. Here's what they're saying:

Dell Inc. spokesman: "This came to our attention yesterday. We did research it with our colleagues in our Europe, Middle East and Africa business segment and with our colleagues in South Africa. We found no evidence that this is accurate, and it's not our practice to disseminate religious materials of any kind. We've got no affiliation with the Church of Scientology."

7/11 spokeswoman: "My international department believes that it's unfounded and inaccurate. But we've got to follow up with our licensee and get to the bottom of it."

Philips Electronics spokesman: "We were as stunned as anybody this morning. It's not something we were aware of. As an equal opportunity employer, religion is not something we comment on."
[From LA Times' Web Scout blog]
Web Scout goes on to note that Miscavige doesn't use any verbs in that section where he seems to claim that companies are distributing Scientology literature. He just names them off while only implying that they're responsible for disseminating Scientology information, and never directly states it.
The only company yet to comment is Coca Cola, and Web Scout notes that "Other entities named in the video are investigating the matter before commenting."
Several other internal Scientology videos have been leaked in the past few weeks, one of which featured Tom Cruise babbling on for 9 minutes using a lot of words and abbreviations only known to cult members. He talked about how Scientology could "bring peace" and "unite cultures," and how "When you're a Scientologist, and you drive by an accident, you know you have to do something about it, because you know you're the only one who can really help."
Unlike the earlier videos, this video of the late 2006 Scientology event has remained up on YouTube. Maybe the cult has reluctantly realized that you can't control the Internet, and that your lies will catch up with you sooner or later.
Global protests against Scientology took place yesterday in cities around the world including Los Angeles, New York, Boston, Washington, Toronto, Sydney, Melbourne, Auckland, Stockholm, Edinburgh, London, Brighton, Leeds, Manchester and Dublin. The protests were organized by the Internet-based group Anonymous, which has used the Internet and YouTube to help spread the word about the dangers of the cult. Protestors wore masks to conceal their identities, as Scientology is known for harassing and suing detractors. In LA the organizer of the event said "We want to set off a government investigation into how [Scientology] got tax-exempt status." The event was covered by newspapers and media outlets throughout the world, including the LA Times, CTV, News.com.au, and News.scotsman.com.
Thanks to News.com.au for the header image.