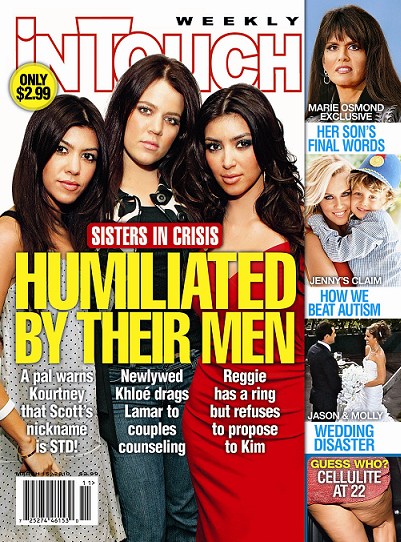 *Sidenote: the "mystery cellulite" is Kesha!* Whoops… it's Rihanna, my bad.
Star Magazine and In Touch Weekly seem to have very similar cover stories this week, both about how the Kardashian sisters have "toxic love" with their men, because their men are "humiliating!" them. My favorite is the Star Magazine cover, just because I'm loving the insets of the men. Khloe's husband Lamar gets the note: "Divorce!" Scott Disick gets "Duped!" and Reggie Bush gets "Dumped!". In Touch looks pretty good too – the main gist of their story seems to be that Scott Disick is a douche. Oh, and his initials are STD. Which… I mean… his parents are insane.
"Scott had a couple of nicknames in high school. One was Number One Scum, and the other was STD," Scott's former classmate Jason Green tells In Touch.

Kourtney Kardashian's boyfriend, Scott Disick, tries to portray himself as a loving, responsible dad who's just misunderstood.

"I can't really pinpoint why people want to push me as the bad guy," he tells In Touch. "But that's a part of life — people enjoy putting other people down."

Sadly, there seems to be a lot more basis than that for Scott's bad reputation. Long before he gained fame on Keeping Up With the Kardashians, Scott was known as a hard partier, a serial cheater and, as one high school acquaintance puts it, "a tool."

And as more and more information surfaces about Scott's shady past, Kourtney wonders how long she'll be able to put up with him. Jason Green, one of Scott's former classmates from Long Island, N.Y.'s Ross School, agrees that Scott was bad news in high school.

"There were just as many rumors about him then as there are now," Jason tells In Touch. "Scott had a couple of nicknames in high school. One was Number One Scum, and the other was STD."

A lot of guys might be embarrassed to have the initials "STD," but Scott thought they enhanced his reputation as a ladies' man! According to Jason, Scott was so proud to have the same initials as "sexually transmitted disease" that "he wore dog tags with 'STD' printed on them." Classy!
[From In Touch Weekly]
Seriously, what's worse? Having the initials STD or being proud of those initials? Oh, Lord. And you know Scott is the kind of guy to get everything monogrammed too. Now I really feel for Kourtney. She doesn't seem like a horrible person, and she deserves so much better than Scott. Where's Premo Stallion when you need him?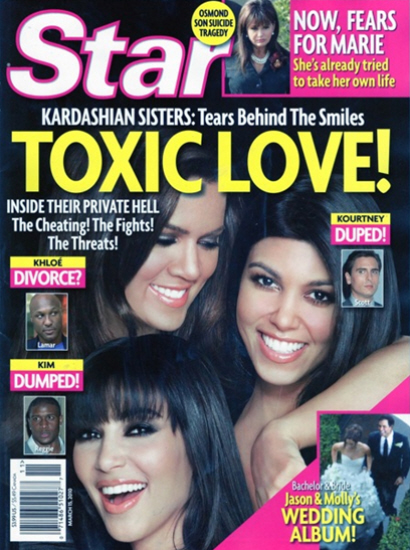 Star courtesy of CoverAwards. In Touch Weekly cover courtesy of ITW online.