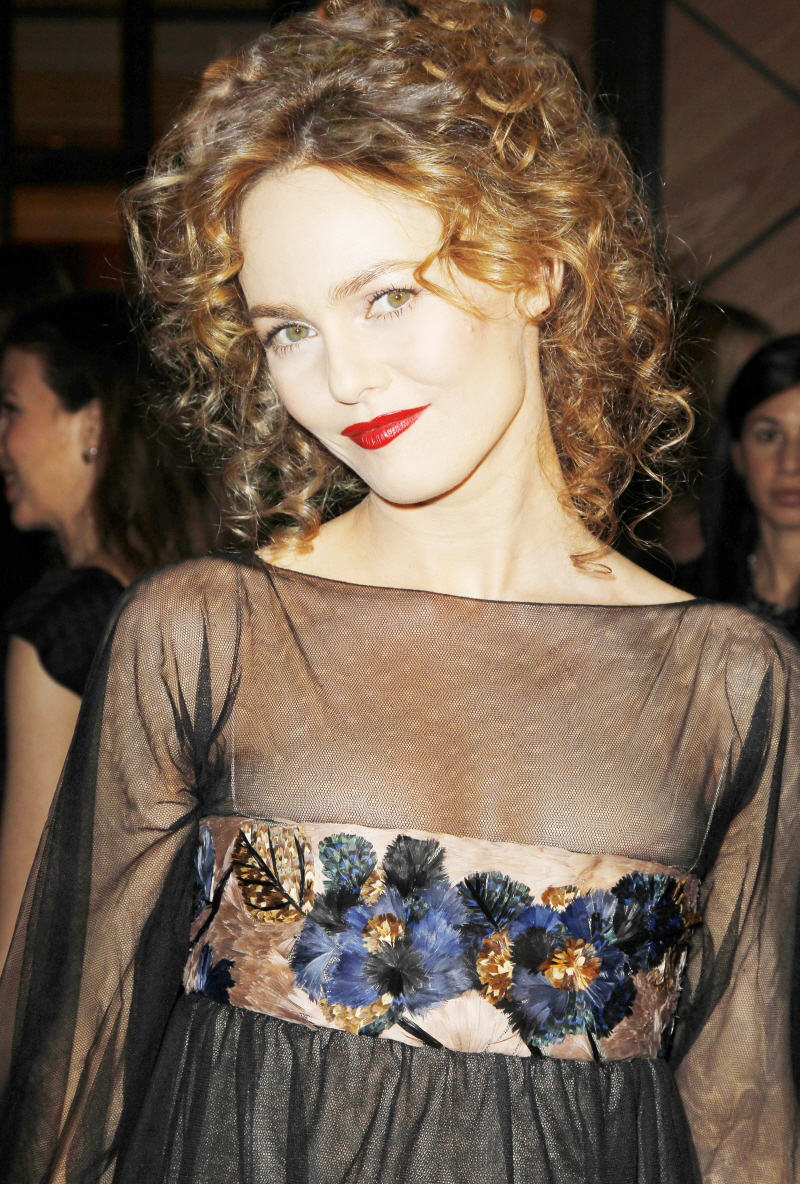 Enjoy this report, Brange-H8TERS, because it will be the first of bajillion. Johnny Depp and Angelina Jolie have officially begun working together, filming on the same sets in Venice this week. So, of course, the game really begins. Of course, Star Magazine and others had already reported that Depp and Jolie's off-screen hookup was pretty much a fait accompli, but it's good to know that this sh-t will be ratcheted up big time now that they're actually in the same city at the same time. So the New York Post is reporting that Depp is trying to get out of the film already, because his girlfriend/partner Vanessa Paradis has "ordered" him to "find another gig". Because she doesn't want to end up like all of the other women who have had their men "stolen" by Jolie.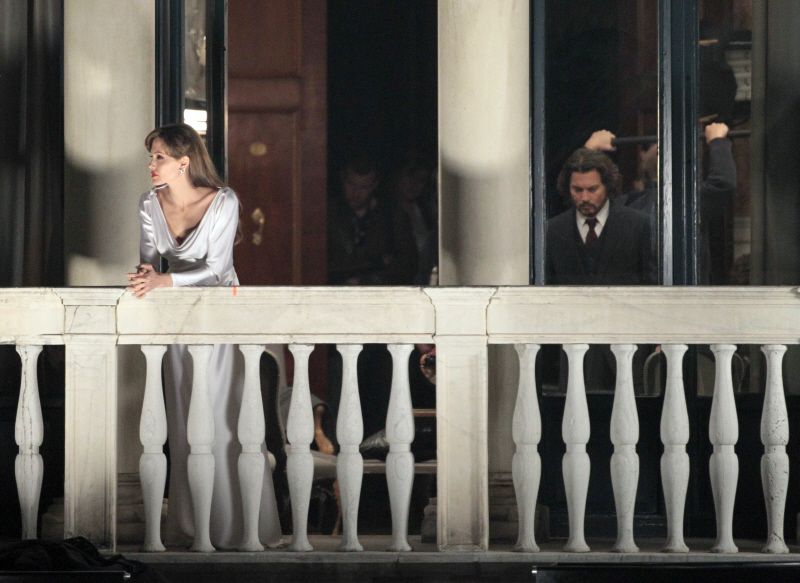 Laura Dern found out the hard way — and so did Jennifer Aniston. But Johnny Depp's longtime gal pal has no intention of joining the trail of brokenhearted Hollywood ladies left crying to Oprah Winfrey after Angelina Jolie stole their men.

So when Vanessa Paradis found out her "Pirates of the Caribbean" stud and Jolie were to shoot a passionate love scene in their new movie "The Tourist," she ordered Depp to find another gig, a source told The Post.

But by all appearances, Depp has not been able to cut himself out of the shoot. Filming started last month and Depp and Jolie were spied sharing a laugh on set at the Palazzo Pisani Moretta in Venice on Tuesday.

In the flick, Jolie plays an Interpol agent who seduces a tourist, played by Depp, in order to flush out a criminal she had a fling with in the past.

Paradis "found out that there was a real long and intense love scene between [Depp] and Jolie," a source close to the project said.

"He's currently trying to [get out of the movie], but I don't know if he's succeeded. But he's trying and they're talking about replacing him with [Jolie's partner] Brad Pitt or Leonardo DiCaprio."

Paradis, Depp's partner of 12 years with whom she has two kids, doesn't have to look deep into Jolie's past to find reasons to worry. The puffy-lipped siren and Pitt hooked up after they steamed up the screen in "Mr. & Mrs. Smith."

The 2005 picture was largely credited with busting up Pitt's Tinseltown union with "Friends" actress Aniston.

Years earlier, Jolie got her hooks into Billy Bob Thornton, while the "Sling Blade" actor was reportedly engaged to actress Dern.

Reps for Depp, Jolie, Sony Pictures and producer Graham King could not be reached for comment yesterday.
[From The New York Post]
Yeah… he's not getting out of it. Principal photography has begun, and if Depp tried to pull out now – because his girlfriend "ordered" him to – he would be sued, big time. Beyond that, I don't really believe that Vanessa "orders" Depp to do anything, or that Vanessa is worried in any way.
I should mention one little point here – the Post is owned by Rupert Murdoch, like The News of the World, which is the British publication that Brad and Angelina are suing for the NOFW's story about them consulting divorce lawyers. Is this Murdoch-owned press payback for the lawsuit? I have no idea how that sh-t works, or what state Brangelina's lawsuit is in, but it does seem interesting to me.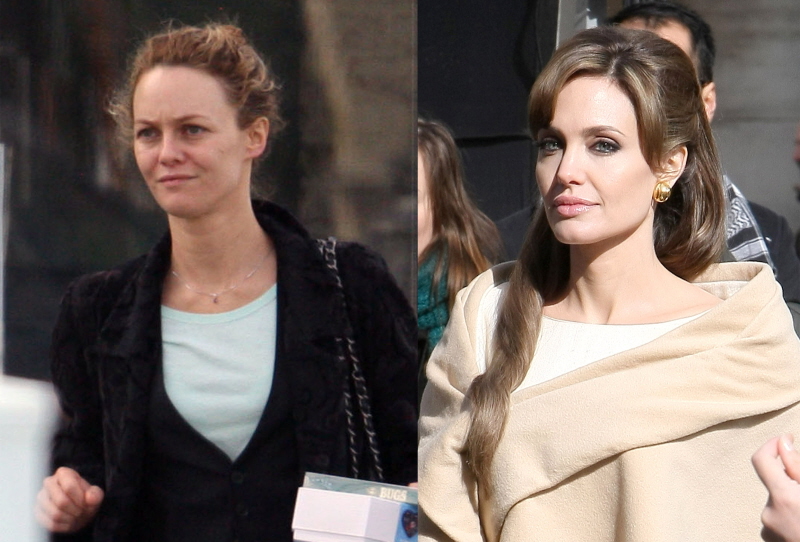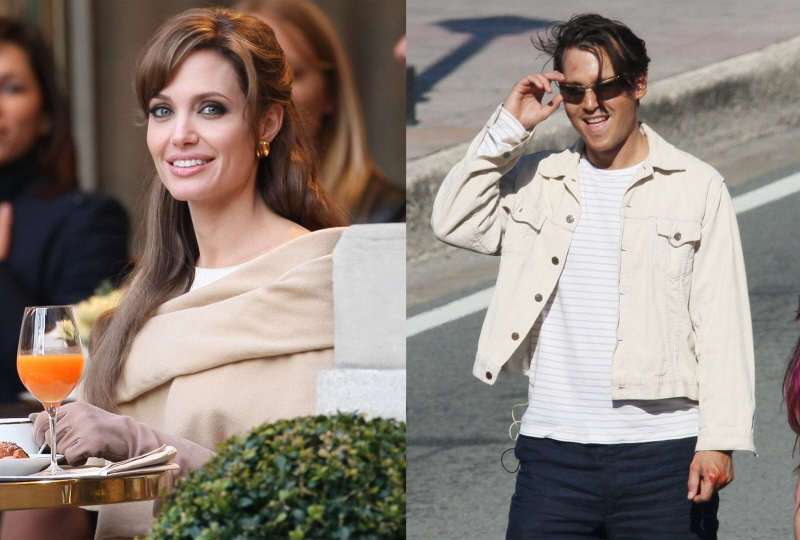 Johnny & Angelina filming together on Tuesday, March 2, 2010. Credit: INFphoto.com. Vanessa in New York on February 9, 2010, and additional side-by-side photos courtesy of ANG/Fame Pictures.