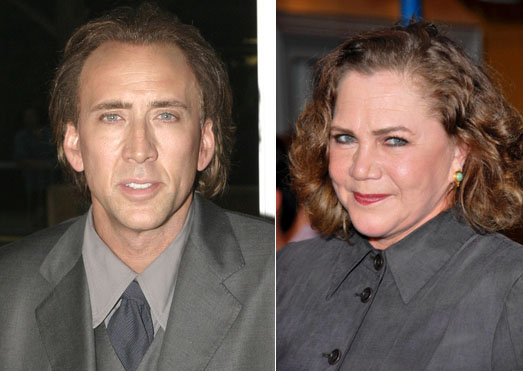 It looks like Kathleen Turner's tell-all memoir, Send Yourself Roses, is ruffling a few feathers in Hollywood, especially those of her former co-star, Nicolas Cage. In the book, Kathleen says that Cage was deliberately difficult during the filming of their hit movie, "Peggy Sue Got Married," and that the actor drank excessively and stole a chihuahua.
Nicolas Cage caught wind of Kathleen's story. I am sure someone told him about it rather than him, you know, actually reading the book. First, he denied the story by telling TMZ, "I have never been arrested for anything in my life, nor have I stolen a dog. I am reaching out to my fans — many of whom are children — so they know that I do not condone drunk driving or theft. The reason why you've never seen a mug shot of me is because it does not exist." Wait, his fans are children? They must have really enjoyed his work in "Leaving Las Vegas" and "8mm."
Apparently, a simple denial wasn't enough for the action star. Now, Cage is fighting back– Hollywood style– with a libel lawsuit.
Nicolas Cage is suing Kathleen Turner over comments she made about him in her autobiography Send Yourself Roses.

The actress accused Cage of causing problems on the set of 1986 comedy Peggy Sue Got Married in a bid to prove that he had not won the role because director Francis Ford Coppola was his uncle.

She also said he was arrested for drunk-driving and stealing a chihuahua.

Cage spoke out to dismiss the allegations and has since issued libel proceedings against her at the High Court in London.

A spokesman said: "The libel action follows false allegations that appear in the forthcoming autobiography. As legal proceedings have been commenced, it would be inappropriate to comment further."
This feud suddenly got very ugly– and very interesting. In fact, this may be the most interesting thing that Nicolas Cage has done since "Valley Girl." If this case makes it to trial, it's going to be difficult to prove anything on either side of the argument, since the alleged incident happened in 1986. How does one prove or disprove that another person stole a chihuahua, anyway?
Picture note by Celebitchy: Nicholas Cage is shown at the premiere of World Trade Center on 8/3/06. Kathleen Turner is shown at the Monster House premiere on 7/17/06, thanks to PRPhotos.