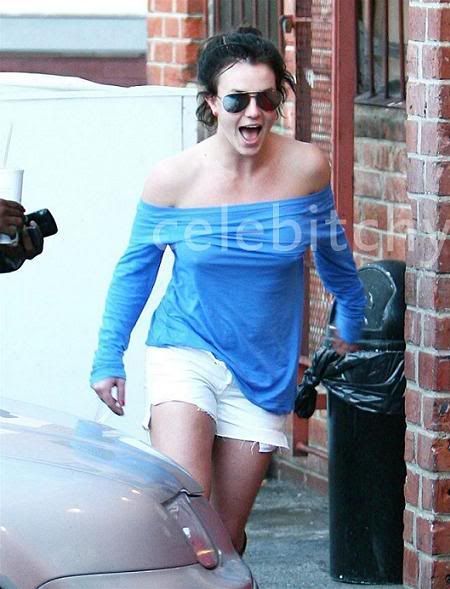 Few word combinations scare me more than "Britney Spears" and "kids." Perhaps "hatchets," "kidnappers," "machetes," "wells," and "swiftly moving rivers" – but that's it. And Britney Spears is just as dangerous to kids as all those other things, and there is absolutely no exaggeration there. Really the only way she could be more dangerous to a kid is if Britney Spears used a hatchet and/or machete to kidnap a kid, tossed the weapons down a well and then jumped with the kid into a swiftly moving river. But the next most dangerous thing would be if Britney were to teach a children's dance class. And while no one in their right mind would give Britney Spears a hatchet or a machete right now, apparently plenty of parents would give her access to their kids, which is just as dangerous.
For some random and completely unexplainable reason, Britney was allowed to teach a dance class to seven kids at the Millennium Dance Complex yesterday. Yeah, remember those horrible pictures? That's what she wore to teach little kids. And according to Millennium's owner Robert Baker, the kids just ate it up. Or were terrified into lying.
Britney looked happy and upbeat, he said. Madonna's "Material Girl" and "True Blue" were part of her play list. Britney led the class in "her favorite brown cowboy boots, fishnet stockings, a red short skirt, and a bluish greenish top that hangs down past her skirt."

"She worked out this great little routine for them, they were dancing all over the place, she had them dancing in a circle like a choo-choo train," he said. "The kids loved it- they are having a ball right now. And Britney- she's just drinking it up. She's totally enjoying herself. It's an amazing class- she and the kids are certainly enjoying the process."

Parents for the seven kids waited outside while she taught. A little girl, who took the class, gushed, "We had so much fun. Britney was wearing little red shorts and she looked so pretty" as she and her mother headed to their car.

"Britney's telling me that she likes this so much that she's thinking about making it a regular thing, possibly every other week. She loves to interact with the kids, and she feels that it's important to give back to the dance community," Baker said.
[From Us Weekly]
In related news, a man named Robert Baker lost all his worldly possessions after his dance studio, the Millennium Dance Complex, went out of business. Okay that's not true yet, but give it time. Seriously, why would anyone align themselves with Britney Spears right now? Or worse, align your business with her? I hope to God those parents' noses were plastered against the classroom window. If Britney Spears got within a hundred yards of my hypothetical kids, I would commit all sorts of violent acts against her. Which is why it's a good thing my kids are hypothetical. What kind of parents would let their kid spend time with someone who's been committed to a mental hospital twice in a month? Who took her own kid hostage? Who speaks in a British accent for no reason, and who, when she gets lost, just jumps out of her car and tells photographers to drive her home? A crazy person, that's who. Do we let crazy people around impressionable little kids? No. Especially when they're wearing this outfit.