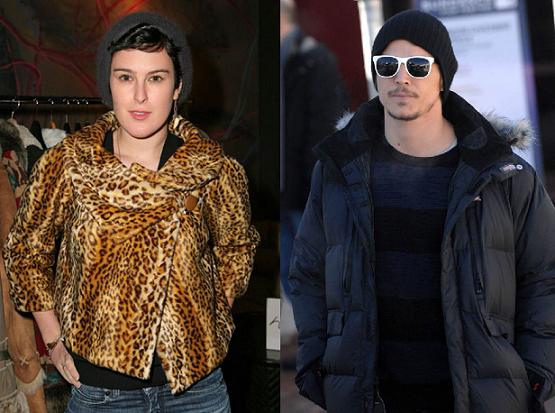 I find secret celebrity hookups endlessly fascinating. Especially when it's a hookup that seems really random, like when Cher admitted that she and Tom Cruise dated for "about a minute" in the eighties. Josh Hartnett was last linked to Kirsten Dunst, when the two were spotted making out at a club at the Sundance Film Festival. Which of course makes sense, because it's not like they could go somewhere private or afford to get a room or anything. A short time later Kirsten checked herself into rehab, which just goes to show that nothing good can come from making out with Josh Hartnett. As Kirsten appears to be otherwise occupied, Josh has quickly moved on to a new make out buddy – Rumer Willis.
When we heard Josh Hartnett was getting intimate with a certain celebuspawn, we thought it could only be a rumor… Rumer Willis that is! After making out publicly with Kirsten Dunst, 25, during the Sundance Film Festival, Josh, 29, decided to make "friends" with Rumer, 19, at NYC hot spot the Beatrice Inn on January 29th. "Josh and Rumer were hanging out all night," says a source at the Beatrice. "They seemed to be getting pretty cozy, and then they left together."
[From the National Enquirer, print edition, February 18, 2008]
Josh Hartnett has… "interesting" taste in women. Definitely not your run-of-the-mill Hollywood bombshell type. Though that could also be said to his credit. I try not to make fun of Rumer Willis too much, because everyone does it, and she can only help how she looks so much. She's the spitting image of her father, and that face shape works a little better on a man than a woman. There's nothing she can do about her jaw, it is what it is. And to her credit, it doesn't seem like she lets it get to her.
Josh Hartnett has really gotten the reputation of being a bit of a cad. I remember when he first became famous, there was this big deal made of the fact that he was still with his high school girlfriend. Since then it seems like he's gone through a woman a month. Josh, when girls go into rehab right after hooking up with you (and their friends note that they were in a "really dark place") you might want to start making out in a place with a little more privacy. Maybe a bathroom stall like the rest of us.