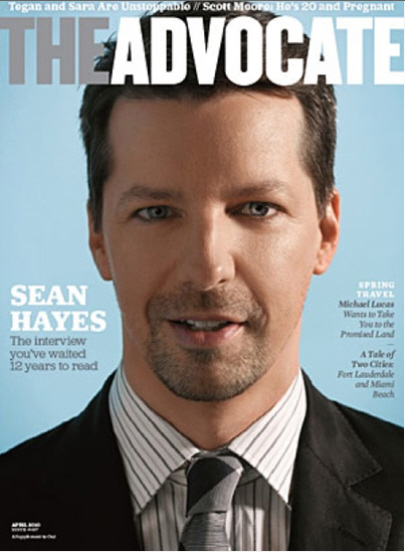 I remember, back in the day (circa 1999), reading an interview with Will & Grace's Sean Hayes in which he came across as very snippy and obsessed with not answering anyone's questions, ever. Which, you know, is fine in general. If you don't want to speak to journalists, don't. But don't sign on to do a promotional tour and then act like a bitch. What's interesting is that was pretty much the last interview I ever read with him – I think he learned that if he didn't want to talk about anything personal, he should stop giving interviews completely.
Now, I always assumed Sean was gay, although he never confirmed it. And no, I didn't assume he was gay because he played a gay character. I thought he was gay because he never had a girlfriend, because he seemed to hate being asked about anything personal, and he because, you know, he beeped (trademark: Jack McFarland). Anyhoodle, Sean is finally coming out of the closet, but he still doesn't sound happy about it. Here are some excerpts from The Advocate interview (full piece here):
On his concerns about his looks: "I'm so f-cking fat right now. I'm not even kidding… You haven't seen me naked." And with a Jack McFarland–like, high-pitched flourish, he adds, "Yet!"

On breaking network's television's gay glass ceiling: Out characters had been so rare on network TV that the media seized on two points: "Jack is too gay!" and "Will isn't gay enough!" To Hayes, it was all unfair and inaccurate: "The [press] wrote, 'The flamboyantly feminine over-the-top gay guy Jack…' But if you didn't apply 'gay' to Jack, he would just be the crazy next-door neighbor who had girls in the revolving [door]." Suddenly everyone wanted to know if Hayes himself was gay and how he felt about playing a gay character. Faced with the very real prospect of jeopardizing his chance at landing straight roles down the road, he started reciting stock answers, variations on what he told the Detroit Free Press early on: "When I play a gay character I want to be as believable as possible. And when I'm playing a straight character I also want to be as believable as possible. So the less that people know about my personal life, the more believable I can be as a character." And Hayes never pretended to be something he wasn't; he never walked some pretty woman down the red carpet or faked a straight relationship.

On all of the awards for playing Jack: "The first time I sat down at the Golden Globes, I looked at all these people—Tom Cruise, Meryl Streep, I mean everybody was there—and the first thing I thought was, I can't believe we're all so lucky."

On being typecast as the flaming homosexual: "This town'll do that to you," he complains. "It'll just keep you in that box until you have no choice but to be the thing that they want you to be. There were like 50 commercials where I was the husband or the nerdy boy or whatever, and then I became famous for playing this gay guy," he says. "It's funny. But that's how it goes. It's not up to you. None of this is up to anybody. It's what the suits decide for you. I was so naive to think that someone from a network actually cared about me personally. I was like, But they're so nice!"

On not "coming out" while Will & Grace was on the air: "I never have had a problem saying who I am," he states. "I am who I am. I was never in, as they say. Never. I believe that nobody owes anything to anybody… You are your authentic self to whom and when you choose to be, and if you don't know somebody, then why would you explain to them how you live your life? I feel like I've contributed monumentally to the success of the gay movement in America, and if anyone wants to argue that, I'm open to it. You're welcome, Advocate.

On criticism that he should have come out long ago: "Why would you go down that path with somebody who's done so much to contribute to the gay community?" he asks. "That was my beef about it. What more do you want me to do? Do you want me to stand on a float? And then what? It's never enough. That's the thing about celebrity: It sets you up to fail because the expectation is so high of what's needed, what's wanted from you that the second you don't [meet it], you disappoint people."

On his life post-Will & Grace: "I was anxious to get back to my life before Will & Grace," he says. "You do need that time to find who you are again. Who am I without this? With fame you can't help but lose yourself. You want to be the one who says I'll always remain the same, but it is humanly impossible to disallow fame to change you."

On going back to television in the future: "Doing a sitcom, it's a machine, it's a factory. There's nothing creative about it for an actor. There's nothing new I'm going to discover for a character in episode 185. It's just a pure punch-in, punch-out factory day job—and it's a wonderful factory day job—but creatively it's stifling."

Does he still hang out with Will & Grace people? "Every day. Every day we sleep togeth­er, every day, we live in the same house," he says with manic enthusiasm. "We're just like the cast of Friends. We all love each other and we all get along, America. Everybody can sleep now!" Then he calms down and gives a serious, if brief, answer: "I do love all those guys and I do miss them very much. I talk to Megan a lot and I e-mail with Deb and Eric sometimes."

And does he have a boyfriend? "I spend time with a special someone in my life," he says. But after years of being burned, he won't say another word about him or the quiet life they lead. "That's it. That's all I need," he says. "I don't need events. I don't do a lot. I live my life like an 85-year-old man. I'm just quiet. It's fantastic."
[From The Advocate]
I always loved Sean for his incredible comedic gifts, for what he brought to the Jack character, and I always hoped Sean would break out in a bigger way, branching out into more television and film projects after Will & Grace. Since it went off the air, he has gotten some film and television work, but nothing that has been career-altering. I think he pretty much sat down for this interview to promote his Broadway debut in Promises, Promises, which is the musical version of Billy Wilder's classic (and amazing) film The Apartment, originally starring Jack Lemmon and Shirley MacLaine. Good luck to Sean!
The Advocate cover courtesy of CoverAwards.