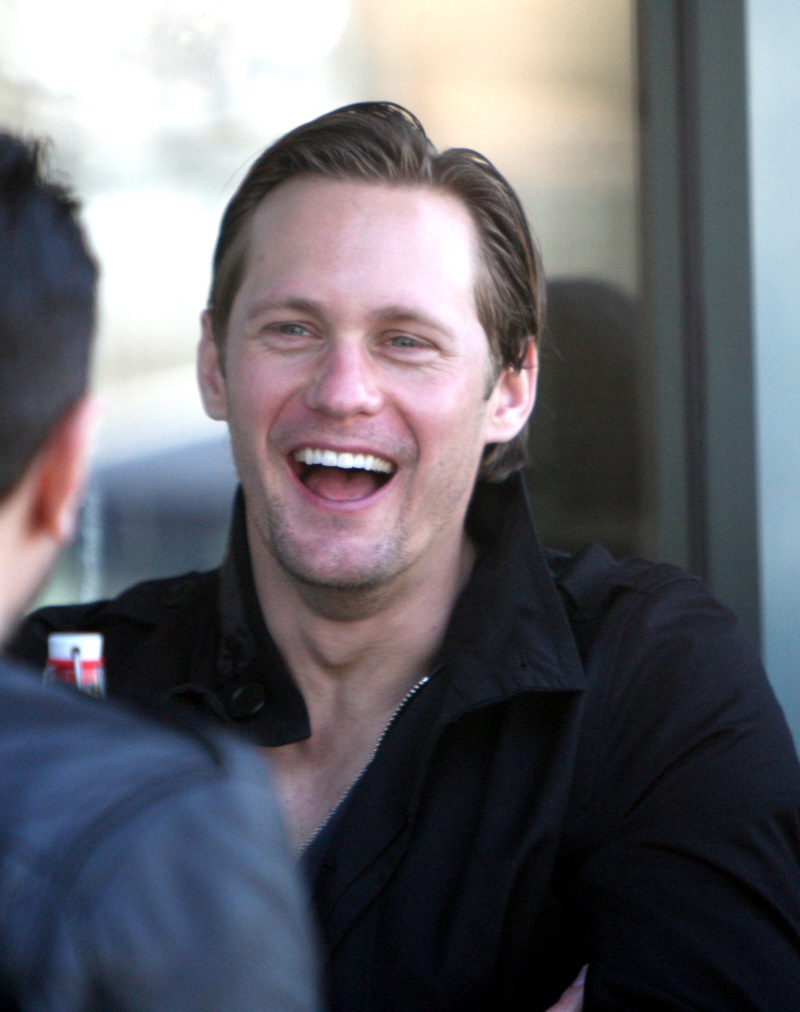 Mm… these are some new photos of Alexander Skarsgård yesterday in Los Angeles. He's pretty when he smiles, isn't he? Anyway, Alex sat down for a killer profile in the LA Times recently (photos below, full article here), and he pretty much impressed everyone with how down-to-earth he is. As the LAT explains: "He showed up sans entourage, parking his own car in the same lot as the crew. His outrageous on-set demand? A cup of coffee, please. Oh, and he volunteered to be his own stand-in for lighting setup." So, he's actually a nice guy. Let's hear more: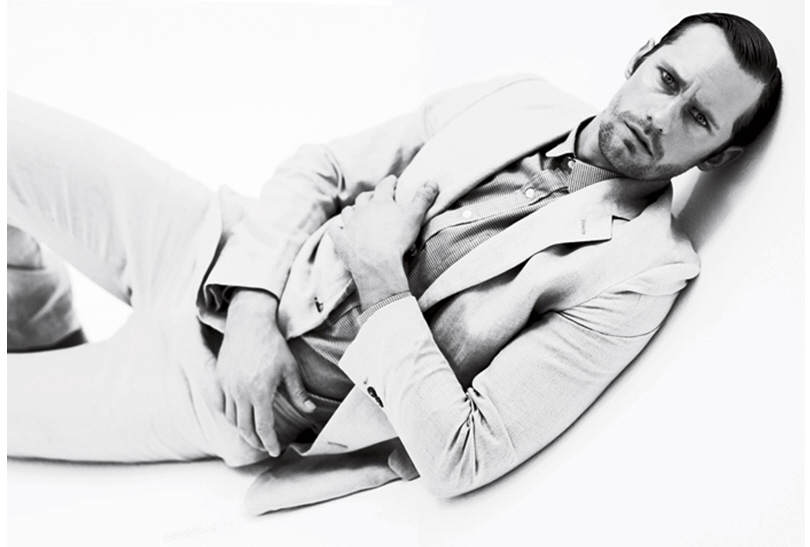 Leslie Gornstein: I would imagine that playing a vampire these days is almost like plunging into a major franchise like Star Trek or Star Wars—the scrutiny and adoration just go off the scale. What do you think it is about vampires, anyway?
Alexander Skarsgård: People are kind of intrigued because they represent immortality. And a character like Eric has been around for a thousand years. All that wisdom and experience—you carry it around with you. That's attractive. What makes vampires a platform for good drama is they're also lethal. Eric is an animal. He's on that edge where you don't know if he will turn and kill you in a second.

You filmed both an American film, Straw Dogs, and the Swedish film Puss—known stateside as Trust Me—during your latest hiatus. You've also said you never want to stop doing Swedish cinema. Tell me about that.
It's not about if it's a Swedish project or an American one. For me, it's about the quality of the material, who the filmmaker is and if there's something in the script or the character that gets me excited. I need that to get my creativity going.

Straw Dogs and Puss are so different. One is a reimagining of a Sam Peckinpah classic, and the other's an indie. Why those two?
I shot Straw Dogs with Rod Lurie, who directed The Contender and [the TV series] Commander in Chief. We had a meeting, and I found the project very interesting. Puss—that's Swedish for "kiss"—without a doubt was a film that excited me. It was directed by Johan Kling, who directed a movie called Darling three years ago—a beautiful little film about a woman and an older man and their friendship against all odds. When he called and asked if I wanted to be in his next movie, I said, "Absolutely." I want to be able to do different characters, different projects, work in different languages. Doing Straw Dogs and Puss simultaneously and then going back to True Blood? That kept me on my toes.

And on a plane, from what I understand.
Oh yes, I flew back and forth between Shreveport, Louisiana, and this tiny island on the Baltic Sea. It was a bit of a nightmare, because it took, like, 23 hours to get from one place to another. And then as soon as I landed, I had to go straight from airport to studio to work for another 14 hours. I probably aged about 20 years doing that.

But so many actors require time to transition between characters, prepare themselves, really sink into a role.
I agree. Ideally, I would have gone back to Sweden, chilled out for a week or so, gotten into focus, but this was the only way we could work things out. I prepared for both projects before they started, then got as much sleep as possible on the planes.

Apparently, the paparazzi have shots of you going to the movies by yourself. Rising Hollywood idols don't go anywhere by themselves—don't you watch Entourage?
I'm not a "Hollywood" actor. I am a social guy, but I'm not one of those actors who will show up to a shoot with 15 agents and managers and publicists. An entourage like that just makes me uncomfortable.

On quitting acting: "We don't have, like, Hollywood moms and dads in Sweden the way you do here, where it's a profession for kids. It's not that big of an industry there, and my parents never pushed me. It can be really, really tough being a child actor. A lot of them have huge problems growing up. I didn't like being famous when I was 13. I didn't like people recognizing me. I told my parents I didn't want to do it anymore, and they both said, "It's a tough job, and if you feel like there's something out there you'd rather do, do that. Only become an actor if you feel like you don't have a choice." My father is an actor. I didn't have a plan for what I wanted to do, I just wasn't comfortable doing that anymore.

What made you come back?
I missed it—being onstage or in front of a camera. I thought, All right, I'm 20 now instead of 13. Maybe I'm a little different from how I was seven years ago, and I owe it to myself to try it now, and at least I can dismiss it if I'm still not comfortable. I will know for sure, and I can move on. But it was just like my father said: I felt like I didn't have an option.

I see there are "Mrs. Skarsgård" mugs available for purchase on one of your fan sites. Flattering or unnerving?
Oh no, I am flattered by it. So very flattered. In order for me to stay sane, though, I try to mostly stay away from the fan sites, the blogs and the Twitterers.

Skarsgårdians, actually. So then if there's someone out there who's tweeting as Alexander Skarsgård, it's not you?
It's not me.

At age 23—according to one interview you did way back when—your idol was Eddie Izzard, your favorite movie was Duck Soup and your favorite book was Angela's Ashes. Care to update?
Well, I am still a huge fan of Eddie Izzard, so I probably did say that. I was pretty obsessed with him back in the day. And Duck Soup, yeah, that's still up there as well. As kids, my brothers and I had VHS tapes of all these Marx Brothers movies, and on Sunday mornings we would get up and make nonalcoholic egg toddies. Do you have those here?

Nogs?
No, toddies. Basically we cracked open, like, six eggs and put them in a blender with about two tons of sugar. Then we would mix it up and watch the Marx Brothers.

In that same interview, you did a little doodle of a man with stringy hair and a long, picklelike nose. Who was that?
[Laughs.] I don't actually remember, but, knowing me, it was probably me.
[From The LA Times]
Sigh… so lovely. Would you like to know something even more ridiculously mind-blowingly sexy? He trained as an anti-terrorist marine in Sweden. Apparently he "practiced battle tactics, combat and anti-sabatoge assaults." And he probably wore a uniform. And he looked really f-cking hot doing it. He told The Telegraph (via NYDN) that "I hated it most of the time, because a lot of the guys I served with wanted to be James Bond. I was a hippie. But it was good for me. [I can still] strip a gun and that sort of thing… [but] People don't shoot us, so you can't really… I never left Sweden. Our last war was 200 years ago." Now I can't stop thinking about Alex "stripping a gun". Mm…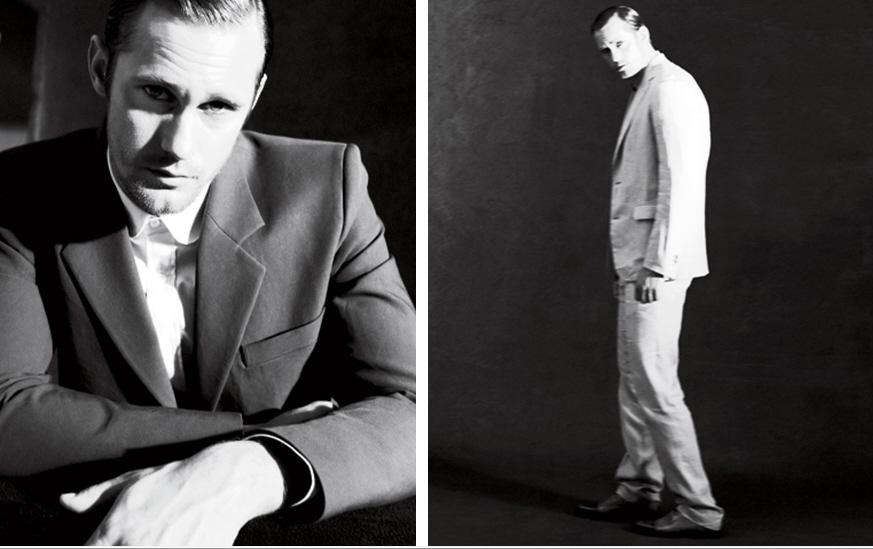 Alexander in LA on March 10, 2010. Credit: WENN. LAT photos courtesy of LAT online.