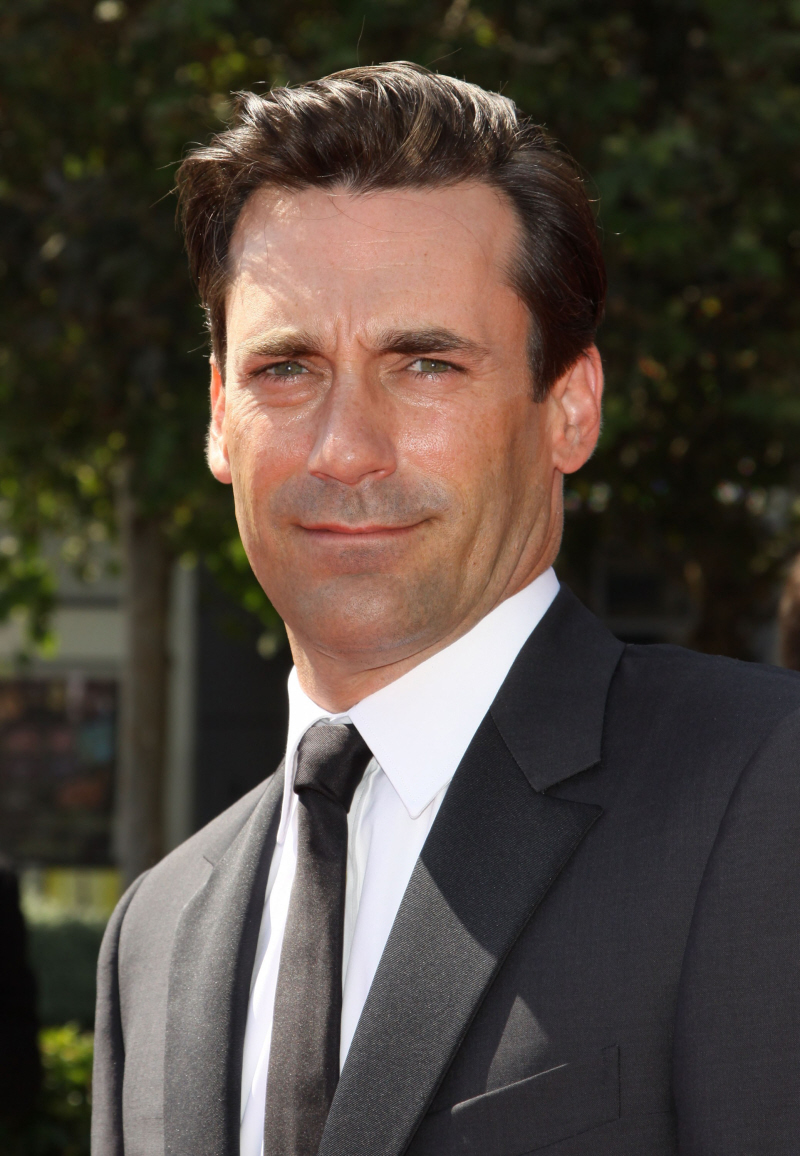 As much as I think Jon "The Hamm" Hamm is an impossibly beautiful, old-school-style movie star/celebrity/god in the vein of George Clooney circa 2001, I have to admit, the comparisons between Clooney and The Hamm have begun to fall flat. The Hamm has never come across as smarmy, as George often has. Like, George is a gentleman up to a point, but he likes cheap women and he doesn't seem to put a value on quality relationships with women. Plus, George has that cool, detached, ironic vibe, which The Hamm can do on film, but in interviews, he seems completely different. He's authentic and sweet and genuine in a way Clooney has never managed.
My mom (who just started watching Mad Men when I gave her my DVDs) and I were talking about just how wonderful an actor The Hamm is – he acts with every pore of his body, his posture, his eyes, the twitch of his mouth. Clooney doesn't. The Hamm has real relationships with women (one woman in particular, his girlfriend of like 7 years), and he seems to really strive to be not just a great actor, but a good man. Unlike Clooney. Anyway, I was just thinking about how much I liked The Hamm because he's given a very nice, sweet interview to Parade. Here you go:
Jon Hamm rocketed to fame for his portrayal of the mysterious Don Draper on the critically acclaimed AMC drama Mad Men. The actor has also revealed a talent for comedy, getting major laughs as host of Saturday Night Live and guest star on Tina Fey's 30 Rock. Now, Hamm is exploring his dark side in the mystery-thriller Stolen.

In the film, Hamm plays a detective trying to solve the mystery of his missing son. The 39-year-old actor admits that, despite playing such serious characters, he wants audiences to know he has a lighter side.

Going through every parent's worst fear.
"It's a nightmare. There is that horrible feeling of 'What happened?' What this man is going through is, 'What happened to my son?' And I hope the audience gets a sense of the urgency and the confusion and the obsession over finding the answer. This man had given his life up essentially to finding out what happened, to the detriment of the relationship with his wife and family and job."

He never takes his work home with him.
"I don't' really have a problem with turning it off. When I'm at work, I'm at work. And when I'm not, I'm not. I had just finished the first season of Mad Men and there were plenty of dark moments in Don's life, so that's part of the job."

Does playing a father on the big and small screen offer a glimpse into parenthood?
"The most insight into parenthood that I've ever gotten is watching all of my friends have kids. Playing a role is not remotely like living life. Everything is handled for you and everything is designed and you know how it's going to happen. Real life is not quite like that as I'm finding with all of my friends who have children. I don't know when I'll be ready to have kids, but those are all things that I'm certainly taking into account."

Will he go for laughs on the big screen?
"I have to wait for people to ask me. I hope so. I'm a big fan of comedy and have been for a long time. I know a lot of people in that world. Ideally, that would be a fun thing to do but it's not really up to me."

Finding comedy more of a challenge.
"I think comedy is a tremendous challenge. The alchemy that happens when somebody walks into a room and proceeds to make everybody laugh is mystifying to me. I don't think I have that gene, but I know a lot of people who do, and I'm consistently amazed by the confidence and skill that it takes to constantly do that. Something that terrifies me is trying to be funny."

Poking fun at Don Draper on SNL.
"It's a very serious story and those kinds of stories are, by nature, easy to make fun of. It's fun to mess around with it. I do think it's obviously an amazing role and I'm very proud of our show and I'm very proud of the response it's gotten from the people who enjoy it. I'm not taking anything away from it by making fun of it. But everyone deserves a little good-natured ribbing."

The biggest misconception about him.
"I think people think that I'm a lot like Don, a dark, brooding kind of person. But the people who know me know that's definitely not the case!"

What to expect next season on Mad Men.
"I wish I knew! If you hear anything let me know. Matt plays those things very close to the vest. He's still writing the season so I honestly don't know. But we certainly have a lot of opportunities to expand the story given where we ended last season, so I'm looking forward to it as much as you are I hope."

What is it about Don Draper that makes audiences root for him?
"It's a good question because, on the page, sometimes you think, 'Why are we rooting for this guy? He's kind of a douchebag.' But really he's just misunderstood. I think what people respond to in Don is that there is a moral center in there and he does have a certain code of ethics that he follows. He's a rugged individualist in many ways, but he does try to do the right thing. He doesn't always succeed, but he tries. I think most Americans can identify with some portion of that. I think that's what resonates."
[From Parade]
I love Don Draper because he's one of the most complicated characters on television, or in pop culture today. Seriously, the writing is just beautiful on that show, and all of the characters are so complex and fascinating. But back to The Hamm – he is a gifted comedian, and I would love to see him in a really talky romantic comedy. Something with a really good actress, someone worthy of The Hamm. Would it be too much to hope that he works with Tina Fey again?
Jon Hamm at the Creative Arts Emmys, the SAGs and the Colden Globes, with his girlfriend. Credit: WENN.